Vous N'Avez Encore Rien Vu (You Ain't Seen Nothing Yet) : Alain Resnais' Thrice-Told Tales
It's hard to believe that Alain Resnais, the great director of such classics as Hiroshima, Mon Amour and Last Year at Marienbad is still around and kicking in the 21st century, making major films. Vous N'Avez Encore Rien Vu sometimes feels like a valedictory production, and it would be worth seeing for that reason alone. But at nearly ninety, Resnais is still pushing the envelope of cinema more than most contemporary filmmakers. His latest film continues the exploration of reality's boundaries that he began with films like Smoking, No Smoking, using theatre plays as a springboard into a realm where real and illusory interpenetrate freely. At the beginning of the film a crowd of France's most celebrated (and rather aged) actors, playing themselves, receive a phone call announcing the death of Antoine, a famous dramaturge they each worked with. The list includes Pierre Arditi, Michel Piccoli, Matthieu Amalric, Sabine Azéma, Lambert Wilson, Anny Duperey, and Hippolyte Girardot. They are summoned to Antoine's provincial estate to hear the reading of the great man's will. The actors are taken to a room and shown a video on a large screen in which the dramaturge (ably played by Denis Podalydes), appears as a sort of virtual ghost. He tells them that they are to see and judge a filmed version of his play Eurydice, staged by a troupe of young actors in Colombes, a Parisian suburb. The director's request is a sort of back-handed taunt: I may be dead, but my last act was to foster the young generation displacing all of you.  Nevertheless, the actors take the assignment with good grace, and seem to regard the young actors with generosity. The play in question is Jean Anouilh's adaption of the Greek myth about Orpheus and Eurydice. Anouilh adapted the myth into 20th century French drama, and Resnais has re-adapted it into film, so in effect it becomes a thrice-told tale. In Anouilh's updating, the story tells how a violinist (Orpheus) falls in love with an actress in a theatre troupe (Eurydice). They run off together, but she winds up killing herself after a falling out, provoked by the troupe leader's revelation that he was her lover. Eurydice is brought back to life, on the condition that Orpheus not lay eyes on her, which of course he tragically does. Resnais' re-telling emphasizes theworkings of death and fate, how they thwart human passion. The couple's passion may also reflect the passion of the artist (both the dramaturge and Resnais himself) at the end of his life. As usual with Resnais' films, the photography is superbly crisp and the colors deep and vibrant, a miraculously effortless achievement. The editing is intricate, but always fluid. Some film-makers who adapt a play "open it out" into real locations and heavy-duty production values. Resnais has opted to complicate things within the realm of artifice. The filmed play that his actors watch on video—directed by Bruno Podalydes—triggers a counterplay by the spectating actors. (So not only is the line between characters and actors blurred, but also that between actor and audience.) On one level there's a competition between the veteran actors and the young thespians from Colombes. But there's also a doubling among the veterans: Arditi-Azema's Orpheus and Eurydice vs. Wilson-Consigny's portrayals. The first are grizzled but profound (sometimes overwrought in the case of Sabine Azéma). Lambert Wilson and Anne Consigny are younger and better-looking but blander, and when they emote it's like certain American politicians acting unnaturally natural on the campaign trail. The two sets of stars are often upstaged by the distinguished supporting cast. Michel Piccoli especially is moving as Orpheus' father, while Matthieu Amalric is powerfully compelling, without working up much of a sweat, as the mysterious Monsieur Henri. It's just too bad that we don't get any sense of the actors' "real" lives, of anything beyond their theatrical roles. At the half-way point, just when you think an nonagenarian director should be running down, if not reaching for his oxygen tank, the film's technique picks up. Resnais uses looming close-ups to amplify emotions, and split-screens à la Brian De Palma to fragment them. Characters fade in and fade out like ghosts, while the "real" characters interact with the characters on the video screen. The old master isn't above making use of his contemporaries. Inter-titles that spell out whimsical introductions, giving a fable-like quality to the action, recall Eric Rohmer. And the cavernous rooms in which he films some sequences (bedrooms or sitting-rooms the size of hangars) will be creepily familiar to Stanley Kubrick fans, bringing to mind The Shining's Overlook Hotel—the way the hotel's rooms symbolized one part or other of Jack Nicholson's whacked-out psyche. The play ends as we know it must, with the stars becoming immortal, literal stars in the sky.  But the film's ending presents a corkscrew of a double twist: happy/sad, realistic/illusory. It seems Alain Resnais doesn't want us to think he's said his last word. As the title says, You ain't seen nothing yet. Production: F Comme Film, Studio Canal, France 2 Cinéma, Christmas in July Distribution: Studio Canal (France), Kino Lorber (USA) Photos courtesy of Studio Canal
SUBSCRIBE
ALREADY SUBSCRIBED?
BECOME A BONJOUR PARIS MEMBER

Gain full access to our collection of over 5,000 articles and bring the City of Light into your life. Just 60 USD per year.

Find out why you should become a member here.

Sign in

Fill in your credentials below.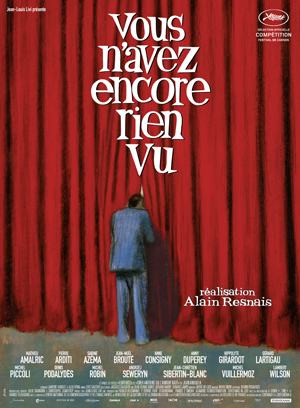 It's hard to believe that Alain Resnais, the great director of such classics as Hiroshima, Mon Amour and Last Year at Marienbad is still around and kicking in the 21st century, making major films. Vous N'Avez Encore Rien Vu sometimes feels like a valedictory production, and it would be worth seeing for that reason alone. But at nearly ninety, Resnais is still pushing the envelope of cinema more than most contemporary filmmakers.
His latest film continues the exploration of reality's boundaries that he began with films like Smoking, No Smoking, using theatre plays as a springboard into a realm where real and illusory interpenetrate freely. At the beginning of the film a crowd of France's most celebrated (and rather aged) actors, playing themselves, receive a phone call announcing the death of Antoine, a famous dramaturge they each worked with. The list includes Pierre Arditi, Michel Piccoli, Matthieu Amalric, Sabine Azéma, Lambert Wilson, Anny Duperey, and Hippolyte Girardot. They are summoned to Antoine's provincial estate to hear the reading of the great man's will.
The actors are taken to a room and shown a video on a large screen in which the dramaturge (ably played by Denis Podalydes), appears as a sort of virtual ghost. He tells them that they are to see and judge a filmed version of his play Eurydice, staged by a troupe of young actors in Colombes, a Parisian suburb. The director's request is a sort of back-handed taunt: I may be dead, but my last act was to foster the young generation displacing all of you.  Nevertheless, the actors take the assignment with good grace, and seem to regard the young actors with generosity.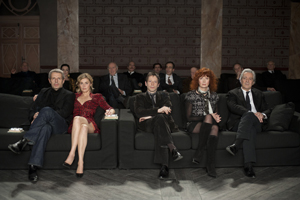 The play in question is Jean Anouilh's adaption of the Greek myth about Orpheus and Eurydice. Anouilh adapted the myth into 20th century French drama, and Resnais has re-adapted it into film, so in effect it becomes a thrice-told tale. In Anouilh's updating, the story tells how a violinist (Orpheus) falls in love with an actress in a theatre troupe (Eurydice). They run off together, but she winds up killing herself after a falling out, provoked by the troupe leader's revelation that he was her lover. Eurydice is brought back to life, on the condition that Orpheus not lay eyes on her, which of course he tragically does. Resnais' re-telling emphasizes theworkings of death and fate, how they thwart human passion. The couple's passion may also reflect the passion of the artist (both the dramaturge and Resnais himself) at the end of his life.
As usual with Resnais' films, the photography is superbly crisp and the colors deep and vibrant, a miraculously effortless achievement. The editing is intricate, but always fluid. Some film-makers who adapt a play "open it out" into real locations and heavy-duty production values. Resnais has opted to complicate things within the realm of artifice. The filmed play that his actors watch on video—directed by Bruno Podalydes—triggers a counterplay by the spectating actors. (So not only is the line between characters and actors blurred, but also that between actor and audience.)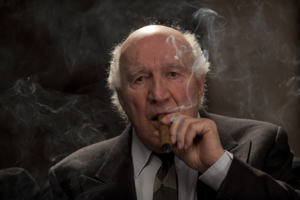 On one level there's a competition between the veteran actors and the young thespians from Colombes. But there's also a doubling among the veterans: Arditi-Azema's Orpheus and Eurydice vs. Wilson-Consigny's portrayals. The first are grizzled but profound (sometimes overwrought in the case of Sabine Azéma). Lambert Wilson and Anne Consigny are younger and better-looking but blander, and when they emote it's like certain American politicians acting unnaturally natural on the campaign trail.
The two sets of stars are often upstaged by the distinguished supporting cast. Michel Piccoli especially is moving as Orpheus' father, while Matthieu Amalric is powerfully compelling, without working up much of a sweat, as the mysterious Monsieur Henri. It's just too bad that we don't get any sense of the actors' "real" lives, of anything beyond their theatrical roles.
At the half-way point, just when you think an nonagenarian director should be running down, if not reaching for his oxygen tank, the film's technique picks up. Resnais uses looming close-ups to amplify emotions, and split-screens à la Brian De Palma to fragment them. Characters fade in and fade out like ghosts, while the "real" characters interact with the characters on the video screen.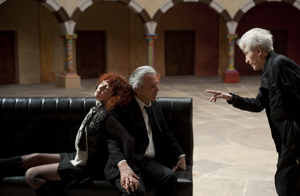 The old master isn't above making use of his contemporaries. Inter-titles that spell out whimsical introductions, giving a fable-like quality to the action, recall Eric Rohmer. And the cavernous rooms in which he films some sequences (bedrooms or sitting-rooms the size of hangars) will be creepily familiar to Stanley Kubrick fans, bringing to mind The Shining's Overlook Hotel—the way the hotel's rooms symbolized one part or other of Jack Nicholson's whacked-out psyche.
The play ends as we know it must, with the stars becoming immortal, literal stars in the sky.  But the film's ending presents a corkscrew of a double twist: happy/sad, realistic/illusory. It seems Alain Resnais doesn't want us to think he's said his last word. As the title says, You ain't seen nothing yet.
Production: F Comme Film, Studio Canal, France 2 Cinéma, Christmas in July
Distribution: Studio Canal (France), Kino Lorber (USA)
Photos courtesy of Studio Canal
More in film review, Paris film, Paris films
---
---