Summer and Cinema in the City: Open-Air Movies in Paris
The movies don't take the summer off (except for the Cinémathèque Française, in August, like so many of the French). Summer is a time for light popcorn fare, and in Paris a special way of watching film: outdoors. The cinema en plein air, or open-air cinema, has become a tradition here. Viewing a film becomes a different aesthetic experience when the images are set against the backdrop of the stars and the occasional plane. Even the sound reverberates differently, more alive but with dreamy distortion (this was more true in the analog days). It's also a different social experience, more informal and convivial, with more families, eating and drinking, people flopped down on lawn chairs or blankets. I first became acquainted with outdoor cinema not in France but in Greece, where the hot temperatures led theater owners to use their flat rooftops as screening rooms. Beginning in 1900, this may actually have been the start of open-air cinema in Europe (quite fitting, as ancient Greek theater was also outdoors). In America's car culture, open-air cinema took the form of the drive-in, which started in 1933, and was popular from the 1950s to the 1970s. The temporary summer open-air cinema took off in the 1980s, with the development of inflatable screens that were easy to put up and then take down. The later development of digital projectors and state-of-the-art audio also made the open-air experience more viable. First drive-in theater, Pennsauken, New Jersey, 1933 from Wikimedia Commons The most famous venue for Parisian open-air cinema is at the Parc de La Villette, the former site of Paris' stockyards which became one of François Mitterrand's "Grands Projets" in the 1980s. One of the buildings in the park is devoted to cinema — the Geode, which specializes in IMAX-type formats. But in the summer it's the grassy grounds that draw crowds for summertime movie entertainment projected onto a 600 square meter inflatable screen. This year will be the 33d edition of the Festival du Cinéma en plein air. Cinema en Plein Air/ courtesy of Parc de la Villette
SUBSCRIBE
ALREADY SUBSCRIBED?
BECOME A BONJOUR PARIS MEMBER

Gain full access to our collection of over 5,000 articles and bring the City of Light into your life. Just 60 USD per year.

Find out why you should become a member here.

Sign in

Fill in your credentials below.
The movies don't take the summer off (except for the Cinémathèque Française, in August, like so many of the French). Summer is a time for light popcorn fare, and in Paris a special way of watching film: outdoors. The cinema en plein air, or open-air cinema, has become a tradition here. Viewing a film becomes a different aesthetic experience when the images are set against the backdrop of the stars and the occasional plane. Even the sound reverberates differently, more alive but with dreamy distortion (this was more true in the analog days). It's also a different social experience, more informal and convivial, with more families, eating and drinking, people flopped down on lawn chairs or blankets.
I first became acquainted with outdoor cinema not in France but in Greece, where the hot temperatures led theater owners to use their flat rooftops as screening rooms. Beginning in 1900, this may actually have been the start of open-air cinema in Europe (quite fitting, as ancient Greek theater was also outdoors). In America's car culture, open-air cinema took the form of the drive-in, which started in 1933, and was popular from the 1950s to the 1970s. The temporary summer open-air cinema took off in the 1980s, with the development of inflatable screens that were easy to put up and then take down. The later development of digital projectors and state-of-the-art audio also made the open-air experience more viable.

The most famous venue for Parisian open-air cinema is at the Parc de La Villette, the former site of Paris' stockyards which became one of François Mitterrand's "Grands Projets" in the 1980s. One of the buildings in the park is devoted to cinema — the Geode, which specializes in IMAX-type formats. But in the summer it's the grassy grounds that draw crowds for summertime movie entertainment projected onto a 600 square meter inflatable screen. This year will be the 33d edition of the Festival du Cinéma en plein air.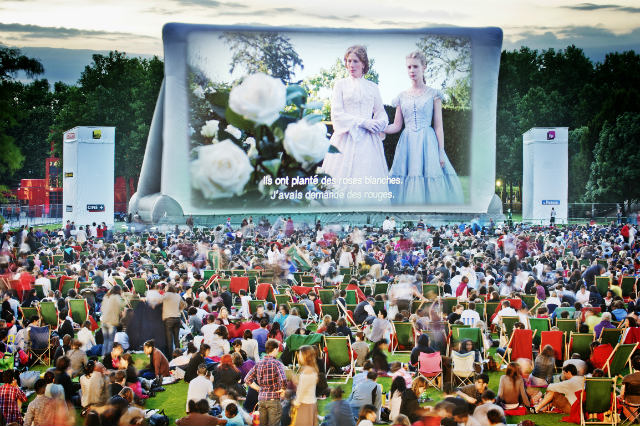 The Festival du Cinéma en plein air runs from July 19 to August 23. The event is free, though you're also free to rent a chair (and blanket) for 7 euros (five chairs for 20 euros!). Partly in honor of the Paris Olympics next year, the program is focusing on films about teams and groups, even gangs — it winds up with Steven Spielberg's remake of West Side Story. Other films include Tim Burton's Miss Peregrine's Home for Peculiar Children, Cedric Klapisch's En Corps, Bong Joon Ho's Parasite, and Kelly Richard's First Cow. Every evening the show begins with a short film, before moving on to the featured film.
The proliferation of rooftop establishments, along with the traditional gardens, chateaux and other sumptuous venues translates into more opportunities for summertime movie fun. There are numerous other outdoor movie screenings in Paris and environs. Here's a list of some of those planned for July and later.
Ciné Club Paradiso
La Seine Musicale
21 – 23 July
The concert and exhibit complex on the Ile Seguin in Boulogne (reachable by metro) will be presenting films dedicated to music: Singin' In the Rain, La La Land, The Umbrellas of Cherbourg. Reserve online here

Parc de Bercy – Accor Arena
July 10 – 12
For fans of David Bowie and his various incarnations: Accor Hotels and Warner Music is presenting an homage to the singer, featuring Ziggy Stardust and Spiders from Mars: The Motion Picture. The program also includes some other light-and-sound attractions dedicated to Bowie. Bleacher seating and chairs available at 29 – 49 euros. Reserve here.

View this post on Instagram
A Screen Under the Stars
Cour de l'Honneur, Château de Vincennes
24 – 26 August
The fortress in Vincennes is accessible by metro and RER express train. In addition to the stars there will be chairs, chaise-longues and food trucks. Films include Forest Gump, La Princesse de Montpensier , and Neuf Mois Ferme. Free admission. More information available here.

Cinéma en Plein Air du Hotel Paradiso
18 June to 17 September
Near Place de la Nation in the 12th arrondissement, this MK2 complex of cinema, hotel, restaurant will be projecting films on its rooftop terrace. This year's theme is Italy. Sunday nights, free admission. 135 Bd. Diderot. www.mk2hotelparadiso.com
The Cinema Festival du Ritz takes place in the gardens of the Ritz Hotel, one of Paris most storied "palace" establishments. Featuring La La Land and Little Miss Sunshine. Also on hand (and on sale): assorted gourmet goodies the hotel is renowned for.
July 11, 12 and 13
15 Place Vendôme
Cinescale Open-Air Festival
August 22 – 23
This event takes place in Montmartre, and features short films, this year focusing on travel and intergenerational relations. The program begins at 8 pm and is located at the Square Marcel Bleustein Blanchet. Free admission but reservation required. Info here.
Ciné-Voisins. Perhaps the most original outdoor cinema program. La Fabrique Documentaire, an engagé organization dedicated to giving voice to people who are usually unheard, is presenting films in eight locations in the east of Paris: Prairie de Python-Duvernois, Cabane Davout, Square Léon Frapié, Ehpad Alquier-Debrousse, rue Blanchard, Square Cristino Garcia, Porte de Saint-Mandé and Python Duvernois. The films, on social issues, are accompanied by tours of the neighborhoods and buffet refreshments. Information on the program here.
La Monnaie de Paris, in the Cour d'Honneur. The Paris Mint not only makes money (in every sense of the word) but organizes numerous cultural events around the theme of currency. Now they're branching out into movies. Featured films : Slumdog Millionnaire and La Folie des Grandeurs. Before the screenings there will be musical and gourmet attractions, as well as a temporary exhibit called Money in Art. This being the mint, you have to pay, but it won't break your budget:  5 euros.
July 20 and 21.
11, quai Conti
Info here.
Lead photo credit : Image from Shutterstock
---
---