Paris' Most Unique Cinemas: The Cinémathèque Française, Still Going Strong (and Going Global)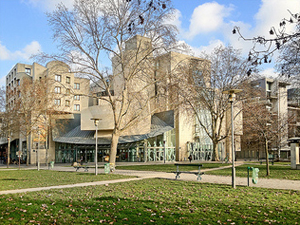 The Cinématheque Française is a unique institution—there's nothing quite like it anywhere else. It's a repository of France's cinematic heritage, whose screenings have provided an education to generations of French filmmakers, most famously the New Wave that changed film history. When the government tried to sack its founder, the sainted Henri Langlois, Jean-Luc Godard and François Truffaut, among others, rebelled and closed down the Cannes Film Festival, throwing their two paving-stones' worth into the May '68 revolution. You won't get a sense of that history if you visit the Cinémathèque today, as it's been in a new site since 2005, in a building designed by Frank Gehry, originally for the American Center, and in a very different part of Paris from its long-time location at the Palais de Chaillot.
The Bercy area in the 12th arrondissement isn't one of Paris' beautiful quartiers, but it's certainly dynamic with non-stop building and many modern landmarks: the Omnisports stadium, finance ministry, François Mitterrand library, and another important cinema venue, MK2 Bibliothèque. There's also Bercy Village, a pleasant café-restaurant-boutique complex built from old wine warehouses, with a lovely garden (and a multiplex that's yet another film institution). The Cinémathèque itself is located on a street with several trendy eateries, and sits on a large, attractive expanse of greenery.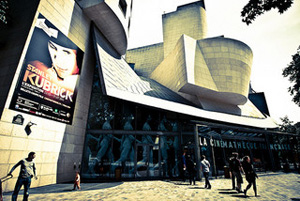 The Cinémathèque still has at its mission to keep and show the treasures from France's rich film patrimony. In the past it also screened movies by Hollywood auteurs, but nowadays its reach goes much further. In diverse thematic programs the center shows the works of filmmakers from Asia, Africa, and the Middle East.
The Cinémathèque has a library and museum, and regularly features exhibitions, lectures, and classes. A well-stocked bookstore contains an impressive collection of film-books (many in English) and DVDs. This being France, great culture goes with excellent food, so the Cinémathèque also features a café-restaurant, les quatre cent coups.
photo 1 by Jean-Pierre Dalbéra [CC BY 2.0], via Flickr
photo 2 by Pittaya Sroilong [CC BY 2.0], via Flickr
Leave a reply
Your email address will not be published. Required fields are marked *