Le Cours de la Vie: Lessons in Film … and Life
Le Cours de la Vie (literally Life Lessons), directed by Frédéric Sojcher, is a small film, but it has a compelling premise. What happens when long-ago lovers, who'd had a fraught falling out, meet again years later? This is the kind of thing that happens nowadays via social media, Google, and on-line sites specialized in reconnecting people. It's not too dramatic from the outside looking in, but the film takes a more concrete form: Vincent, a director of a film school in Toulouse, offers a lecture gig to his ex, Noémie, a successful screenwriter (played by Agnès Jaoui). The consequences go well beyond the expected bittersweet reunion. Le Cours de la Vie @Tabotabo films et Sombrero films What gives the film a nifty twist is that Noémie's talks to students about screenwriting obliquely treat life issues à la Dead Poets Society, and these issues, while often general, sometimes touch a personal nerve. Vincent sits in on the lectures, which is a little contrived, but it raises the tension. And when Noémie becomes more emotional, it affects her students, though they know nothing about Vincent and Noémie's personal connection. Le Cours de la Vie @Tabotabo films et Sombrero films
Agnes Jaoui's acting talent and personal empathy anchor the film's set-up. In fact, Ms. Jaoui alone makes the film worth seeing. Over the years she's become a one-woman French film institution. As an actress she's appeared in many films, usually in supporting roles, though in her younger years she was a ravishing beauty. At a certain age she's still a radiant presence. She's also directed several films. The high point of her career was Le Goût des Autres, which won a César best picture award, as well as a nomination for best international film Oscar. But it's as a screenwriter that she's won the most acclaim. For years, she and her husband, Jean-Pierre Bacri, were a celebrated writing team, a French version of Ruth Gordon and Garson Kanin. This gives her special authority in playing a star scriptwriter (on his side the director has taught cinema in addition to making films). Le Cours de la Vie @Tabotabo films et Sombrero films
SUBSCRIBE
ALREADY SUBSCRIBED?
BECOME A BONJOUR PARIS MEMBER

Gain full access to our collection of over 5,000 articles and bring the City of Light into your life. Just 60 USD per year.

Find out why you should become a member here.

Sign in

Fill in your credentials below.
Le Cours de la Vie (literally Life Lessons), directed by Frédéric Sojcher, is a small film, but it has a compelling premise. What happens when long-ago lovers, who'd had a fraught falling out, meet again years later? This is the kind of thing that happens nowadays via social media, Google, and on-line sites specialized in reconnecting people. It's not too dramatic from the outside looking in, but the film takes a more concrete form: Vincent, a director of a film school in Toulouse, offers a lecture gig to his ex, Noémie, a successful screenwriter (played by Agnès Jaoui). The consequences go well beyond the expected bittersweet reunion.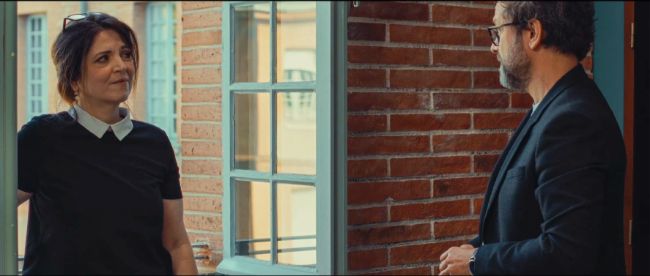 What gives the film a nifty twist is that Noémie's talks to students about screenwriting obliquely treat life issues à la Dead Poets Society, and these issues, while often general, sometimes touch a personal nerve. Vincent sits in on the lectures, which is a little contrived, but it raises the tension. And when Noémie becomes more emotional, it affects her students, though they know nothing about Vincent and Noémie's personal connection.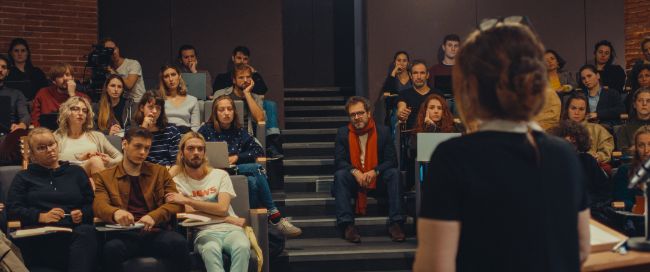 Agnes Jaoui's acting talent and personal empathy anchor the film's set-up. In fact, Ms. Jaoui alone makes the film worth seeing. Over the years she's become a one-woman French film institution. As an actress she's appeared in many films, usually in supporting roles, though in her younger years she was a ravishing beauty. At a certain age she's still a radiant presence.
She's also directed several films. The high point of her career was Le Goût des Autres, which won a César best picture award, as well as a nomination for best international film Oscar. But it's as a screenwriter that she's won the most acclaim. For years, she and her husband, Jean-Pierre Bacri, were a celebrated writing team, a French version of Ruth Gordon and Garson Kanin. This gives her special authority in playing a star scriptwriter (on his side the director has taught cinema in addition to making films).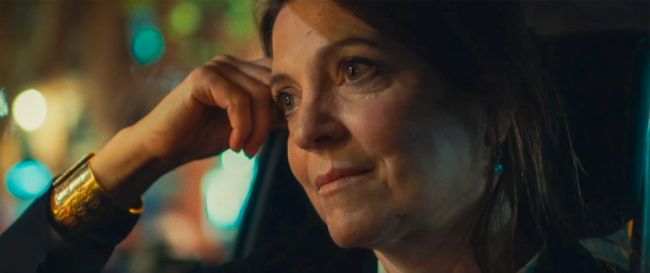 As Vincent, Jonathan Zaccaï gives a solid performance, though as the supposedly more injured party of the break-up, he walks a fine emotional tightrope. He's often prickly with his students, which undermines how we engage with him, though we understand that he has his reasons. Aside from the reunion with Noémie and the stirring up of emotional embers, he's also just separated from his wife (and children). No wonder he often looks like he's about to break into tears.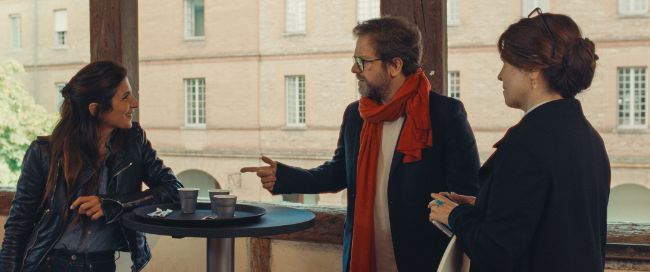 The young students give the film a Fame vibe, though we don't see them perform, just talking about craft or their own projects. For the most part they're walking-talking embodiments of tropes we've seen many times: attractive, energetic, soulful, passionate, etc. Some viewers may react to all the above with awww, but sometimes it's hard to repress a yawwn. Still, the students lighten the film's mood, and provide some counterpoint.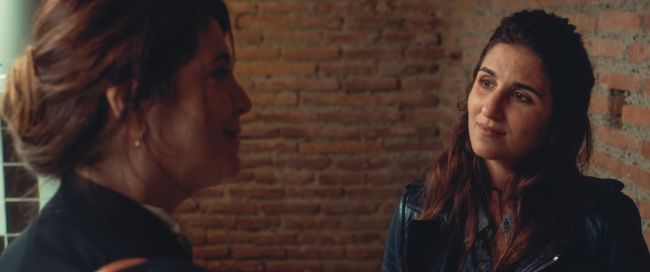 The director doesn't ram the Toulouse backdrop into our eye-sockets, instead letting it imbue the atmosphere with a southern softness and a sense of a provincial city's limitations. One of Vincent's good friends is Raymond (Stéphane Henon), a restaurateur. Like every Toulousian restaurateur — like everyone everywhere — he has a screenplay to hawk. This is treated with tolerant humor, but I found myself wanting to know more about him — and even about his script. In some ways he seemed deeper and more interesting than the students at the school.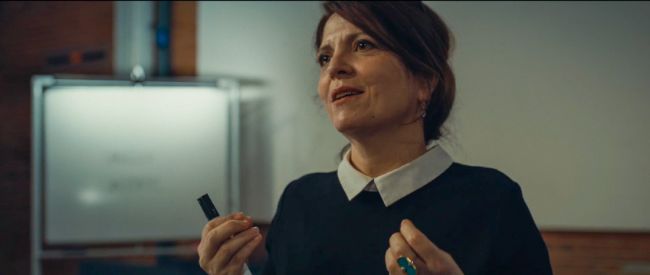 The one genuinely interesting student is a boy named Antoine, who has a striking Ichabod Crane appearance. He seems a little troubled, and thin-skinned; we're never told why. Is he stuck halfway in the closet? Has he suffered some trauma? We surmise that perhaps he's just an immature kid who feels his lack of experience as an inner void. At first kind of irritating, Guillaume Douat gradually brings his character out of his shell, and his looks become expressive and endearing — Ichabod as seen by his mom.
The film has its imperfections: the director often gets twitchy with his camera, as if assuming that the contemporary audience's eyes will glaze over at unobtrusive filming. Ironically, for a movie set in a film school, these techniques evoke the kind of work a young student might produce as an initial opus. This extends to the dialogue: authenticity is communicated with verbal tics that replicate speech that's full of hesitancies and stutters, the sort of thing you see in a verbatim transcript. This can get affected, but gives the film its particular jittery rhythm.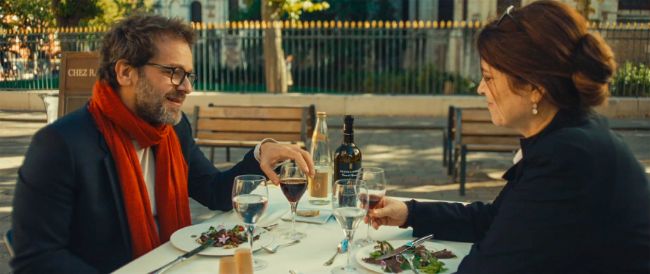 Le Cour de la Vie makes startling the facts many of us are familiar with, how old partners, meeting later in life, have since had other partners or spouses, and children. Not only that but those subsequent life situations have lasted for years, and those hard-to-imagine children by others are actually adults.
What's even harder for Vincent and Noémie to digest — and more interesting for us — is the emotional fallout from the breakup, its consequences, how it impacted the arc of their lives. One became more confident because of the separation; the other lost confidence, at least temporarily. There's catharsis in the reunion, and Antoine may develop as an artist and human being as a result of coming into contact with them. And so … Happy end? Not really. Feel-good? So-so. But a deliciously poignant, thought-provoking experience? Definitely.
Production: Tabo Tabo Films/Sombrero Films/Lamarr
Distribution: Jour2fête
Lead photo credit : Le Cours de la Vie @Tabotabo films et Sombrero films
More in Agnès Jaoui, cinema, film, film review, Frédéric Sojcher, French Film Review, Le Cours de la Vie
---
---