L'Adieu à la Nuit (Farewell to the Night): Clash of Generations
In l'Adieu à la Nuit, André Techiné brings masterly artistry and subtle humanistic vision to a disturbing problem plaguing France and other European countries, the radicalization of Islamic militants who go off to murderous holy wars. The director might seem a step behind the times: since the defeat of ISIS in Syria, the current concern isn't young people going off to war but those coming back home, unreconstructed and dangerous. In addition, his focus is an ethnically French youth (played by Kacey Mottet-Klein) who converts to radical Islam, whereas most militants are of North African descent. However, it's true that a top ISIS fighter, killed by drone, was a French convert. What distinguishes the film is Techiné's moral force and human sympathy. He's aided by the other star of the film, Catherine Deneuve, who brings her iconic presence to bear as Alex's grandmother. The action takes place in a picturesque mountain area in the Occitane region. This certainly has to do with regional subsidies to the filmmakers. It's not the most credible setting for a drama of alienated youth, but the audience is treated to lots of gorgeous landscape shots. Muriel (Deneuve) runs a family horse business there which involves training horses and equestrians. Among the family members at the horse farm is Alex, an inward boy who's never recovered from his mother's death in a diving accident. He's never forgiven his estranged father for his supposed responsibility in the accident, and for having moved to Guadeloupe, where he's founded another family. Alex is involved with Lila, a young girl of North African origin. Startlingly well-played by Oulaya Amamra, Lila is endowed with doe-like prettiness and a nurturing personality. We see her working in a nursing home, giving affectionate care to patients, indicating that this side of her is genuine. Their embrace of a fervent brand of Islam also seems sincere. Much of the movie can be seen as a portrayal of love across cultures, and how a family deals with conversion. Muriel accepts Lila, and even Alex's conversion to Islam (she catches him praying in the forest). Aside from religion and romance, there's the element of violent militancy. For the most part this remains on the level of Alex and Lila's surreptitious planning, the gradual discovery by the grandmother, and a foreboding mood. Nothing very melodramatic happens, yet the tension Techiné brings to his direction (including the absence of background music) and the nervous strain conveyed by the actors result in an anxiety level some viewers might find hard to take. Deneuve gives a moving performance as a strong maternal woman who finds herself faced with a crisis she never expected, yet is determined to protect her grandson. Muriel's movements might be stiff, but her eyes project fear and sadness, though she's never less than sympathetic to those around her. Alex is the diametric opposite: he exudes physical force, but doesn't project out of the screen—his negative presence draws the viewer, then recoils. It's a credit to Motter-Klein's acting that we feel so engaged by his character. Parallel to the plot, Muriel deals with the depredations of a wild boar on her land. She strings up electrified wire, and patrols at night with a long-gun. It's a fitting analogy to the radicalization narrative. The fence is meant to keep out the boar, but also fences in the horses. When she faces the boar one day by chance, she doesn't shoot. She seems to hope for coexistence among animals and humans alike. Techiné and Deneuve are in their 70s, and the film represents France's old generation—those who try to understand—dealing with the "clash of civilizations". The film accepts the intercultural relationship (Muriel offers to let Lila cohabitate with Alex, not the best—or most plausible—move), and depicts Islam, even the radical variety, with respect. (Giving minorities a modicum of dignity is seen as one attraction of militancy.) Having the radicalized young person be ethnically French allows the director to probe the character emotionally rather than as an Other, but avoiding the fact of the Other, like the French ban on official studies mentioning race, also perpetuates the problem. Muriel does meet a Maghrebin man who'd joined the jihadists. He's shown as a decent type who's been through a lot, a loving father trying to make his way. But he's not permitted his full say about his experience—when he confronts Alex to dissuade him, he's quickly thrown aside. The younger generation has its own contradictions. They complain about the materialism of society, but seem completely absorbed by the virtuality of contemporary communication. Faith, politics, love, all take place mostly on the smartphone screen. Even marriage is performed via Skype. It's no surprise that violence, when it's processed into video loops on line, becomes lurid and unreal. In the end, there's some melodrama to wind things up. This is a bit creaky but it works, especially as the story doesn't evade a degree of tragedy. Techiné, an affirmative if qualified humanist, still gives us a hopeful ending. If L'Adieu à la Nuit isn't a feel-good movie, it isn't a downer, either. Neither thriller nor propaganda piece, it's a political film that's resolutely adult, which means it fulfills the political theme by going to the human core inside it. Production: Curiosa Films/Arte France Cinéma/Legato Films-Bellini Films/Films Boutique Distribution: Ad Vitam Distribution
For more Bonjour Paris film reviews, click here
SUBSCRIBE
ALREADY SUBSCRIBED?
BECOME A BONJOUR PARIS MEMBER

Gain full access to our collection of over 5,000 articles and bring the City of Light into your life. Just 60 USD per year.

Find out why you should become a member here.

Sign in

Fill in your credentials below.
In l'Adieu à la Nuit, André Techiné brings masterly artistry and subtle humanistic vision to a disturbing problem plaguing France and other European countries, the radicalization of Islamic militants who go off to murderous holy wars. The director might seem a step behind the times: since the defeat of ISIS in Syria, the current concern isn't young people going off to war but those coming back home, unreconstructed and dangerous. In addition, his focus is an ethnically French youth (played by Kacey Mottet-Klein) who converts to radical Islam, whereas most militants are of North African descent. However, it's true that a top ISIS fighter, killed by drone, was a French convert. What distinguishes the film is Techiné's moral force and human sympathy. He's aided by the other star of the film, Catherine Deneuve, who brings her iconic presence to bear as Alex's grandmother.
The action takes place in a picturesque mountain area in the Occitane region. This certainly has to do with regional subsidies to the filmmakers. It's not the most credible setting for a drama of alienated youth, but the audience is treated to lots of gorgeous landscape shots. Muriel (Deneuve) runs a family horse business there which involves training horses and equestrians. Among the family members at the horse farm is Alex, an inward boy who's never recovered from his mother's death in a diving accident. He's never forgiven his estranged father for his supposed responsibility in the accident, and for having moved to Guadeloupe, where he's founded another family.
Alex is involved with Lila, a young girl of North African origin. Startlingly well-played by Oulaya Amamra, Lila is endowed with doe-like prettiness and a nurturing personality. We see her working in a nursing home, giving affectionate care to patients, indicating that this side of her is genuine. Their embrace of a fervent brand of Islam also seems sincere. Much of the movie can be seen as a portrayal of love across cultures, and how a family deals with conversion. Muriel accepts Lila, and even Alex's conversion to Islam (she catches him praying in the forest).
Aside from religion and romance, there's the element of violent militancy. For the most part this remains on the level of Alex and Lila's surreptitious planning, the gradual discovery by the grandmother, and a foreboding mood. Nothing very melodramatic happens, yet the tension Techiné brings to his direction (including the absence of background music) and the nervous strain conveyed by the actors result in an anxiety level some viewers might find hard to take.
Deneuve gives a moving performance as a strong maternal woman who finds herself faced with a crisis she never expected, yet is determined to protect her grandson. Muriel's movements might be stiff, but her eyes project fear and sadness, though she's never less than sympathetic to those around her. Alex is the diametric opposite: he exudes physical force, but doesn't project out of the screen—his negative presence draws the viewer, then recoils. It's a credit to Motter-Klein's acting that we feel so engaged by his character.
Parallel to the plot, Muriel deals with the depredations of a wild boar on her land. She strings up electrified wire, and patrols at night with a long-gun. It's a fitting analogy to the radicalization narrative. The fence is meant to keep out the boar, but also fences in the horses. When she faces the boar one day by chance, she doesn't shoot. She seems to hope for coexistence among animals and humans alike.
Techiné and Deneuve are in their 70s, and the film represents France's old generation—those who try to understand—dealing with the "clash of civilizations". The film accepts the intercultural relationship (Muriel offers to let Lila cohabitate with Alex, not the best—or most plausible—move), and depicts Islam, even the radical variety, with respect. (Giving minorities a modicum of dignity is seen as one attraction of militancy.) Having the radicalized young person be ethnically French allows the director to probe the character emotionally rather than as an Other, but avoiding the fact of the Other, like the French ban on official studies mentioning race, also perpetuates the problem. Muriel does meet a Maghrebin man who'd joined the jihadists. He's shown as a decent type who's been through a lot, a loving father trying to make his way. But he's not permitted his full say about his experience—when he confronts Alex to dissuade him, he's quickly thrown aside.
The younger generation has its own contradictions. They complain about the materialism of society, but seem completely absorbed by the virtuality of contemporary communication. Faith, politics, love, all take place mostly on the smartphone screen. Even marriage is performed via Skype. It's no surprise that violence, when it's processed into video loops on line, becomes lurid and unreal.
In the end, there's some melodrama to wind things up. This is a bit creaky but it works, especially as the story doesn't evade a degree of tragedy. Techiné, an affirmative if qualified humanist, still gives us a hopeful ending. If L'Adieu à la Nuit isn't a feel-good movie, it isn't a downer, either. Neither thriller nor propaganda piece, it's a political film that's resolutely adult, which means it fulfills the political theme by going to the human core inside it.
Production: Curiosa Films/Arte France Cinéma/Legato Films-Bellini Films/Films Boutique
Distribution: Ad Vitam Distribution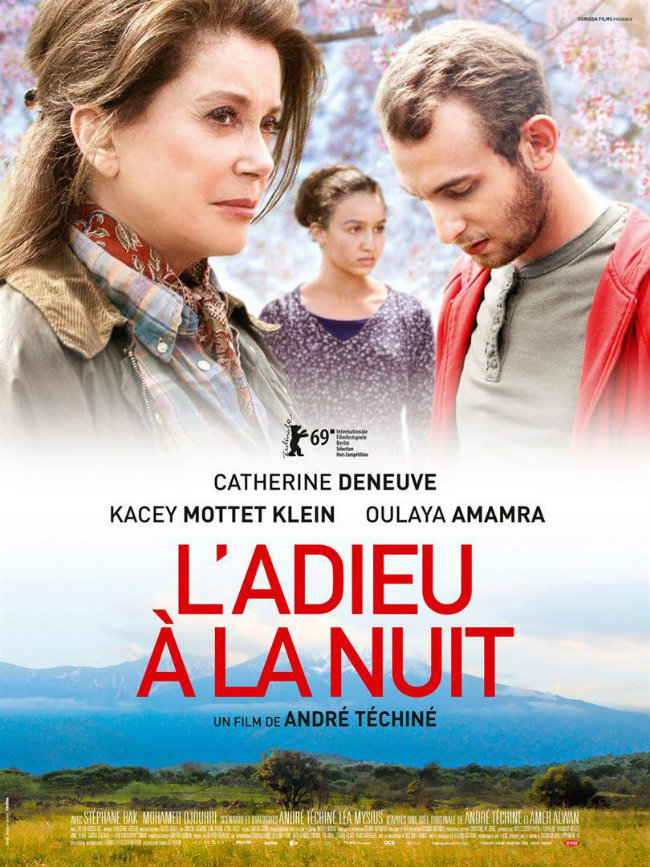 Lead photo credit : Photo © L'Adieu à la nuit (Youtube trailer)
---
---