10 Affordable Budget Hotels in Paris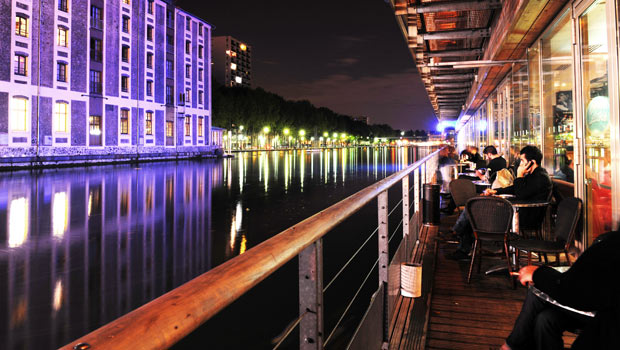 Paris is undoubtedly one of the most expensive European cities to holiday in, especially when it comes to accommodation. However, while visiting you don't have to splurge on a place to sleep to make the most of it – and here are 10 good reasons why.
Sitting in a prime spot crowning the La Villette canal (a top local summer picnic spot), the hostel is the place to stay for backpackers. Dorm beds and private rooms are available and although functional, they are clean. There is also a lively bar on the ground floor that serves basic good-value pub food. The highlight here is the sweeping views of the canal. Saint Christopher's also has an outpost at Gare du Nord (close to the Eurostar terminal). From 19.90€ per night for a dorm bed.
159 rue de Crimée, 75019. Tel: 01 40 34 34 40
This colorful hostel is perfect for travelers wanting to be close to Montmartre, which is a 10-minute walk away. The reception is open 24 hours, there is a kitchen for guests to use and there are no curfews. The hostel rents dorm beds as well as private rooms, which are basic, clean and well maintained. From 22€ per night for a dorm bed. 62 rue Ramey, 75018 Paris. Tel: 01 46 06 46 07
Generator hostels across Europe are known for their upbeat ambiance and attention to design in the shared areas, and Paris is no exception. The very cool and colourful ground-floor restaurant for instance has a lovely adjoining contemporary conservatory to hang out in. The dorms and private rooms are clean, can be spacious, and have slick design touches like Scandinavian style chairs. The hostel is steps away from the bohemian-chic Canal Saint Martin, which is a popular spot for going out at the weekends and picnicking in summer. From 25€ per night for a dorm bed.
11 Place du Colonel Fabien, 75010 Paris. Tel: 01 70 98 84 00
A local favourite be it for budget reasons or just out of choice, the Mama's got it all – even a rooftop terrace for summer. The playful Philippe Starck interiors create a warm and buzzy atmosphere in the ground-floor restaurant and bar, especially packed at weekends with locals as well as hotel guests. The rooms are basic but tastefully decorated and comfortable. A real local and cosmopolitan hub of the city's nightlife scene, the Mama is situated a little out of the way in the 20th district on rue de Bagnolet, which thrives with low-key bars and restaurants. From 99€ for a double room per night.
109 rue de Bagnolet, 75020 Paris. Tel: 01 43 48 48 48
A short walk from the Latin Quarter and the Jardin du Luxembourg, the hostel is located in the less polished 13th district close to the Chinese quarter, worth checking out while here for a real taste of multicultural Paris. Here all rooms have private bathrooms and a free breakfast is served daily. Most rooms sleep a maximum of four. From 27€ per night for a dorm bed.
50 avenue des Gobelins, 75013 Paris. Tel: 01 47 07 47 00
Not a backpacker haunt, this very simple hotel does the job for a few days' sightseeing. It's very clean, pleasant and homely with friendly and helpful staff on hand to help. It even has an outdoor patio where breakfast is served in summer. The best part though is the location as it's close to Les Gobelins in the 13th district and therefore only a short walk from the Latin Quarter. Note that not all rooms have ensuite facilities. From 95€ for a double room per night.
8 Boulevard de Port-Royal, 75005 Paris. Tel: 01 43 31 70 06
A self-proclaimed 'boutique' hostel, this little pied-à-terre is in the perfect spot for experiencing the comings and goings of romantic hilltop neighbourhood Montmartre. Guests can choose between dorms and private rooms, all of which have ensuite bathrooms. Clean and practical, the rooms come with brightly coloured wallpaper and bed linen, adding a cheerful edge to otherwise simple interiors. From 30€ per night for a dorm bed.
7 rue Aristide Bruant, 75018 Paris. Tel: 01 42 58 42 58
Overhauled by French designer Matali Crasset, the three-star Hi Matic is a very cool, very brightly coloured design hostel set close to Bastille on rue de Charonne, which has plenty of boutiques, restaurants and bars to explore. Breakfast (9€) is served daily in the bar area. Most of the rooms, or modular urban cabins, can be changed around according to guest occupation. From 100€ for a double room per night.
71 rue de Charonne, 75011 Paris. Tel: 01 56 06 95 13
A beautiful design hostel full of quintessential 19th century Parisian charm including an outdoor patio, the hostel is steps away from the Monceau Park and a 20-minute walk to the Champs-Elysées. There is also a BVJ in the Latin Quarter and close the Louvre. Breakfast is included in the rate. From 19€ per night for a dorm bed.
12 rue Léon Jost, 75017 Paris. Tel: +33 01 42 67 20 40
The highlight here is the Saint Martin canal side location, which is prime local turf for bars and restaurants at the weekends and picnics in the summer. The hotel offers cheerful and bright dorms and private rooms. A continental breakfast is included in the room rate. From 29€ for a double room per night.
1 rue de la Fontaine au Roi, 75011 Paris. Tel: 01 47 00 47 00
Lead photo credit : Saint Christopher's Inn, Paris
---
---