Book Review: Under Occupation, A Novel by Alan Furst
Under Occupation: A Novel is the fifteenth in Alan Furst's series of espionage thrillers, all set in Europe between the years of 1933 and 1943. I asked Furst, in an interview conducted in 2016, why he had chosen that time period to set his novels. His answer? It was an "intense….amazingly dynamic" period of time. "People were very passionate, they may have been passionate about politics, but they were also passionate about each other, partly because it was as if 'the world is coming to an end, so we'd better do whatever we're going to do before that happens…'" 
Under Occupation is set primarily in Paris, in 1942 and 1943, with side trips to other parts of France, as well as one nerve-wracking mission the protagonist, Paul Ricard, makes into Germany along with a gutsy, intelligent, and very brave Polish woman, Kasia, who serves as his translator.

As in all of Furst's novels, given the setting in Nazi-occupied Europe, there is an overall, omnipresent tension that suffuses the story, punctuated by harrowing scenes that are usually mercifully short.
By late 1942 the tide was beginning to turn, a fact that is alluded to several times in the story. But knowing that the Allies were eventually going to win the war did not change the dangerous position that those waiting for them to do so were in; in fact in many cases it became even more precarious as the Germans too began to realize their reign was not going to last forever, and sometimes became even more brutal.
The protagonist in this case is, like the hero of The World at Night, the romantic filmmaker Jean Casson, a somewhat unlikely figure to find himself in the position of outwitting, outrunning, or otherwise besting SS thugs and officers of the Gestapo. Ricard is a novelist, a writer of thrillers: he is recruited somewhat accidentally into the French Resistance, in which he quickly becomes "lost, moving down a labyrinth he didn't understand. But it was too late; this was no plot that could be revised; this was his reality and he hated it."
And although–as one of his fellow résistants points out to him at one point, he is perhaps not ideally cut out for the role–he performs his duties ably and well, always hoping that his patriotic obligation will have been fulfilled, and that he can return to whatever normalcy life in occupied Paris can offer.
But because the need for trustworthy and capable résistants is great, he keeps being pulled back in. On one such occasion, when he is asked to perform an additional assignment, "Ricard hesitated…He had only just gone back to living his normal life and took pleasure in it. But he understood that refusing Adrian's offer wasn't really possible. When a war comes to your country, you have to join up. What was Trotsky's quote? 'You may not be interested in war, but war is interested in you.' Finally he said, 'What do you want me to do?'"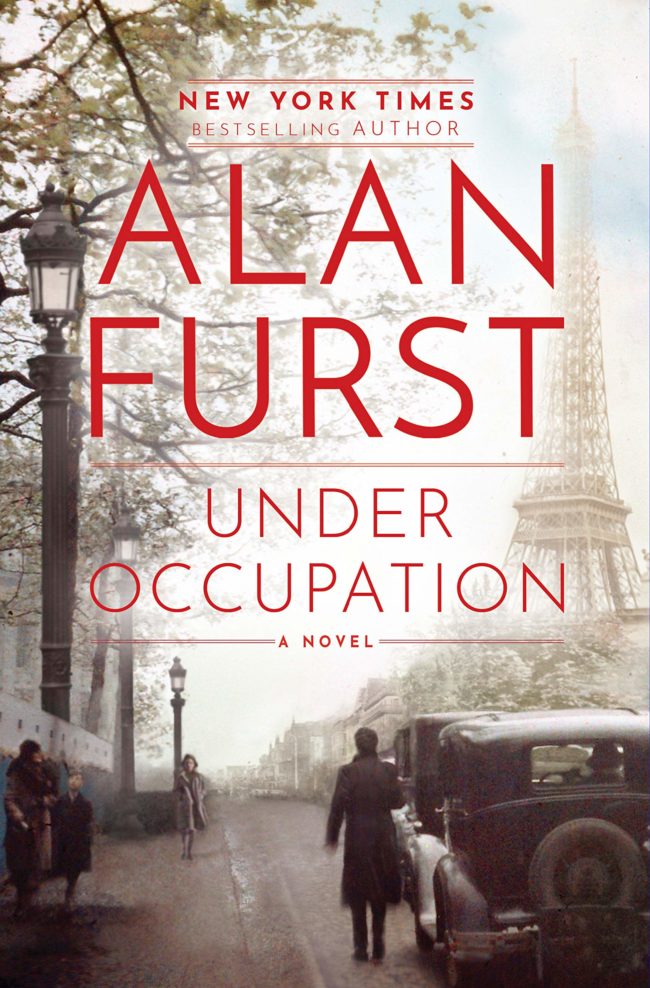 Furst is often described, accurately, as a master of plot. But he is also a master of literary style; his prose is exquisite. This lends his books, despite the darkness of the overall atmosphere, a kind of poetic beauty and grace that shines through the darkness.
He is also quite clearly a Francophile, and each of his books offers glimpses of all those myriad things that go into making France the very special place it is. At one point in the story, with funds provided by the Resistance, Ricard takes an ally to lunch in the upstairs of a restaurant where they are treated to the kind of meal that is all too rare in Occupied Paris.
Their soup arrived at the table, a potage de légumes, warm and thick, colored a rich brown by the lentils used to make it. Ricard ate a spoonful and recalled how the French believed in soup—with bread and wine it was all one really needed.
All of the books in the series implicitly pose a weighty question: and never is the reader allowed to imagine that the choice faced by people in France during the Occupation was an easy one, no matter which course of action, or inaction, they chose. In one passage Ricard is reflecting on the people he has encountered who are maintaining safe houses along a passage through France that provides fugitives with a way out of the country. "These were good and honorable people," he thought. "They knew what would happen to them if the Gestapo discovered what they were doing, yet they persisted in the face of danger."
According to Furst: "More than one reader has said to me 'There is always a certain question in your books—what would you have done?'"
Purchase this book at your local independent bookstore (in Paris, we recommend The Red Wheelbarrow, San Francisco Books, Shakespeare and Company), or on Amazon below: 

Lead photo credit : Change of guard at hotel Crillon place de la Concorde. Releve de la garde au Crillon. Credit Line (ACME), Paris Oct. 7/40, Chas. Baulard.
Leave a reply
Your email address will not be published. Required fields are marked *
Comments