The Paris Gourmet (A Book by Trish Deseine)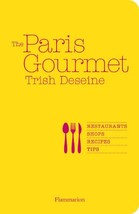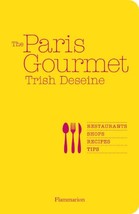 When you consider the highlights of time spent in Paris, I imagine food and wine rank high. Chances are you have more than a few memorable eating experiences to your credit, but why leave it to chance when you can have the advice of a Paris insider who has done the legwork for you?
Meet Trish Deseine, a comely Irishwoman with a passion for all things French. A long-time resident of Paris, she is a former cooking show host who contributes recipes to Elle and The Irish Times. She is one of the most celebrated cookbook authors in France, named one of the 40 women of the decade in 2010 by Vogue Paris.
This is the friend in Paris we'd all like to have, one who has spent nearly 30 years exploring and shopping, cooking and tasting, who is willing to share her best addresses. Her latest book, The Paris Gourmet, is a celebration of the bounty of France and contains everything you'll ever need to know about wining and dining in Paris.
This is a beautifully crafted book, a pleasure to hold and to read. Its cheerful yellow cover hints at what is to follow, and there is no disappointment there. Deseine is a clever and competent writer whose enthusiasm for her subject is hard to resist. The layout is user-friendly, and the photographs – the work of Christian Sarramon – are exquisite.
There are restaurants for every occasion and for every taste, from the classics that say Paris to the latest "hot" venue. There are places to dine with children and restaurants to celebrate a special event when the kids are best left at home. An entire chapter is devoted to the "best of" in scores of categories. She includes her own personal favorites – a brave move, in my estimation, as there is always the risk of a place becoming so popular it's impossible to get a table.
Never fear, lots of ink has been devoted to your sweet tooth. Whether your special péché mignon is chocolate or macarons or French pastries, all are covered here. If you are in Paris for the holidays, you will learn where the ultimate bûche Noël or galette du roi may be found. Can't choose? Don't worry; no one's watching if you take more than one.
The options for dining out are inexhaustible, but there will be days you'd rather eat in. Of course, a well-equipped kitchen is essential. Deseine points you toward any piece of kitchen paraphernalia you ever needed (or never knew you needed). There are sources for tableware and linens to grace your well-appointed table. If you're visiting, these places are filled with gifts you'll want to take home.
And then it's off to fill your pantry; no guide to Parisian food would be complete without mentioning the markets. Once you have accumulated your staples, stocking a pantry à la Parisienne is surprisingly easy, not to mention fun. A surprisingly high number of Parisians still shop every day for groceries.
Once your kitchen is equipped and your pantry stocked, you're ready to entertain. Once again, Trish Deseine is there for you. There are menus for meals from brunch to a festive dinner, complete with recipes. These are dishes you may actually make. Deseine doesn't dwell on some rarefied plain where every course requires days of preparation. Thoughtfully, all measurements for ingredients are given by volume and by weight.
If you're blessed (or cursed) with a voracious appetite – and don't we all have days we can't fill that bottomless pit? – a chapter covers some do-it-yourself gourmet tours, arranged by neighborhood. I'm not sure I could eat so much in one day, but it would be fun to try and meet the challenge. And don't forget, calories don't count in Paris. You'll walk them off.
Sprinkled throughout every chapter are "Gourmet Tips" covering every subject from making reservations to wine pairings. At the market, did you know it's all right to steal a grape (but no other fruit) without asking permission? I confess I haven't tried this, and so I assume no responsibility for any repercussions.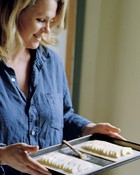 Trish Deseine and I have at least one neighborhood in common (although at different times), and so we share some favorites as well. Reading along, I find my regular market, and several cafés and shops I have frequented. My favorite fromagère is Deseine's, as well. Memories are awakened that could only be of Paris, and I'm nostalgic for the years spent there.
Of course, there will always be another trip to Paris, and The Paris Gourmet will make an agreeable traveling companion. Imagine the fun of eating one's way across Paris, book in hand. The Paris Gourmet is also available in French under the title, Gourmande : Carnet parisien.
Jane del Monte lived for a number of years in Paris. She is the owner of ARTS in PARIS, tours with a focus on French culture and l'art de vivre. She considers Parisian cuisine one of its finest art forms. The upcoming tour, Impressions of Paris 2014 will take place May 11 – 19.
Leave a reply
Your email address will not be published. Required fields are marked *