Marc Weitzmann Wins American Library in Paris Book Award 2019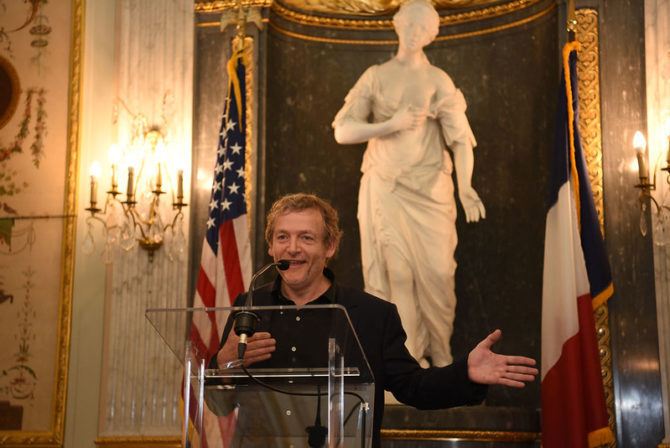 Each year the
American Library in Paris
honors an exceptional work written originally in English, that deepens and stimulates our understanding of France or the French. The American Library in Paris Book Award was created in 2013, along with a $5000 prize, generously funded by the Florence Gould Foundation. Now in its seventh year, the 2019 Book Award was given to Marc Weitzmann, author of Hate: The Rising Tide of Anti-Semitism in France (and What it Means for Us). This year's independent jury was chaired by Yale French professor Alice Kaplan, and included Paris-based authors Pamela Druckerman and Thomas Chatterton Williams. The jury stated that "Marc Weitzmann blends memoir, scholarship and reportage to create a powerful nonfiction study of anti-Semitism in France today," and added: "In prose that's by turns expansive and taut, he reframes a story we thought we knew, and offers glimmers of clarity into what's happening in France and beyond." Marc Weitzmann is a journalist and author of 12 books of fiction and nonfiction. He hosts a weekly radio show, "Signe de Temps," on France Culture and is a regular contributor to Le Monde, Le Point, and Le Magazine Littéraire. He contributes to the American publication, Tablet Magazine, where Hate originated as a five-part series of articles. The ceremony announcing the prize took place on November 7, 2019, at the George C. Marshall Center in Paris. Mr. Weitzmann accepted the award and received the $5000 prize, along with a leather-bound copy of his book. As the Book Award's first French winner, Mr. Weitzmann spoke about how Philip Roth encouraged him to develop the series of articles he wrote for Tablet into a book-length work for an American audience. About the experience of writing in English, he noted "thinking in a foreign language gives you another understanding of your own country." The American Library in Paris was founded in 1920 to house a large collection of books sent by American libraries to United States personnel serving in the First World War. It has since grown to more than 100,000 volumes, making it the largest English-language lending library on the European continent. Details about the award and submission guidelines for 2020 are available on the
Library's website
.
SUBSCRIBE
ALREADY SUBSCRIBED?
BECOME A BONJOUR PARIS MEMBER

Gain full access to our collection of over 5,000 articles and bring the City of Light into your life. Just 60 USD per year.

Find out why you should become a member here.

Sign in

Fill in your credentials below.
Each year the American Library in Paris honors an exceptional work written originally in English, that deepens and stimulates our understanding of France or the French. The American Library in Paris Book Award was created in 2013, along with a $5000 prize, generously funded by the Florence Gould Foundation. Now in its seventh year, the 2019 Book Award was given to Marc Weitzmann, author of Hate: The Rising Tide of Anti-Semitism in France (and What it Means for Us).
This year's independent jury was chaired by Yale French professor Alice Kaplan, and included Paris-based authors Pamela Druckerman and Thomas Chatterton Williams. The jury stated that "Marc Weitzmann blends memoir, scholarship and reportage to create a powerful nonfiction study of anti-Semitism in France today," and added: "In prose that's by turns expansive and taut, he reframes a story we thought we knew, and offers glimmers of clarity into what's happening in France and beyond."
Marc Weitzmann is a journalist and author of 12 books of fiction and nonfiction. He hosts a weekly radio show, "Signe de Temps," on France Culture and is a regular contributor to Le Monde, Le Point, and Le Magazine Littéraire. He contributes to the American publication, Tablet Magazine, where Hate originated as a five-part series of articles.
The ceremony announcing the prize took place on November 7, 2019, at the George C. Marshall Center in Paris. Mr. Weitzmann accepted the award and received the $5000 prize, along with a leather-bound copy of his book. As the Book Award's first French winner, Mr. Weitzmann spoke about how Philip Roth encouraged him to develop the series of articles he wrote for Tablet into a book-length work for an American audience. About the experience of writing in English, he noted "thinking in a foreign language gives you another understanding of your own country."
The American Library in Paris was founded in 1920 to house a large collection of books sent by American libraries to United States personnel serving in the First World War. It has since grown to more than 100,000 volumes, making it the largest English-language lending library on the European continent.
Details about the award and submission guidelines for 2020 are available on the Library's website.
Lead photo credit : Marc Weitzmann, winner of American Library in Paris book award. Photo: Krystal Kenney
More in American Library in Paris
---
---