Paris Art Scoop: A Taster of Nuit Blanche 2015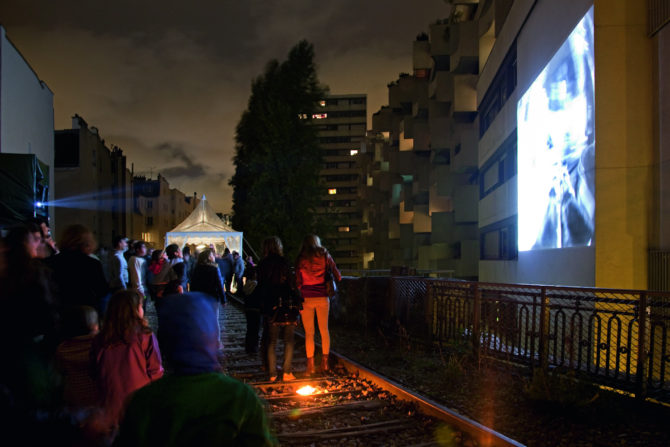 Under the title Atmosphère ?… Atmosphère! The 14th edition of Nuit Blanche will have an environmental flavor tying in with the UN Conference on Climate Change COP21 taking place in Paris, and for the first time the popular contemporary art festival will cross the peripherique into the northern banlieues.
The vibrant Nuit Blanche artistic all-nighter is organized by the city of Paris as a great way of bringing together people from all walks of life to share and enjoy their city, enhancing and reflecting on the concept of vivre ensemble.
Bruno Julliard, Deputy Mayor in charge of culture, and Nuit Blanche Artistic Director José-Manuel Gonçalvès, head of CENTQUATRE, unveiled the itinerary for the two main art walks during a conference at Paris City Hall on Wednesday June 17th. The first cluster will go from the gare du Nord (10th) to Aubervilliers, passing by gare Rosa Parks and the entrepôts MacDonald (19th). The second will weave through parc Monceau (8th), the éco-quartier of Clichy-Batignolles (17th) and the Petite Ceinture in the 18th arrondissement to continue beyond city limits.
"Two arteries with a source in Hausmannian Paris," said Gonçalvès, "will flow into the neighborhoods where the new Paris is developing, running through areas where we don't normally think of going to attend an art event. The works are grouped together, so even within just a two-tour walk, you'll be able to see a good number of installations."
Gonçalvès hinted at the use of fragile, organic materials, connected to thematic of climate and the relationship between man and nature. Over 30 international artists are involved, including Chinese artist Zhenchen Liu, Friedrich Van Schoor from Germany, Belgian sculptor Berlinde De Bruyckere plus locals Erik Samakh and Félicie d'Estienne d'Orves.
Nuit Blanche festivals began in Paris in 2002 – the phrase is the French term for a sleepless night. The event invigorates the city with an exciting combination of monumental sculptures, street art, frescoes, performances, light-based installations and an '"off" program of events that last all night, for one night, and are totally free. The idea was so successful with the public that it was replicated in 25 cities around the world, such as Brussels, Melbourne, La Paz and Kyoto.
Nuit Blanche 2015 will take place from 7pm on Saturday October 3rd until dawn on Sunday October 4th.
See photos and video of previous editions of Nuit Blanche.
#NuitBlanche
Photo credit : Souvernir from Nuit Blanche 2014 © Paris Tourist Office - Photographer - Amélie Dupont
Leave a reply
Your email address will not be published. Required fields are marked *