We are Open in August Buzz
August in Paris is delightful, free parking, less traffic, time to stand and stare, even Madonna's in town (Bercy 27, 28, 30, 31st). Free concerts until 19th by the Seine, between Pont de Sully and Pont Marie (www.fnac.com/fnacindetendances). And there are wonderful restaurants to try, here's a selection of BUZZ favourites: Young Ducasse talent, Cédric Béchade's Tomate-Mozzarella, version Cour Jardin 2006 will spoil you for any other you ever try. Under red umbrellas, sip a geranium red cocktail and choose a red-themed lunch or dinner. Risotto comme une paella and Maine Lobster with truffled vegetables. Warm breads, and Fontainbleau cheese for dipping. Excellent cheeses and red desserts by Christophe Michalak, finish with a marshmallow lollipop to bring out the inner child. The best of Alain Ducasse and Joel Robuchon on the bucolic terrace at  Relais du Parc, where the chic young crowd love to be fussed over by Director du salle, Gonzargue. Coté kitchen, it's the dishy Romain Corbière (Michelin 1*) in charge of "the best of", also presenting his own creations side by side with his Masters. Cocotte de legumes and Coquillettes au beurre, jambon/truffe from Ducasse, the now legendary Merlan Frit and Pigeon au chou et foie gras de Robo. Peep inside, the soft chocolate, caramel and framboise décor by Gilles Le Gall changes with the seasons. Sommelier Yannick Richard will talk you through a selection of fine vintage wines, by the glass if you like. Meanwhile, happily, both the excellent La Table de Robuchon and L'Atelier stay open, with Parisians out of here, should be easy to get tables. Gilles Epiè (ex-L'Orangerie LA) owns one of the chicest, hippest restaurants in town. Together with his wife, California babe Elizabeth, the feeling is friendly, in this former Bouchons de Francois Clerc, an airy space just behind the Champs Elysées. If you're counting calories ask about "skinny dishes" but ignore the fresh warm home-baked bread. Tutto is refreshingly light, as in millefeuille de beetroot with goat's cheese. Rabbit with roasted figs and a "spoom" sorbet/mousse dessert to refresh the palate before a Feuillantine glacé of fruits rouge or Epié's signature chocolate soufflé with chantilly. Nice with a 2002 Chateau de Pibarnon Comte de Saint Victor. The Bassalert family have owned Thoumieux since 1923. It's a Brasserie which only exists in
Paris, ignore imitations, this is the real thing. The accent is on dishes, by Christian Beguet, from Correze, so don't be surprised to see Jacques and Bernadette in a cosy corner mopping up oeuf mayo or onion soup, followed by a bon Tete de Veau, sauce Martial Thoumieux, for his nibs, and a Foie gras frais de canard for her. Clafoutis Limousin and Fraises Mara ou Framboises de Correze to finish. They'll wash it down with a vin du pays de la Correze, bien sur. Where's The Beef? Go straight to Galvacher, a stunning Belle Epoque space, created by Slavic (he did the Jules Verne, darling) where Patrice du Jeu (yes, that's really his name) shleps up all that's good in beef from his organic farm in the Morvan region. Everything is here from wonderful food, to Wi-Fi. Les Ombres is the rooftop restaurant (there's also a café) at the new $258 million Jean Nouvel designed "House That Jacques Built" Musée du Quai Branly. Nice location to meet friends, compare notes, on the museum (African, Asian, Americas stuff) and marvel at panoramic views. Elior has the catering contract (they also do The Louvre, National Gallery, London, etc.) and Arno Busquet's (ex-Laurent) menu has 8 starters (Les Légumes du Gaspacho) 5 Fish Mains (Rouget au Parfum de Citronelle) 5 Meat Mains (Boeuf Angus au Truffes de Chine) and 8 Pudds (Les Grands Crus de Chocolate). Yohann Paran is too busy, enjoying life at Beauvilliers so much he doesn't want to take a holiday. If he needs a break, after service, he just puts his feet up on the shady terrace with a nice Cohiba. This is a remarkable location for wandering, lonely as a cloud, around Montmartre in August, linger over lunch or dinner with a bon bouteille chosen by Mehdi the sommelier – you'll be in heaven. It's so high up you're half way there already!     Address Book: La Cour Jardin, Hotel Plaza Athénee, 25 avenue Montaigne, 8th (Metro: Franklin D Roosevelt) T: 01 53 67 66 02 www.alain-ducasse.com 80€ + wine La Terrasse du Parc, Hotel Sofitel Le Parc, 55 Avenue Raymond Poincaré, 16th (Metro: Victor Hugo/Trocadero) T: 01 44 05 66 10 Lunch 45€ Dinner 75€ + A la carte Citrus Etoile, 6 rue Arsène Houssaye, 8th (Metro: Etoile) T: 01 42 89 15 51 Menu 39€ Lunch & Dinner + A la carte www.citrusetoile.com Le Galvacher, 64 avenue des Ternes, 17th (Metro: Etoile) Lunch 30€…
SUBSCRIBE
ALREADY SUBSCRIBED?
BECOME A BONJOUR PARIS MEMBER

Gain full access to our collection of over 5,000 articles and bring the City of Light into your life. Just 60 USD per year.

Find out why you should become a member here.

Sign in

Fill in your credentials below.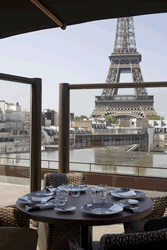 August in Paris is delightful, free parking, less traffic, time to stand and stare, even Madonna's in town (Bercy 27, 28, 30, 31st). Free concerts until 19th by the Seine, between Pont de Sully and Pont Marie (www.fnac.com/fnacindetendances). And there are wonderful restaurants to try, here's a selection of BUZZ favourites:
Young Ducasse talent, Cédric Béchade's Tomate-Mozzarella, version Cour Jardin 2006 will spoil you for any other you ever try. Under red umbrellas, sip a geranium red cocktail and choose a red-themed lunch or dinner. Risotto comme une paella and Maine Lobster with truffled vegetables. Warm breads, and Fontainbleau cheese for dipping. Excellent cheeses and red desserts by Christophe Michalak, finish with a marshmallow lollipop to bring out the inner child.
The best of Alain Ducasse and Joel Robuchon on the bucolic terrace at  Relais du Parc, where the chic young crowd love to be fussed over by Director du salle, Gonzargue. Coté kitchen, it's the dishy Romain Corbière (Michelin 1*) in charge of "the best of", also presenting his own creations side by side with his Masters. Cocotte de legumes and Coquillettes au beurre, jambon/truffe from Ducasse, the now legendary Merlan Frit and Pigeon au chou et foie gras de Robo. Peep inside, the soft chocolate, caramel and framboise décor by Gilles Le Gall changes with the seasons. Sommelier Yannick Richard will talk you through a selection of fine vintage wines, by the glass if you like. Meanwhile, happily, both the excellent La Table de Robuchon and L'Atelier stay open, with Parisians out of here, should be easy to get tables.
Gilles Epiè (ex-L'Orangerie LA) owns one of the chicest, hippest restaurants in town. Together with his wife, California babe Elizabeth, the feeling is friendly, in this former Bouchons de Francois Clerc, an airy space just behind the Champs Elysées. If you're counting calories ask about "skinny dishes" but ignore the fresh warm home-baked bread. Tutto is refreshingly light, as in millefeuille de beetroot with goat's cheese. Rabbit with roasted figs and a "spoom" sorbet/mousse dessert to refresh the palate before a Feuillantine glacé of fruits rouge or Epié's signature chocolate soufflé with chantilly. Nice with a 2002 Chateau de Pibarnon Comte de Saint Victor.
The Bassalert family have owned Thoumieux since 1923.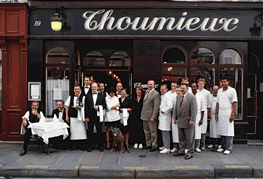 It's a Brasserie which only exists in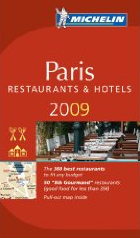 Paris, ignore imitations, this is the real thing. The accent is on dishes, by Christian Beguet, from Correze, so don't be surprised to see Jacques and Bernadette in a cosy corner mopping up oeuf mayo or onion soup, followed by a bon Tete de Veau, sauce Martial Thoumieux, for his nibs, and a Foie gras frais de canard for her. Clafoutis Limousin and Fraises Mara ou Framboises de Correze to finish. They'll wash it down with a vin du pays de la Correze, bien sur.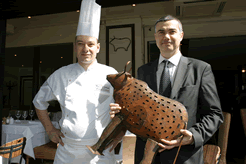 Where's The Beef? Go straight to Galvacher, a stunning Belle Epoque space, created by Slavic (he did the Jules Verne, darling) where Patrice du Jeu (yes, that's really his name) shleps up all that's good in beef from his organic farm in the Morvan region. Everything is here from wonderful food, to Wi-Fi.
Les Ombres is the rooftop restaurant (there's also a café) at the new $258 million Jean Nouvel designed "House That Jacques Built" Musée du Quai Branly. Nice location to meet friends, compare notes, on the museum (African, Asian, Americas stuff) and marvel at panoramic views. Elior has the catering contract (they also do The Louvre, National Gallery, London, etc.) and Arno Busquet's (ex-Laurent) menu has 8 starters (Les Légumes du Gaspacho) 5 Fish Mains (Rouget au Parfum de Citronelle) 5 Meat Mains (Boeuf Angus au Truffes de Chine) and 8 Pudds (Les Grands Crus de Chocolate).
Yohann Paran is too busy, enjoying life at Beauvilliers so much he doesn't want to take a holiday. If he needs a break, after service, he just puts his feet up on the shady terrace with a nice Cohiba. This is a remarkable location for wandering, lonely as a cloud, around Montmartre in August, linger over lunch or dinner with a bon bouteille chosen by Mehdi the sommelier – you'll be in heaven. It's so high up you're half way there already!  
 
Address Book:
La Cour Jardin,
Hotel Plaza Athénee,
25 avenue Montaigne, 8th (Metro: Franklin D Roosevelt)
T: 01 53 67 66 02
www.alain-ducasse.com
80€ + wine
La Terrasse du Parc,
Hotel Sofitel Le Parc,
55 Avenue Raymond Poincaré, 16th (Metro: Victor Hugo/Trocadero)
T: 01 44 05 66 10
Lunch 45€ Dinner 75€ + A la carte
Citrus Etoile,
6 rue Arsène Houssaye, 8th (Metro: Etoile)
T: 01 42 89 15 51
Menu 39€ Lunch & Dinner + A la carte
www.citrusetoile.com
Le Galvacher,
64 avenue des Ternes, 17th (Metro: Etoile)
Lunch 30€ – Dinner 40€ + A La Carte
T: 01 45 74 16 66
Yohann Paran at Beauvilliers,
52 rue Lamarck, 18th (Metro: Jules Joffrin)
T: 01 42 55 05 42
Lunch from 25€ – Dinner 50-80€ including wine
www.abeauvilliers.com  
Thoumieux,
79 rue Saint-Dominique, 7th (Metro: La Tour Maubourg)
T: 01 47 05 49 75
Menu Correzien 33€ + A La Carte
www.thoumieux.com   
Les Ombres,
Musée du Quai Branly – portail Alma,
27 Quai Branly, 7th (Metro: Pont de l'Alma)
T: 01 47 53 68 00
Open 7/7 Lunch Menu 32€ + A La Carte Dinner About 60€  
La Table de Joel Robuchon,
16 avenue Bugeaud, 16th (Metro: Victor Hugo)
L'Atelier de Joel Robuchon,
5-7 rue Montalambert, 7th (Metro: rue de Bac)
T: 01 42 22 56 56
www.robuchon.com
And also:
Astier,
44 rue Jean Pierre Timbaud, 11th
T: 01 43 57 16 35
www.restaurantastier.com
Le Chalet des Iles,
Lac Inferieur du bois de Boulogne (Metro: La Muette),
T: 01 42 88 04 69
www.lechaletdesiles.net
---
---