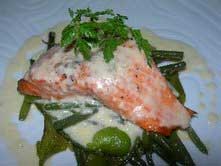 Luc Menier, former Guy Savoy Chef Sommelier, created his lovely 20-seater bistro/wine bar in the unlovely rue de Chine 20th. Food, served from the tiny open kitchen was excellent and, obviously, there were lots of surprises coté vins. Obscure cocktails, few could guess the ingredients, a wine list worthy of an ex-Savoy (Grand Cascade, Jules Verne, Ritz, London etc. sommelier). Whatever, suddenly Luc (and his partner the adorable Delphine Siaud) closed the doors. No more wine tastings, no more unique atmosphere – until this week. Lucky Luc (and Delphine) re-opened up-town near Place Madeleine, transforming the Italian trat Delizie d'Uggiano into a chic Mediterranean style bistro with décor by Delphine and fascintating wall calligraphy by sister Emily. So far so good, plenty of customers, a bar, the classic wine cellar that can be privatised and used for tastings. Luc's multicolour cocktails, rose, cassis, violette, put smiles on faces, as does the house champagne "Cuvée Vin Chai Moi", from the family vineyards. Begin with terrine maison, zestes d'orange, gaspacho de petits pois or Ceviche de Dorade Royal. Excellent bread from the baker in the 20th, to mop up the main of perfectly cooked pavé de saumon with leeks, sorrel sauce. Or duck roasted with lemon and honey, the ladies who do will love the Salad of Tomates and mozzarelle di Buffala AOC, drizzled with bio-olive oil. Drink white Pouilly Fuissé de chez Thibert 2007 (41€) or red St. Joseph 2006 Chez Courbis, by glass, carafe or bottle (43€). Order Souffle Grand Marnier and cacao sorbet. Freshly made ice creams in interesting flavours such as vanilla Bourbon, pain d'épices. Don't ignore Riz au Lait …..I didn't guess my cocktail, rosé was my colour choice, Luc said it was rosé with a dash of caramel salé and grapefruit!
This is BUZZ's chou-chou of the year, it ticks all the boxes.
Vin Chai Moi,
18 rue Duphot, 8th (Metro: Madeleine)
T: 01 40 15 06 69
Lunch formula 19€ Dinner 33€ + A La Carte
Shut Sun-Mon
Author Olivier Poivre d'Avor is known as an "agitateur culturel". The creator of the Marathon of words www.lemarathondesmots.com OPDA wants to promote une Année France-Etats-Unis. "How wonderful that the President wanted to spend quality time at the Pomidou Centre with his family, showing an interest in our culture. Let's make 2011 the year of cross-cultural relationships, I'm leaving a note on the President's desk, I can't wait to re-discover the new America of Barack Obama", he says.
The Bistrot de l'Avenue is the ex-Michel Rostang Bistrot d'a Côté located near the rue Levis street market in the 17th. Now in the hands of wine afficionado Stephanie Monset and Charlotte Chaput ex- Coffee Parisien, rue Princesse. The two princesses joined forces with chef Damien Doleans (ex-Rostang). Some nips and tucks with the décor, red brick walls, interesting ceiling tiles, walls punctuated with black and white photos and lots of culinary memorabilia. Nice neighbourhood atmosphere, the princesses kissing nearly everyone who arrives, always a good sign. Terrine de foie de volaille. Perfect oeuf cocottes, white asparagus. Terrific tarte tatin de tomates et mozzarella au basilic (SEE PHOTO) Authentic bistro mains include Entrécote poelée sauce béarnaise et fricassée de pommes grenailles. La côte de boeuf et fricassée de grenailles (new potatoes). Selle d'Agneau. Tartare de Boeuf. Pan fried veal's liver with crushed potatoes. Risotto, green asparagus and mascarpone. Lotte steamed with petits légumes du marché Levis and, for the ladies who do: Assiette de légumes gratinés à la mozzarella. Drink by the glass: Petit Chablis 6€: Domaine de Marce Sauvignon de Touraine. Stephanie says she has wines from 20€ to 300€. Les Fromage et desserts: Creamy Saint Marcellin. Moelleux au chocolat, caramel au beurre salé. Nougat glacé et coulis de fruits rouges and an excellent Crème brulée à la vanille bourbon.
Bistrot de l'Avenue,
16 avenue de Villiers, 17th
Metro: Villiers,
Starter + Main + dessert 35€
2 courses 32€
A La carte and dishes of the day from 12€
Shut Saturday lunch
T: 01 47 63 25 61
Napoleon 111 loved English style gardens, orchestrating the planting of the Bois de Boulogne. With bucolic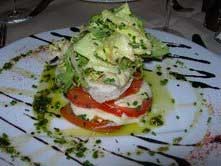 matters in mind, Napoleon and his Empress Eugenie built a "Swiss Cottage" on the isle of the lower lake for their use only. To-day it's the cute Chalet des Iles, open to all. Owned by Raphael de Montremy (who also has le Petit Poucet, la Guinguette de Neuilly, le River Cafe, le Cafe de l'Homme and la Mediterranee). Recently totally renovated, "it's a 2nd empire jewel which Napoleon had shipped from Switzerland", explains Montremy. The Chalet is located on an island in the Bois de Boulogne, the only access is by ferry which takes about two minutes: no passports required. Sit by the water and read the menu created by Stephane Trouillard. "Arrivals on The Island" 8 starters include Zucchini Flower stuffed with salmon, olive cream. Antipasti vegetable plate. Terrine de Foie Gras, Chutney de Rhubarbe and Lemon cookie. Mains: "Around The Island" Fish may be Roast Swordfish, Quinoa, Yogurt sauce. The Chalet Traditional King Prawn "Colombo". "On The Island" Meat: Lamb Tagine with raisins and saffron. Spare Ribs with Cashew Nuts. Also pastas, steak tartare and chips, gratin of macaroni. Desserts include White Chocolate Tiramisu and Lemon Millefeuille. Walk around the island afterwards – beware of nude sunbathers!
Le Chalet des Iles,
Lac du Bois de Boulogne,
Porte de la Muette, 16th,
T: 01 42 88 04 69
Open 7/7
Lunch 25€