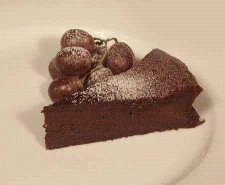 What a week n'est pas? Backed by Oasis, Tony Blair is re-elected, with echoes of "it's the economy stupid". Albert of Monaco appears in full technicolour clutching Alexandre his young son, the product of his liaison avec une ex- air hostess.  Paris-Match dedicates this weeks' issue to Londres and les Rosbifs "on mange bien at Londres", they promise.  
And, it's true and there is life beyond Jamie Oliver, Heston Blumenthal and Gordon Ramsey. This weeks' BUZZ is dedicated to a cookery school in London that is quite unique, run, in state-of-the-art basement kitchens of a Catholic Church, in the City of London's square mile, by Matt Kemp (my son the chef!).
"I was asked to feed 40 Catholic Priests, in this church, two years ago", he recalls. They liked my food so much they asked me to stay! The school evolved because there are so many wannabe city chefs. "My students work for big institutions such as BP, UBS, Lloyds, TSB, Wanadoo. After a hard days number crunching they need to chill, cooking is the perfect way to relax", says Matt who trained at London and the world's finest, natch!
"No experience necessary, the less the better, I'll teach you to cook!" is Matt's motto. Knife skills, speed preparation, health, safety and presentation are all part of the skills passed on.  "I've made every mistake in the book, so find it easy to teach, if technical tasks have to be worked to perfection, it is also in order to change them, when the time comes, to invent others. Cook books and TV don't tell which textures and tastes to look for. I teach cooking with your senses, create, rather than blindly follow a recipe. Underground's mantra is "watch the food, not the clock".
Classes last max three hours, because some students, like Paul a top city banker, needs to catch a train back to Colchester. "The home of oysters and Malden sea-salt", he explains. "I signed up at Underground to learn

chic n'easy style cuisine to seduce my girlfriends", he admits. He does a passable Lancashire Hot Pot, but will be happier when he's mastered the secrets of Matt's Roasted carrot and Thyme Soup followed by Beef Curry and a very sexy Carrot Cake. "We take our food home with us, one week I couldn't wait and tried to eat it on the train. I got very odd looks!"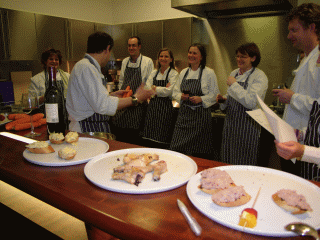 Amazing how everyone
looks like a pro-chef just climbing into a striped apron and Persil while jacket! Rosemary hails from Somerset works at Lloyds TSB and can't wait to get home to her Aga at weekends. Her colleague Sue, from Leicester, salutes Matt's tip for making pastry, chilling it for three hours (or more) and, "then grating it straight from the fridge, to save time. My flans and tarts are famous now", she says proudly. Vanessa has just run the London Marathon, works at Canary Wharf, "I love him, he says we don't have to peel the carrots and parsnips, just wash them!" Then there's the Italian business man, proud of his new kitchen in Finsbury Park eager to put his new found skills to practise with Tart Tatin. "Learning here has given me confidence, kitchen novices are scared, Matt takes the mystery away. Especially when his oven packs up and we have to cook everything on the hob; that sort of thing happens at home".
Belgian born Joke (say it Yoka) cooking for ten years, works for a Belgian bank in the city, lives in Romford, spends her weekends hunting exotic ingredients in the markets of Brick Lane and Notting Hill. Her friend Anne has not only discovered Underground but a Dutch café in the city serving Bitterballen. "A real taste of home", she sighs.
Australian born Susie a London Bridge power babe, finds cooking very relaxing. Her Underground skills include Moroccan Lamb. "Guinea Fowl and sea-food casseroles have won me many friends, I now crush all my spices with a pestle and mortar. I would love to open my own restaurant; it would involve food, wines and conviviality. My parents are farmers in Perth, Australia and they taught me my love of food and good products, I always make my own stocks now!"
"I want simple ideas", insists Martina, from Ireland, who works at Canary Wharf. This city slick young banker cooks for her husband and family on weekends, enjoys Underground's team-building atmosphere with everyone joining in to, say, bone a sea-bass, butcher a baby lamb. "It's all done around some fine bottles of wine, excellent home made sausages, tuna pancetta's, fruit kebabs, we arrive starving, we leave feeling very satisfied, with a delicious meal", she says.

When he's not Underground, Matt teaches privately, does breakfast, lunches and dinner by appointment, makes sure the Priests have their dinners on time. Celeb singer Dido is a keen cook, one of his students, Robbie Williams is about to sign up, seems he's sick of being stared at in restaurants!  "They still do their share of the washing up whoever they are", chef insists.
"Even in what it offers best, nature gives nothing absolute, culinary art is the search for that absolute", maintains Matt. "Respect for the true taste of food leads me, and my students, to create simple dishes, enhanced by aromatic elements, it's only rock n'roll! Always remember, a few grains of coarse salt, a twist of pepper can make a huge difference!"
Sexy Underground Carrot Cake.
 Shopping List: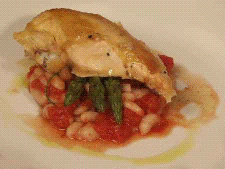 175g Dark Brown Soft sugar, sifted
2 large eggs at room temperature
120ml sunflower oil
200g wholemeal self-raising flour
11/2 teaspoons bicarbonate soda
3 large teaspoons of mixed spice
Grated zest of 1 Orange
200g carrots, peeled and grated
175g sultanas
Cake Tin
The topping:
 250g cream cheese
2 teaspoons Vanilla extract
1 teaspoon of cinnamon
The syrup glaze:
Juice of 1/2 an orange
1 tablespoon of lemon juice
40g dark brown soft sugar
Way to go:
1.Whisk sugar, eggs, and oil together. Then sift flour, bicarbonate of soda and mixed  spice into the same bowl adding the bits of bran from the sieve. Fold in orange zest, carrots, & sultanas, pour mixture into a 10×6 inches (25.cm1com) cake tin, and put
in a pre-heated oven on Gas 3 325oF/170oC for 35-40 minutes.
2. Make topping by zapping the topping ingredients in a bowl until light and fluffy. My tip: make sure the cream cheese is soft and at room temperature. When mixed chill 'til needed.
3. For the syrup glaze, whisk together fruit juices & sugar in a bowl. When the cake comes out of the oven, stab it all over with a skewer and quickly spoon the syrup over as evenly as possible. When the cake is completely cold spread the topping over, and dust with cinnamon.
The Basement, 
St. Mary's Church, 
4/6 Eldon Street, 
London, EC2M 7LS 
Courses start at £40.