Continuing the Waltz of Chefs , recently discussed on TEA AND GOSSIP BUZZ, the young and talented Frédéric Claudel can now be found at Le Cou de la Girafe, minutes from the Champs Elysées, an olive's throw from Vigato's Apicius and the delightful Hotel Daniel. A new golden triangle of excellence is born.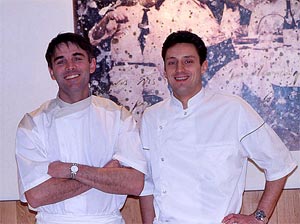 You'll remember Claudel from La Poele d'Or which he launched with his friend Alain Bourgade (now inviting guests to his magnificent Hotel Particulier in Passy). The Burgundy born chef has also rattled the pots and pans at Laurent, George V (where, rumour has it, Legendre is leaving and Piege taking over, but it's only a rumour!). Military Service was tough, served at the Elysée Palace! Of his days at The Crillon, Fred talks fondly of his mentor Christian Constant and of Alain Soliveres at the elegant Elysées Vernet, "an exceptional talent". So you can see the hand of Fred, future great here, a young maverick passionate about his cuisine who says, "I want to make my dishes available to a different clientele". With this in mind he has joined Nicholas Richard (whose family are ze rich Richards who own Le Berkeley, Chez Francis, Marius & Jeanette, Bistrot de Marius, Thiou, Petit Thiou, Comptoir de Thiou and L'Escale) so no worries about the monthly pay check then Fred.
Richard has kept the name, Cou de Girafe, he finds it really neat. "In 1826 the pacha of Egypt presented a giraffe to Charles X of France, as a gesture of friendship, who received it with great excitement at the Chateau de Saint Cloud, during the first six months 600,000 Parisians went to see it in Le Jardin des Plantes where it lived wrapped in a designer raincoat to protect it from the cold", says Richard. "Le Cou has always been a successful restaurant, although before we took over it had dropped its' standards, and you don't change a name as cute and historic as this, do you?" Fortunes have been spent on the beige contemporary décor, moving the kitchen, putting in glass panels opening onto a terrace seating 40 BCBG's and elegant ladies who (don't) lunch, eyeing captains of industry who can't go to Apicius every day; the waiting list dear.
"Light and traditional" is Fred's credo, and the menu changes almost daily. Start with an aromatic salad of penne, gambas, sun-dried tomatoes and basil. Dip grainy bread into balsamic vinegar and olive oil condiment on the table, nice touch that. Continue, either with a plat du jour, if this is Wednesday it's Merlan (whiting) with crushed potatoes. Beefeaters should take the Joue de boeuf with young carrots, slightly caramelised. Both go well with a glass of Chateau Roquefort 2004 (7€).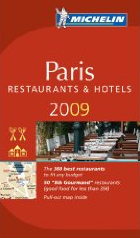 The extensive wine list is inspired by Nicolas Richard's globetrotting, the carafes by Eric Blosses the delightful Maitre d'hotel. "A great success", he grins. As are the wonderful desserts, perfect Fromage Blanc 0% coulis de fruits rouges for the ladies who do (not). A stunning Fondue de chocolate, to dip into with friends, with lollipops and marshmallows or a crumbly warm fresh fruit tart du jour. Service is unobtrusive, efficient and works well with the kitchen, an important point to note, right? Hurry to this delightful address for lunch or dinner and, if you're in a hurry, they'll get you out so fast you won't have time count the spots on the Girafe's neck.
Do you ever have a feeling of deja-vu? I'm sure you do. I had that last week when I met Laurent Delarbre talented young chef at Café de la Paix, the sprawling glass fronted space that runs the length of the Hotel Intercontinental. Open since 1862, located a diva's stage-dive from the Opera Garnier, the hotel recently underwent a total facelift by architect Pierre-Yves Rochon and hired a savvy new Director General Didier Boivan (ex- The Carlton, Cannes).  So what about the deja-vu? Well the chef, who looks about 12, is actually 35,  is a dead ringer for a former chef here, Christian LeSquer, now at Ledoyen, where he has ***Michelin.
What's more I saw the same determination and fire in Delarbre's brown eyes that I saw in LeSquer's many harvests ago.  Already an MOF (Meilleur Ouvrier de France) his impressive CV includes working under the direction of Joel Robuchon at The Hotel Astor, La Tour d'Argent, The Ritz, and Lasserre. "When I was at La Tour d'Argent, Manuel Martinez was Executive Chef and they had ***Michelin. The pressure to produce perfection twice daily was enormous, it was full lunch and dinner; we did not have the right to make the smallest error. In two years I counted 80 staff leaving, most of them were having break-downs. I could handle it, that formation will stay with me for the rest of my life, I owe my MOF to Manuel Martinez.
At The Ritz Delarbre was lucky enough to work with legendary Guy Legay. "At The Ritz everything arrives raw, nothing is bought in, even the bread is made fresh daily. I worked every post in the place, it's a little factory down there, serving every nook and cranny of that amazing Palace".  After The Ritz, Delarbre joined Manuel Martinez who had left La Tour d'Argent to set up his own restaurant, Relais Louis X111. "I like to think I helped him get his **Michelin", reflects Delarbre. At Lasserre, Delarbre was second to his mentor Michel Roth (with whom he had already worked at The Ritz). 
Delarbre dubs his cuisine "contemporary traditional" the accent on a short menu using seasonal fresh products. At present, for lunch, he's going with Asparagus, hard-boiled egg and caper vinaigrette: Sea-bass in a fine asparagus crust, followed by a Paris-Brest. Washes down well with a glass of Baux de Provence 2003 Cuvée "Affectif" Domaine de Lauzieres. Worth noting, the presence of celebrity wine maven Eric Verdier who has created the epic new list.
Dinner is a la carte or the Asparagus Menu and Delarbre may be working on an asparagus soufflé to finish. If not take the Chocolate farandole, to hell with the diet. Vegetarians have a daily dish and seafood wallahs will delight in the choice of fresh oyster, whelk, langoustine, scallops and mussels platters more or less alive, alive oh! served all day.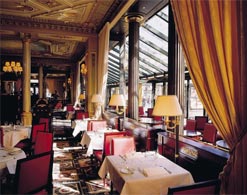 Delarbre arrives at Café de la Paix with a formula, an address book of artisan suppliers, and an equipe that have more or less worked with him over the years. "At our new pianos we want to make Café de la Paix one of the best tables in Paris.  We will take this restaurant to a new level of excellence at affordable prices", promises Delarbre, who may be lying about his age, he still looks 12 to me!
Au Cou de la Giraffe,
7, rue Paul Baudry, 8th (Metro: Franklin D. Roosevelt or George V)
T: 01 56 88 29 55
Shut Sat lunch & Sunday
Lunch 18€ -24€ + A La Carte. Dinner about 45€ + wine
Laurence Delarbre at Café de la Paix,
2 rue Scribe, 9th (Metro: Opera)
T: 01 40 07 36 36
Lunch menu 45€ + A La Carte
Dinner from 53€ + wine
Open 7/7 all year round.
Alain Bourgade,
25 rue de Boulainvilliers, 16th (RER: Boulainvilliers),
T: 06 77 79 16 71 – 01 45 56 10 41