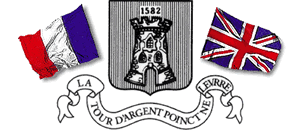 Warning! If you're squeamish don't read this bit. La Tour d'Argent, Paris numbers 1 060 371 Canetons "Tour d'Argent" and, by the time you get this, dear reader, calculate a few more dead ducks, but, judging from the cartoons on the walls of the restaurant's first floor museum even the ducks' mums are happy. "I'm bringing them up for La Tour d'Argent", she quacks, as her breed follows in her wake. 
With the death of Claude Terrail (who was born on the fourth floor in 1917) in June 2006 aged 88, his son André at 27, takes over the landmark owned by the Terrail family since 1912. A tall, handsome intense young man, with wonderful posture and presence, he closed for three months to concentrate on the Tour's €4 million facelift.  
"We concentrated on the kitchens, the offices and re-designing the menus with chef Stéphane Haissant, we feel that what goes on in the "coulisses" is just as important as the front of house", he explained showing BUZZ over  three floors of state-of-the-art steel and glass spaces where there's a special room just for the ducks. There's flat screen TV's, in case the ducks decide to escape? To check if the Michelin Man is in the building or someone is stealing the ash-trays? "They do, they do, all the time says the gentleman in the Tour's boutique opposite. A solid silver duck tumbled out of a customer's mink coat recently. "Don't know how that happened", she said!  
La Tour d'Argent, once *** Michelin lost two stars over the years, chef Haissant, who has a passionate gleam in his eye, was second to former chef Jean Francois Sicallac (find Sicallac at La Coquille, Concarneau, Brittany) and was trained by Alain Senderens and Michel Guérard, Both Haissant and Terrail agree. "We must remain faithful to our clientele, who come here for our classic dishes, but we must also move on". 
The magnificent dining room overlooking Notre Dame and the Seine, where everyone from HM Queen, Marilyn Monroe, the Clintons, Woody Allen, Clint Eastwood and the Monaco Royals, have eaten or eat now, gleams. Tucked into the table by about three gorgeous waiters, it's
Hotel California land: you can check out any time you like – but you can never leave. 
But suppose I don't want the duck? Darling, the A La Carte menu is delicious:
They may not do a green salad starter, but sliced marinated scallops with yuzu, and sea urchin ravioli make a change. The playboy can have the Quenelles de brochet "Andre Terrail" or warm foie gras with quince beetroot caramel. Wild sea bass follows with clams and fennel for you, he'll probably have the Duck which comes with a numbered card. Don't even think about Donald being strangled, which preserves the blood, and the special press which wrings out all the fluids to make a nice sauce. It's worth it, trust me. 
Anyway,you won't even notice with a few glasses of Chambertin Clos de Beuze (305€) recommended by Brit uber-sommelier David Ridgway (don't even bother with the wine list, you'll get tennis elbow) whose cellar contains about 400,000 botles (they bricked it up during WW 11 to save it from Herr Hitler). Playboy will take cheese, a prelude to Millefeuille léger aux figues de Soliès, you can have Valse ses crèmes glacés, if calorie counting. 
Don't hesitate there's a lunch at 70€ and Ridgway has a selection of reasonable wines. But that's not really the point is it. Splash out darling, because you're worth it.  
Patrice Chapon, Master Chocolate Maker is a man after the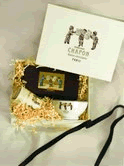 late Claude Terrail's heart. Chapon has talent, is dedicated and has an eye for a pretty woman.. Remember The Bluebell Girls from the Lido closing The Chocolate Show, dripping in Chapon chox?  
In his younger days Claude Terrail's reputation led to speculation that he'd been up close and personal to the likes of Ava Gardener and Marilyn. "A gentleman who has success with girls keeps his mouth shut", declared Terrail.  
So only open your mouth to pop in Chapon's new collection for Noel 2007. Chocolate dipped Clementines Confites Fourées aux Noisettes: Nougat Pralines with pink Madagascar peppercorns. Fill limited edition boxes, or white porcelain tasse à chocolate and try not to eat them on the way home.
La vie est bell n'est pas cherie? 
Address Book:
La Tour d'Argent,
15 quai de la Tournelle, 5th (M: Maubert-Mutualité)
T: 01 43 54 23 31
New Year's Eve Dinner 360€ + wine 
Jean-Francois Sicallac,
Patrice Chapon, Maitre Chocolatier,
52 avenue Mozart, 16th