We all want to discover our inner Shirley Valentine. You remember the frumpy Liverpool housewife, who finds herself talking to the wall while cooking her husband's chips n' eggs, wondering what ever happened. She compares her situation with the hip chick of yesterday, feels depressed and in a rut. When her best friend wins an all- expenses- paid vacation to Greece, for two, Shirley packs her bag and heads for the sun. The note on the kitchen tables reads "Gone to Greece, back in two weeks". Shirley didn't actually go to Elias Kokotos's Elounda Resort, Crete, but plenty of savvy travellers do. Gordon Ramsay, Jean-Pierre Raffarin, David Cameron and, if it's good enough for Pamela Anderson who spent three days at the Royal Grande Suite, and took treatments in the Six Senses Spa, well say no more. Just over three hours from Paris sets you down at Heraklion, Crete largest of the Greek islands, cradle of early Mediterranean civilization; the small olive. The landscape's an exciting mix of rugged mountains, fields of herbs and flowers, vineyards, orange and olive groves, azure sea, picture-postcard fishing villages and sandy beaches. Elias Kokotos's kingdom is in the Aghios Nikolaos region. "We chose this location because of the exceptionally dry climate, the "meltemi" wind brings a cool breeze and there's no humidity", he explains. The advantage of taking a break here is you can either stay on campus (Jean-Pierre Raffarin did) in one of the all- suite hotels with private pools, buy everything you need from a newspaper to a Versace bikini in the delightful boutiques. There's even a chapel to re-new your vows, baptise the baby, say a little prayer. Or head off and discover Aghios Nicholas, Crete's Saint Tropez, from there take day cruises to, say, Spinalonga, the former leper colony whose Venetian Fortress (circa 1579) was built to keep the Turks from entering the Elounda's port.  Onassis wanted to transform the island into a Las Vegas style casino paradise, but the plans were never approved. Elounda, what a set-up! It takes a while to absorb the
resort, divided into Elounda Peninsula, Elounda Mare and Elounda Port, all link up, but are separate if you see what I mean. There's even "The Children's Ark" so you don't even have to see them while you're on the 9-hole golf course, or sweating for points on the Astro-turf tennis courts. It's pool heaven, about 148 in all – mostly filtered sea-water, and solar energy heats everything. Bob Geldof please note. Pamela Anderson's favourite spa is the first Six Senses in Europe.  "It's not a medical spa but you'll get a relaxing and revitalising experience here, it's all about balancing the senses in a holistic way", says Spa Manager Elli Soumaki. Accessed by a circular staircase with an awesome helical glass sculpture by Varotsos, the Therapy suite awaits, The Dry Float Room and the Cleopatra Room, cold tubs, hot tubs, saunas, read, state-of-the-art spa technology, no expense spared. It's a magical world of water, stone glass and wood. Don't like treatments? Use the indoor-outdoor pool filled with spa toys like jets, cascades, bubble-beds and air-massage.  Goodbye Cellulite. Eat in a different restaurant/taverna/bar every day, or in your bungalow/suite, there's Butler Service, bet that's what PA had. At night, head for Serene's cliff top bar which hangs out over the sea, the wooden patio interspersed with glass floor panels means you can scuba dive without getting wet, while enjoying a glass of local wine, a few fat olives or a flute of Laurent Perrier. Restaurants include the Yacht Club, the Old Mill, Elies in the Olive Grove, Kiriki Beach Bar where they mix a mean house cocktail and Calypso, which Gordon Ramsey says is worth a fucking Michelin star. And Gordon doesn't mince his words does he dear. Calypso was created by fish maven Jacques Le Divellec the Michelin star chef, affectionately called "the Ambassador of the sea". Five years ago he sent young talented protégée Jean-Charles Metayer to take over. "When I arrived there was nothing in the kitchen, I had one assistant and we were opening in two days", recalls Metayer. He'd worked with Le Divellec in Paris, but since the beginning created his own Calypso style, "call it Greek/Crete fusion", he says. "Although, I hate the word "fusion".  Metayer says a lot of discipline is needed in his kitchen, they don't mess with him, he's a Taekwondo expert and knows how to kick arse. "I want perfection", he insists, and he's still only 27! Calypso's menu showcases the bounty of local products, such as Rock fish soup with brioche and whipped saffron cream.  Fine cucumber jelly, tomato meringue, feta mousse, olive powder and oregano biscuits. Lobster is flambéd with Metaxa brandy and Sea-Bass has an emulsion of star anis, fig tatin, and a twist of Sechuan pepper. "Souvlaki"  Le Divellec style, is made with wild turbot (flown in from France) and foie gras. And there's Tournedos Rossini, Jean-Charles style. Finish with yogurt mousse…
SUBSCRIBE
ALREADY SUBSCRIBED?
BECOME A BONJOUR PARIS MEMBER

Gain full access to our collection of over 5,000 articles and bring the City of Light into your life. Just 60 USD per year.

Find out why you should become a member here.

Sign in

Fill in your credentials below.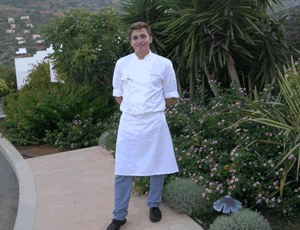 We all want to discover our inner Shirley Valentine. You remember the frumpy Liverpool housewife, who finds herself talking to the wall while cooking her husband's chips n' eggs, wondering what ever happened. She compares her situation with the hip chick of yesterday, feels depressed and in a rut. When her best friend wins an all- expenses- paid vacation to Greece, for two, Shirley packs her bag and heads for the sun. The note on the kitchen tables reads "Gone to Greece, back in two weeks".
Shirley didn't actually go to Elias Kokotos's Elounda Resort, Crete, but plenty of savvy travellers do. Gordon Ramsay, Jean-Pierre Raffarin, David Cameron and, if it's good enough for Pamela Anderson who spent three days at the Royal Grande Suite, and took treatments in the Six Senses Spa, well say no more.
Just over three hours from Paris sets you down at Heraklion, Crete largest of the Greek islands, cradle of early Mediterranean civilization; the small olive. The landscape's an exciting mix of rugged mountains, fields of herbs and flowers, vineyards, orange and olive groves, azure sea, picture-postcard fishing villages and sandy beaches.
Elias Kokotos's kingdom is in the Aghios Nikolaos region. "We chose this location because of the exceptionally dry climate, the "meltemi" wind brings a cool breeze and there's no humidity", he explains. The advantage of taking a break here is you can either stay on campus (Jean-Pierre Raffarin did) in one of the all- suite hotels with private pools, buy everything you need from a newspaper to a Versace bikini in the delightful boutiques. There's even a chapel to re-new your vows, baptise the baby, say a little prayer. Or head off and discover Aghios Nicholas, Crete's Saint Tropez, from there take day cruises to, say, Spinalonga, the former leper colony whose Venetian Fortress (circa 1579) was built to keep the Turks from entering the Elounda's port.  Onassis wanted to transform the island into a Las Vegas style casino paradise, but the plans were never approved.
Elounda, what a set-up! It takes a while to absorb the

resort, divided into Elounda Peninsula, Elounda Mare and Elounda Port, all link up, but are separate if you see what I mean. There's even "The Children's Ark" so you don't even have to see them while you're on the 9-hole golf course, or sweating for points on the Astro-turf tennis courts. It's pool heaven, about 148 in all – mostly filtered sea-water, and solar energy heats everything. Bob Geldof please note.
Pamela Anderson's favourite spa is the first Six Senses in Europe.  "It's not a medical spa but you'll get a relaxing and revitalising experience here, it's all about balancing the senses in a holistic way", says Spa Manager Elli Soumaki. Accessed by a circular staircase with an awesome helical glass sculpture by Varotsos, the Therapy suite awaits, The Dry Float Room and the Cleopatra Room, cold tubs, hot tubs, saunas, read, state-of-the-art spa technology, no expense spared. It's a magical world of water, stone glass and wood. Don't like treatments? Use the indoor-outdoor pool filled with spa toys like jets, cascades, bubble-beds and air-massage.  Goodbye Cellulite.
Eat in a different restaurant/taverna/bar every day, or in your bungalow/suite, there's Butler Service, bet that's what PA had. At night, head for Serene's cliff top bar which hangs out over the sea, the wooden patio interspersed with glass floor panels means you can scuba dive without getting wet, while enjoying a glass of local wine, a few fat olives or a flute of Laurent Perrier. Restaurants include the Yacht Club, the Old Mill, Elies in the Olive Grove, Kiriki Beach Bar where they mix a mean house cocktail and Calypso, which Gordon Ramsey says is worth a fucking Michelin star. And Gordon doesn't mince his words does he dear.
Calypso was created by fish maven Jacques Le Divellec the Michelin star chef, affectionately called "the Ambassador of the sea". Five years ago he sent young talented protégée Jean-Charles Metayer to take over. "When I arrived there was nothing in the kitchen, I had one assistant and we were opening in two days", recalls Metayer. He'd worked with Le Divellec in Paris, but since the beginning created his own Calypso style, "call it Greek/Crete fusion", he says. "Although, I hate the word "fusion".  Metayer says a lot of discipline is needed in his kitchen, they don't mess with him, he's a Taekwondo expert and knows how to kick arse. "I want perfection", he insists, and he's still only 27!
Calypso's menu showcases the bounty of local products, such as Rock fish soup with brioche and whipped saffron cream.  Fine cucumber jelly, tomato meringue, feta mousse, olive powder and oregano biscuits. Lobster is flambéd with Metaxa brandy and Sea-Bass has an emulsion of star anis, fig tatin, and a twist of Sechuan pepper. "Souvlaki"  Le Divellec style, is made with wild turbot (flown in from France) and foie gras. And there's Tournedos Rossini, Jean-Charles style. Finish with yogurt mousse with strawberries marinated in red wine. Tonka crème brulée, manjari chocolate mousse, peach chutney and honey ice cream with sesame, or sample the excellent local cheeses.
There are 800 references in the Kellari wine cellars, which can be visited, even booked for small dinners. Local wines are their pride and joy, so try a Cabernet-Merlot, Lyrarakis, with a touch of Merlot or a white Vidiano-Plyto, Tamiolakis. To be taken without moderation overlooking the gulf of Mirabello. The Greeks really do have a word for it, fabulous.  No wonder Shirley Valentine didn't go home, Elounda awaits, you'll never want to leave. Trust me.
Elounda Resort,
Crete, Greece
T: +30 28410 68250
How to Get There:
Thomas Cook www.thomascook.fr
8 days/7 nights of bliss from 1332€
www.relaischateaux.com/elounda
Restaurant Le Divellec,
107 rue de l'Université, 7th (Metro: Invalides)
T: 01 45 51 91 96
Average Spend Lunch 55€ Dinner 160€ + wine
---
---