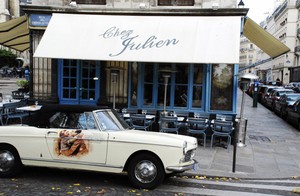 Abélard and Héloïse, Napoléon and Joséphine, Rodin and Camille, Sand and Chopin, Modigliani and Hébuterne, Sartre and de Beauvoir, Breton and Nadja, Miller and Nin, Gainsbourg and Birkin… The ghosts of Paris's passionate lovers seem to haunt its every café, its every street corner, and even its cemeteries, where often-tumultuous romances have transmuted into peaceful shared journeys into eternity.
One of my favourite spots for contemplating the act of creative collaboration that is love—or that should be love—is Salle 10 on Level 5 of the Centre Pompidou. It was to the Musée National d'Art Moderne that, in 1964, Sonia Delaunay and her son Charles donated more than 100 works by Sonia and her husband Robert. Illustrating the development of these two artists united in their dedication to the investigation of 'the visual poetry of colour', the paintings and drawings on show in Salle 10 also bear witness to one of the greatest acts of both artistic and amorous complicity in history.
A marriage of convenience with gay gallery owner Wilhelm Uhde provided Sonia Terk's entry into the Parisian art world not long after her arrival from her native Ukraine in 1935, but the union was quickly dissolved when Sonia met the young painter Robert Delaunay (Uhde went so far as to assist his wife's divorce proceedings by fabricating adulterous letters to and from an invented mistress). Robert and Sonia were oddly in sync from the outset—her desire to move away from perspective and naturalism toward abstraction echoed her new partner's interests in Cubism and the colour theories of Chevreul. Rivalry was never an issue: instead there was a fertile exchange of ideas, collaboration, and mutual inspiration and constructive criticism. Together the couple were 'breathing painting', as Sonia remarked, 'like others lived in alcohol or crime'.
Walking along the Boulevard St-Michel by night, I like to imagine I'm following in the couple's footsteps as they made their nightly strolls through the 5th, noting color impressions that they would attempt to convey in paint when they got home. Sometimes I'll stop in at Le Bal Bullier on Avenue de l'Observatoire, where in a long-gone dancehall of the same name, the Delaunays often met up with friends and Sonia found inspiration in the swirling movements of the fox-trot and tango that fed not only into her large-scale work Le Bal Bullier (1912–13) but into her career as a whole, including her textile and fashion designs and stage sets. Other times I carry on walking until I reach the Eiffel Tower, another of the couple's regular haunts; I can't look at the iconic structure without seeing it as it's represented in many of Robert's paintings, increasingly fragmented and abstract, the ultimate symbol, for the painter, of modern life.
Back at the Pompidou, there are plenty more acts of artistic complicity to be admired, including a number of cadavres exquis and other collaborations by the Surrealist André Breton and his first wife Jacqueline Lamba, and several images of Lee Miller by her lover Man Ray. Combined with plenty of other erotically charged works, they make this modern art museum the perfect place for a hot date or romantic outing. In the hope that it's a successful excursion, pre-book a table at one of Paris's most wildly romantic of bistros, the Seineside Chez Julien (1 Rue du Pont Louis-Philippe, 01 42 78 31 64). With its views over Notre Dame and a charming mish-mash décor of cherubs, trompe l'oeil murals, tall mirrors and velvet banquettes, it's the perfect place for a tryst over asparagus, foie gras, snail profiteroles and other decadent French classics guaranteed to have an aphrodisiac effect.
Rhonda Carrier is the author of In Love in France: [1] A Traveler's Guide to the Most Romantic Destinations in the Land of Amour.
Grab your own free subscription [2] to BonjourParis & be first to receive Wednesday & Sunday newsletters linked to 50 original stories monthly with travel tips & the latest from France. Since 1995, BonjourParis has been your most complete online France travel & Francophile lifestyle eZine. RSS feed available.
If it's at Amazon.com, you can get it at our Amazon.com Boutique [3] with new items added weekly. Same competitive prices and speedy delivery & your purchases support costs of keeping BonjourParis your most complete online France travel resource.
Search hint: start at the back pages for the most recent stock.