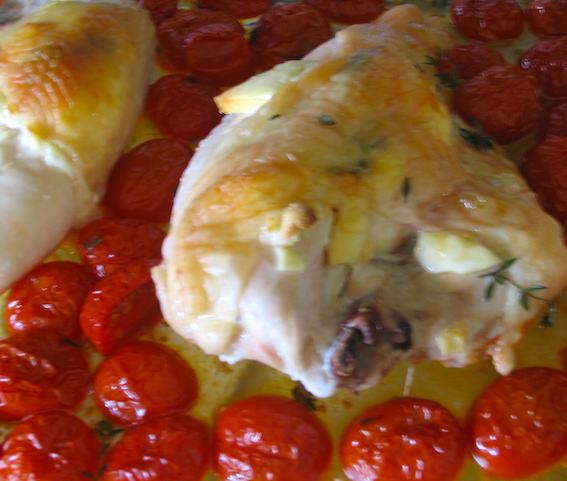 Chicken Breasts Stuffed with French Goat Cheese
This recipe comes together quickly. A harder goat cheese is recommended but is sometimes difficult to find, so a softer Montrachet-type chèvre will also work.
Serves 4.
INGREDIENTS:
4 bone-in, skin-on chicken breasts
4 oz. goat cheese (a semi-hard goat cheese may be hard to find, but soft goat cheese works, too)
Fresh sprigs of thyme
1-2 tablespoons olive oil
1 basket cherry tomatoes
1/2 to 1/3 cup white wine
Salt and freshly ground black pepper
PREPARATION:
Preheat oven to 425F
1. Pour the olive oil into a baking dish and tip or rub to coat the bottom of the dish.
2. Cut the cherry tomatoes in half and scatter on the bottom of the baking pan.
3. Cut the goat cheese into 4 disks. Gently loosen the skin on the chicken breasts and put the goat cheese and some thyme leaves underneath the skin.
4. Lightly rub the top of the chicken breasts with more olive oil and season with salt and pepper.
5. Place the chicken on top of the tomatoes. Scatter thyme sprigs on top. Pour the wine into the pan.
6. Place in the oven and roast for 25 to 30 minutes or until done.
TO SERVE:
Place 1 chicken breast on each of 4 serving plates. Surround with the tomatoes and serve.
Et voilà!
Debra Fioritto [1] contributes delicious French recipes to Wednesday issues of BonjourParis. Click on her name to read more about her Tour de Forks [2] culinary tours or to collect the many recipes she has shared here.
NEW:
Subscribe for free
[4]
to our weekly newsletters with subscriber-only content.
Update your travel library, DVDs & French imported goods: current recommendations [5].
Thank you for using our link to Amazon.com…your purchases support our free site.
Click on image for more info about these selections.
Don't miss the new Pepin book & DVD, new Ritz Paris book  and the Chocolate Cravings recipe-calendar: