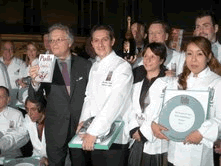 "Pudlowski, it's the Goncourt of the food guides", says Alain Neymann of www.lesrestos.com 
And in case you were busy you might like to know Gilles Leroy's wonderful "Alabama Song" took this year's Goncourt. It's the story of Scott and Zelda and their tangled up in blue life on the Riviera, in Paris and America.  
The launch of Pudlo Paris 2008 would have impressed Scott and Zelda,  The venue was the divinely decadent Hotel Fouquet's Barriere, and you can't get more Scott & Zelda than that. Five Haussmann mansions on the corner of Avenue George V and the Champs Elysées,  a "you'll love or loathe it" collaboration between architect Edouard Francois and ubiquitous designer Jacques Garcia: you can't see the join.  What you see is an impressive central terrace just outside "Le Diane" restaurant (named for the late Diane Barriere) location for the presentation of Pudlo Le Point Paris 2008. 
Top Table of the Year is Lasserre, with the delightful Jean-Louis Nomicos heading the team. Bistro of the Year is Jean-Paul Arabian's Cameleon. Best Quality /Price goes to Stéphane Duchiron at Fougères (17th) "Watch this young chef he has a great future" tips Pudlo. 
Hostess of the Year is gorgeous Esther Butel at the Franco-Italian style Sorza, Ile Saint-Louis. "The soufflé au parmesan is light as a feather", grins Pudlo. He gives the gregarious Louis-Jacques Vanucci "Inn-Keeper of the Year" for Le Soleil (7th). But make sure Vanucci's there when you book. It's not the same if he's not.  
Top Wine bistro is Cédric Duthilleul's Le Griffonier (8th) and for once there's an accessible boulanger of the year (not out in the styx) and it's Philippe Jocteur (7th) at Boulangerie des Invalides. Momoka takes Best Foreign Table (9th) she's a talented young Japanese chef, "don't go for the décor or comfort but for the sensational avalanche of dishes, there's at least 40", says Pudlo. "Only room for 14, so reserve in advance. And what of the American Daniel Rose and his Spring? He gets a good rating and a slap on the back for his passion and delicious fresh food.  
Down goes Frederic Anton at Le Pre Catalan and Manuel Martinez's  Relais Louis X111, well you can't please 'em all. "Pudlo may not be the best guide in the world but it' very comprehensive, a truthful reflection of the gastronomic scene in Paris", says Pudlo.  
Note the guide, in collaboration with www.littlebookroom.com, is published in English, available in Vancouver, London, Sydney, Chicago and LA. Michel Lafon (18€).  
BUZZ spotted journalist and wine maven Nicholas de Rabaudy at Fouquet's, he says his latest book "Nos Fabuleuses Années PARIS MATCH" will soon be available in English. And it should. As investigative reporter at Paris Match (1963-1976), Rabaudy met them all, was where when de Gaulle fell in love with Jackie on the Kennedy's official trip to Paris. "From Jean Anouilh to John Wayne, he interviewed him on Wayne's yacht "Wild Goose" to Jean Gabin, Alain Delon, Yves Montand, Charlie Chaplin, Belmondo the fabulous Rothschilds, "it was a journalist's dream to live the adventures I had", he recalls.  
Fancy a little bijou from Mauboussin but don't know how to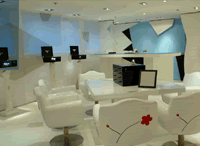 schlep him into the boutique? Here's the rub, they just opened their first ever Chocolate Bar on the 3rd floor of the newly transformed store on Champs Elysées. "It's the evolution, creation and development of the brand, plus I am a chocoholic", admits Mauboussin's PDG, Alain Nemarq.  
"The Chocolate Bar is an extraordinary story of a recent exhibition of Aki Kuroda's work at the left-bank, Galerie Maeght, Yo Yo Maeght introduced us and, when I started the project, I knew there was only one artist who could create the atmosphere and décor I wanted", explains Nemarq. "Our slogan is Mauboussin,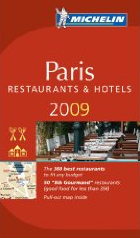 Creator of Emotions", the slogan for the Bar à Chocolate is, Mauboussin, Artiste Chocolatier", says Nemarq. He's not telling who makes the Guanaja, Manjart and Caraibe confections, "it's an artisan who has worked with the greats, but who wants to remain anonymous". Hot chocolate breakfast is served from 8.30-12.30 so get him there before he knows he's gone. It's a bijou of an address, let me know what you get – because you're worth it. 
Mauboussin,
66 avenue des Champs Elysées,
(Metro: Franklin D Roosevelt)
Bar A Chocolate – Open Mon-Sat 8.30am -19.30pm