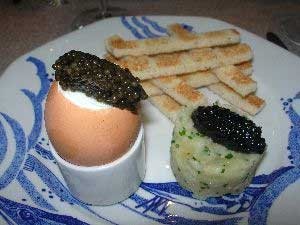 "La Maison Prunier Since 1872. Tout ce qui vient de la mer": read, Prunier the handsome Art-Deco restaurant, caviar central in Paris, Geneva, London. Emile Prunier (Alfred's son) opened the Paris Victor Hugo's glam green doors in 1925, he was just 22. For Emile, French caviar d'Aquitaine, fished from the Gironde river, had a big future and he was the first to put the Prunier label on caviar fished the day before and rushed to Paris. To-day's owner, Pierre Bergé continues the tradition.
Carnivores take note, the one meat dish is Mignon de Veau with girolles, otherwise it's all  oysters and coquillages, crustacés, silver platters piled high with all the aforementioned. The very special saumon fumés Balik, Bourride de la Mer. Choose A La Carte or the delicious three course lunch menu (45€) which could be cold almond soup with Cavaillon melon: Filets de rougets Barbet, corn pancakes and Feuilleté de fruits rouges, glace vanille.
Chef Eric Coisel, ex- Gilbert Lecoze's Le Bernardin, Alain Senderens ("he's my inspiration"), Maximin, La Mirande and Chiberta, gives a modern and light spin to classic Prunier dishes, such as poached egg en gelée, named Oeuf "Christian Dior" who often dined there: Tartare of sea-bass, oysters and caviar. Oeuf and smashed pommes de terre ratte with caviar: Turbot filet, with watercress and Prunier caviar, all are fresh and perfectly cooked. Coisel's other inspiration is Japan, so expect dishes cooked with kobu royal, wakamé, nori, dulse, spaghetti or sea-lettuce and seaweed: Coisel's book "Ma Cuisine aux Algues" is published by Solar. In his rare spare time he researches the recipes and menus from Prunier, rue Duphot opened in 1872, and it's still there, but that's another story, another dinner. Bouillabaisee, la lamproie a la Bordelaise, le Merlan Colbert, la marmite dieppoise, la tres grosse sole meuniere, le homard thermidor: it's all noble.
The sommelier deserves a special mention. Marco Martinetti knows his wines, vodkas and spirits, recommends White Chablis Vielles Vignes 2006 (49€) Les Fiefs de la Grange 1998 (78€). Caviar House champagne is 14€ by the glass and the excellent Provence Villa Vallombrose 2007 is 10€.  Wonderful desserts include Petits pots de crème Emile Prunier:
but try the Milles Feuilles framboise, crème vanille. Prunier has been a listed building since 1989, and now there's a delightful sheltered terrace for romantic Belle Epoque summer nights.
Prunier Restaurant,
16 avenue Victor Hugo, 16th
Metro: Charles de Gaulle Etoile
T: 01 44 17 35 85
Lunch menu: 45€
Lobster menu: 80€
Menu Tout Caviar 150€
Les Plateaux from 39€
Shut Sunday
Cafe Prunier & Boutique,
15 place Madeleine, 8th
Metro: Madeleine
T: 01 47 42 98 91
Shut Sunday
The last time BUZZ went to Restaurant Laperouse (See photo) there was a young chef called Pascal Barbot in the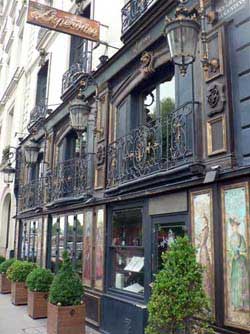 kitchen, his friend and colleague Christophe Rohat was in charge of the salle. The food was stunning, the service impeccable and about three weeks later the talented duo left to set up Astrance, they were on the road to 3- Michelin stars.
Fast forward to 2009, and several chefs later, Jean-Sebastien Pouch with a superb CV arrives at Laperouse. He's worked at The Bristol under the fiery, volatile, Michel del Bugo and also with Eric Frechon. He's done time at Jean-Paul Arabian's Cameleon, M comme Martine. So it was with great expectations that BUZZ returned to the magnificent maison originally bought by Monsieur Lefebvre who was Master of the King's Beverages and to whom the king officially accorded the title of "Wine Merchant" in 1766. Laperouse, with few changes to the architecture and style of décor (the discreet "petits salons" for lovers are still there, still in use) was created by Jules Laperouse in 1840.  Guy de Maupassant, Emile Zola, Colette, Victor Hugo were clients. Escoffier cheffed there, fed crowned heads, politicians, and Curnonsky the food critic, proclaimed that Maison Laperouse had a great kitchen.
So, does it still have a great kitchen? Not really, there's a time warp now, and it's sad. The evening BUZZ was there the welcome was warm, the staff enthusiastic but the dishes are expensive, we'll leave chef Pouch to find his mark. We'll return to taste the lo-calorie menu  he's creating with "coach sportif" Jean Pierre Clemenceau and certainly to taste the wine at Sommelier Christophe Verain's Soirees Vin.
Laperouse,
51 quai des Grands Augustins, 6th
Metro: Saint Michel
T: 01 43 26 68 04
Average Spend 100€ including two glasses of wine
Shut Sunday