Pop Fizz at Cafe de la Paix & Culinaria 2 Buzz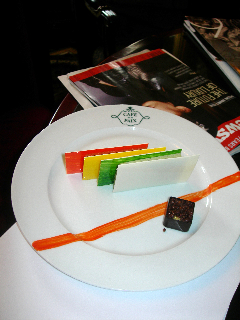 Since 2004 Designer Desserts have become a delightful tradition at Café de la Paix. Yesterday in Paris Pop Fizz, second pastry in the fifth season of the concept was launched by Rosemary Rodriguez, artistic director at Thierry Mugler. Why not Mugler himself? Well, the designer of Angel, the revolutionary chocolate and vanilla fragrance, felt he wanted to give Mme Rodriguez a go.
The Pop Fizz pastry follows not only Mugler, but also most of France's top designers such as Olivier Lapidus, Paco Rabanne, Barbara Bui, Chantal Thomas, Claude Montana and Jean-Claude Jitrois. Ms Rodriguez has produced a winner working in collaboration with the talented Christophe Raoux, new toque at Café de la Paix and InterContinental Paris Le Grand, and head pastry chef Guillaume Caron.
So give us the skinny:
"I wanted to create a mix of flavours, something light for calorie-conscious pastry mavens and to create a real fashion statement in bright wide-awake colours. I imagined a vitamin-packed dessert, perfect for Spring and Summer", explained Ms Rodriguez. The result is a daring confection (don't try this at home) of a toppled millefeuille, white chocolate layers, tinted in the various colours of the ingredients: acerola jelly, the South American vitamin-rich cherry, creamy. She's used yuzu-flavoured (Japanese lemon) green-tea mousse to sandwich the layers. The taste en bouche is astringent, perfect on its own or after lunch or dinner by Raoux. And hello, don't forget the little chocolate filled with yuzu cream, sprinkled with mind-blowing candy crystals that fizz and crackle on the tongue. A tour de force.
How much does it cost?
15€. Asking a few Café de la Paix punters if they thought the price excessive, they all insisted: "But it's Café de la Paix, of course it's worth it. And so are we!"
Café de la Paix,
Place de l'Opera, 9
Metro: Opera,
T: 01 40 07 36 36
Available in Limited Edition from May 16th-September 15th
Not a lot of people know Le Pain Quotidien is the concept of Alain Coumont, a Belgian chef who has PQs globally and bakes and breaks bread with the likes of Jean Georges Vongerichten in NYC www.painquotidien.com.
Not only Coumont, but there are many famous and creative Belgians, such as Jacques Brel, Johnny Hallyday, Diane von Furstenberg, Audrey Hepburn, Asterix and Obelix. What I'm trying to say is when you say Belgium/Brussels to people they look skywards and say, "hello, what's happened to you?"  Was it Ronald Reagan who refused to eat Brussels sprouts, "Now that I'm President?"
A trip last week on the high-speed Thalys train took 1hr 22 from Paris's Gare du Nord. The reason was to talk to Belgium's top chefs taking part in Culinaria 2.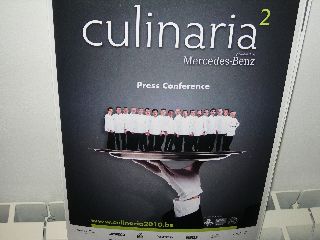 The sweet sixteen Belgian restaurateurs, all Michelin starred, have teamed up for Culinaria 2, Brussels' mega foodie event. As well as exclusive menus, there are demonstrations, eleven workshops, a food market and more, all in a beautiful garden setting at the quaintly named Tour & Taxis complex.
The chefs will work together in groups of four. Not a woman among them; wonder why? They could have asked Léa Linster—surely she qualifies as she won the Bocuse d'Or; maybe it's a question of ego. So, she's in Luxembourg they'll say, go figure. www.lealinster.lu
Meanwhile, back at testosterone towers the guys will create four menus, each chef cooking up one special dish. Say, perfectly cooked duck from Lionel Rigolet, head chef at Comme Chez Soi www.commechezsoi.be or sweet white-chocolate mayonnaise with raspberry macaroons and basil coulis, by Franky Vanderhaeghe from l'Hostellerie Saint-Nicolas www.hostellerie-stnicholas.com. "Call us a brochette of chefs", suggested Michelin 2-star Bart de Pooter of Pastorale www.depastorale.bt, 32 kilometres from Brussels.
The chefs' total of 26 Michelins will make the event unique. "It will be cooking as theatre", promises 3-star Peter Goosens of restaurant Hot Van Cleve. "Belgian food is more than chips and chocolate", he reckons.
Book Thalys TGV on www.thalys.com and reserve your place at the foodie fest on www.culinaria2010.be.
Chefs' tasting menus and various "daily options" are cheaper if booked ahead—and there are good deals with hotels if you want to stay over.
Access to the event is 13€  (10€ if booked online).
June 3-6th 2010.
Tour & Taxis,
86C Avenue du Port,
Brussels.
And while you're in the area and because you love fries (and chocolate) check out www.frietmuseum.be/en/. Told you the Belgians are bright—they invented chips, but the French stole the recipe and called them French Fries. Something should be done.
Please post your comments or questions and let them flow. Register HERE to do so if you need a Bonjour Paris user name and password.
Leave a reply
Your email address will not be published. Required fields are marked *