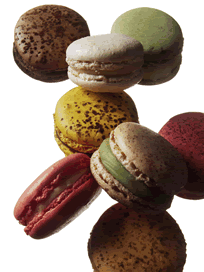 Pierre Hermé, so many macarons so little time. Rose, Choco-Yuzu, Caramel à la fleur de Sel, white truffle and hazlenut, passion fruit, milk chocolate etc. We all have our favourites, they're all mouthwatering. Note this date in your diary: 20th March. Jour du Macaron/Macaron Day, marked with an exclusive only available in Pierre Hermé boutiques, sensual soft-centred red raspberry chocolate macaron.
For the third year running, the first day of Spring is PH's way to give something back, together with Les Patissiers Relais Desserts and La Féderation des Malades Orphelins. From 10am-7pm both his Paris boutiques are offering red macarons for 1€, forget your daily Bostock or warm buttery croissant. For one day only have anything you like, as long as it's a macaron.
"The Picasso of Patisserie" is also making the day an edible retrospective of 10 years  transforming his little Mac into a cult object of desire. So get yourself over early, and you'll be helping La Fédération des Maladies Orphelins, make new best friends in the line. If you can't get there order from Hermes' on-line boutique.
At Easter PH presents Exubérante, based on a handsome phallic sculpture by Béatrice Arthus- Bertrand. This celebration of chocolat de Venezuela confirms PH's constant search for new taste sensations: "Exubérante combines, art, the pleasures of a real cake, at the same time it's a bitter chocolate bar wich includes fresh almonds grilled with sea-salt and pepper, offset with sugary Guanduja and punctuated with notes of caramel and salty butter", explains Hermé. No don't try it at home, unless your name's Dorie Greenspan, order from 11 March on www.pierreherme.com or from the two Paris boutiques. (54€)
That gorgeous palace Fouquet's Barrière, located on the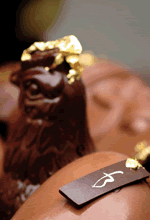 corner of Champs Elyseès and Avenue George V suggests "Week-End de Paques Diane" (named for Diane Barrière-Desseigne director of Group Barrière, who died in 2001). Be prepared to be amazed with the rooms (décor by Jacques Garcia). There's an Easter egg hunt, chocolate treatments in the spa (take the eres bikini, use in the pool and fitness studio). Easter Brunch at Diane, the gastronomic restaurant, is by Jean-Yves Leuranguer (MOF 1996) who also directs Fouquet's, such fun for people watching.
Fouquet's Barrière, opened in 2006, keeps the Haussman style over 5 beautifully transformed houses which make up the hotel. Architect Edouard Francois worked with Jacques Garcia to create bling-bling luxury. What else would you expect? 67 rooms and 40 suites are décor heaven, probably why Sarko rushed there after he was elected. Combined with the fact that it's 51% French owned by the Desseigne-Barrière family, 34% by Accor and 15% by the American Colony Capital. Fall out of bed and into the Vuitton flag-ship store right opposite. Put your name on the list for a Richard Prince "Joke" bag. Happiness is a warm Prince n'est pas cherie? Or, according to Prince: "every time I meet a girl who cooks like my mum, she looks like my dad!".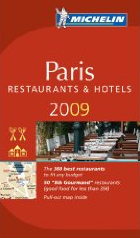 7 rue Bonaparte, 7th (metro:Saint Germain des Pres)
T: 01 43 54 47 77
185 rue Vaugirard, 15th (metro: Pasteur)
T: 01 47 83 89  96
46 Avenue George V 8th (Metro: George V)
T: 01 40 696 000
Easter Weekend "Diane" from €790-€8,600