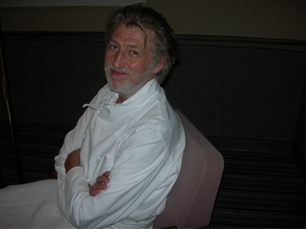 Nordic restaurants were awarded a total of five new stars in Michelin's European Guide, published this week. The good news: Copenhagen's Norma jumped from one to two.
Soelleeroed: Kro and MR each got one *. The bad news: Four restos in Copenhagen lost stars, end of the fairytale for Kimmandanten, Kokkeriet, Oubaek and Godt (as the owner must have said ……). In Helsinki, Finland, Demo notched up its first *, as did Esperanto, Stockholm. The UK topped the number of restos listed in Michelin's "Main Cities of Europe 2007" with 252. France had 220, Spain 182 and Germany 101. France is still numero uno for stars with 78, followed by UK 45 and Germany 32. 
Three star superchef Pierre Gagnaire is a happy man, Buzz catches him in the kitchen one rainy mad- March- hare of a day just before lunch service. "Come in, come in", he insists. We are definitely in the way, the kitchen is tiny and plates, trays full of tiny tasty morsels are deftly juggled by staff, used to PG inviting friends into the kitchen.
We're allotted the dining room, next to the kitchen, and it's a joy to watch the silent movie/ballet that is our lunch being prepared. He's an elegant man who only really wants to cook and create, 25 years, some spent in Saint Etienne in the magnificent art-deco house that gobbled up so much money he went bankrupt. Ten years ago PG decided to come to Paris, and took over Bice the chic Italian on rue Balzac, he's still there, but doesn't rule out moving if he can find the right space.
In Paris PG met scientist/bio-chemist Hervé This, with whom he writes books, gives conferences, kicks around wacky ideas. This (say it Tees) is probably the only person in the world to have a doctorate in Molecular Gastronomy. Bet his mum's proud. "Hervé has championed a technological evolution in the field of traditional cooking and encouraged innovative chefs around the world to experiment with confidence", says Gagnaire.
Now we'll have to wait until after lunch, during the service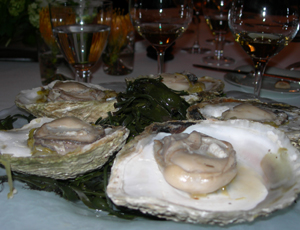 PG's behind that glass, watching and cooking like a blonde demon. He sends out a manzanilla aperitif with a tray of mini-taste sensations. Cookies made with sea-salt and ginger:  mini-roquette salad and red pepper pine nut tartlets.
Then the fun begins with raw sea-bass, langoustine and crab marinated in bitter orange juice, lychees, beans and white cabbage are added.
Could this be correct we're eating poached Belon oysters and they're 25 years old? "Very difficult to open ", mumbles the waiter. They're paired with tiny cockles, sprinkled with baby nasturtiums and raddichio. A dab of beetroot, a touch of Xeres vinegar and some clams and almonds. "This variety only produces 100 oysters each year, you're lucky", says the waiter. We give the thumbs up through the glass to PG. Damn right we're lucky.
"Write down the dishes, they're never the same twice", suggests the waiter, pouring Saumur Blanc 2004 Domaine du Collier from Antoine Foucault.
In a wide white porcelain dish, tender new season's asparagus from Domaine Saint-Vincent, chives, thai grapefruit, parsley root, diced scallops and cubes of asparagus au macvin, which melt sensuously as the vegetable bouillon is trickled on.
Hot breads are placed on the table, and monkfish served sprinkled with sweet paprika and with a warm velouté of pumpkin, foie gras and black gnocchis: nice with Crozes Hermitage 2004, just a taste.
Casseroled sweet onions from Cevennes with a broth of oursins (sea-urchins) are flavoured with garam-marsala, thin slices of cuttlefish, wild mushrooms, Spanish pimento and veal's head follow with Alsace Grand Cru 2004 Muenchberg Pinto Gris.
A palate cleanser in the form of fresh mozzarella sorbet. Welcome. But, being PG, it has to have components of grilled dried Paris mushrooms with Alba truffle oil, a little crab seasoned with cucumber and "almost" green mango.
The main is lamb from the Pyrénées with lard, saffron and a little silver stick bearing it's provenance. Its' ris are "en escabeche" (a sort of marinade) and its' liver just shown the grill. Haricots tarbais are the side dish, Volnay 1999 1er cru Les Caillerets from Jean Boiltot and Sons is the wine.
No cheese trolley, it's just not really appropriate here but, a skewer of Savoy Tome with a velouté of sheep's cheese, mache with honey and a tiny bouillon of old Dutch gouda with celery. A little Mont d'Or with hazelnuts and clementine sirop, underlines all the flavours.
It's light seasonal products presented as only PG can, think blending of unexpected tastes and flavours that tingle on the palate. Desserts keep coming, Buzz counted at least seven and then home-made chocolates.
PG comes out of the kitchen, grinning, happy. "Cooking is a bridge that joins people together", he says. After Sketch, London, and  Gaya, Rive Gauche, he opened in Tokyo, Hong Kong and will soon be at new Intercontinental Dubai. "It's exciting, the design is by Christian Ghion", he says.  The most complex restaurant to set up was Sketch, now running really well".
In his down-time PG still paints and listens to jazz. "I'm not sure there's such good jazz now, I like Norah Jones, but not all her work". He eats chez his friends such as Michel Bras and, "last week in San Sebastian I tasted a potato cooked in clay that was marvellous. I would love to have made this, you know the Spanish don't want to work in France any more, they probably think we're falling behind!"  "If there was a Prix Nobel for cooking I'd give it to Gagnaire", says Gilles Pudlowski. It's expensive we're talking Black Amex: remember what Henry Ford said. And you're definitely worth it.
Pierre Gagnaire,
6 rue Balzac (Metro: Charles de Gaulle, Etoile)
T: 01 58 36 12 50
Shut: Saturday & Sunday lunch
Average Spend: Lunch 90€ Menus 225/400€ + wine