Passard's Vie en Rose Buzz
Alain Passard's in his kitchen, it's hot and bustling, too small, a silent ballet's going on between the pots and pans that's fascinating. Carolyn Carlson should come and design a pas de deux between Passard, his pagre, (see photo) and his joy at creating his new dessert Bouquet de Rose. BUZZ asked to start with the rose dessert, "not really", smiled Passard. But he did start by telling from where he got his new inspiration. Seems he just acquired his third potager, located near Mont Saint Michel. Why? When it's so far from the other two in the Sarthe region. "The soil, the alluvial soil", he explains. I'm wondering if he's heard of Alluvial Soil, the LA based band who would adore Passard's "back to Mother Earth" philosophies. "not really", he admits. "Because of its' composition it's possible to grow crops without fertilization, just like the ancient Egyptians!" Yeah, well OK. Whatever turns you on boy. Gosh he has a passion to create, a fire that never seems to go out. No flowers decorate L'Arpege, their fragrance would divert the senses, just simple bundles of liquorice twigs. The room is minimal and masculine, filled with feminine servers, sommelieres and some beautiful ladies who do. Billecart-Salmon champagne is suggested to match delicate carrot chip boats filled with potato mousse, topped with wild flowers. Respect for the essence of ingredients is what this boy's about. Passard's new menu Grand Crus du Potager, showcases his incredible organic, just arrived this morning the mud's still wet. Vegetables. Start with say, paper-thin ravioli stuffed with garden herbs, a touch of curry. Or, the signature sweet, caramelised slow cooked onions and Menton lemons. For sometime now Passard's re-introduced fish, game, abats and meat to his stoves. Menu Cuisine de Mémoire re-discovers Lobster from Chausey, organic chicken from Haute-Main, pigeon from St. Anne d'Auray (Brittany), and duck from Challans, in a casserole. Or veggies will take vegetable Risotto with parmesan Reggiano. There's even Ris de Veau, grilled on liquorice wood. I change dishes every day, according to the market", says Passard popping out of the kitchen. To-day it's 5-kilo pagres/ read sea-bream, cooked to perfection, tiny potatoes, clam shells filled with seafood and a drizzle of cooking jus. Great with Chateau Aumedes, Cuvee Eric Verdier 2006 with notes of syrah and cabernet franc. No cheese to-day, direct to the "a rose by any other name would smell as sweet dessert". And taste. "I wanted to change the legend of the traditional apple tart", explains Passard, who will grow roses in his new alluvial potager. And placed before us it looks, delicate and there's a rose fragrance that's hard to resist. "I'll make it with other fruits, even vegetables, and I'll make it to order, so you can enjoy it at home". BUZZ wants to command a huge one, but only if chef delivers it himself. "You never know", he grins. Meanwhile at The Ritz, Michel Roth's recent La Table du Chef was such a success he's planning more. A warm welcome awaits in the kitchen, where 2 lucky guests are spectators at the ballet of the cuisines. Get up close and personal with the copper pots and pans, take part in prepping, making the desserts; it's not clear about the washing up, if you're worried check first! "It's a great way to introduce my new dishes, around a menu that I create for these evenings, which I adore", says the talented and gregarious Roth.. The menu could include amuse bouches du moment. Foie gras a la pomme rhubarb. John Dory, beurre blanc aux coques. A sweet surprise and Fraises legerement sucree comme une tarte sablee and Moka et friandises. You'll pay 280€ which includes champagne, mineral water and coffee. Address Book: L' Arpege "Maison de Cuisine" . 84 rue de Varenne, 8th (Metro: Ecole Militaire/Invalides) T : 01 47 05 09 06 Menus from 135-360€ + A La Carte Shut Sat & Sun La Table du Chef – Michel Roth The Ritz, 15 Place Vendome, 1st (Metro : Opera) Next dates – 7th-11th July. Then 8– 12 September. Reservations: 01 43 16 30 80
SUBSCRIBE
ALREADY SUBSCRIBED?
BECOME A BONJOUR PARIS MEMBER

Gain full access to our collection of over 5,000 articles and bring the City of Light into your life. Just 60 USD per year.

Find out why you should become a member here.

Sign in

Fill in your credentials below.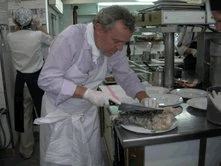 Alain Passard's in his kitchen, it's hot and bustling, too small, a silent ballet's going on between the pots and pans that's fascinating. Carolyn Carlson should come and design a pas de deux between Passard, his pagre, (see photo) and his joy at creating his new dessert Bouquet de Rose.
BUZZ asked to start with the rose dessert, "not really", smiled Passard. But he did start by telling from where he got his new inspiration. Seems he just acquired his third potager, located near Mont Saint Michel. Why? When it's so far from the other two in the Sarthe region. "The soil, the alluvial soil", he explains. I'm wondering if he's heard of Alluvial Soil, the LA based band who would adore Passard's "back to Mother Earth" philosophies. "not really", he admits. "Because of its' composition it's possible to grow crops without fertilization, just like the ancient Egyptians!" Yeah, well OK. Whatever turns you on boy. Gosh he has a passion to create, a fire that never seems to go out.
No flowers decorate L'Arpege, their fragrance would divert the senses, just simple bundles of liquorice twigs. The room is minimal and masculine, filled with feminine servers, sommelieres and some beautiful ladies who do. Billecart-Salmon champagne is suggested to match delicate carrot chip boats filled with potato mousse, topped with wild flowers.
Respect for the essence of ingredients is what this boy's about. Passard's new menu Grand Crus du Potager, showcases his incredible organic, just arrived this morning the mud's still wet. Vegetables. Start with say, paper-thin ravioli stuffed with garden herbs, a touch of curry. Or, the signature sweet, caramelised slow cooked onions and Menton lemons.
For sometime now Passard's re-introduced fish, game, abats and meat to his stoves. Menu Cuisine de Mémoire re-discovers Lobster from Chausey, organic chicken from Haute-Main, pigeon from St. Anne d'Auray (Brittany), and duck from Challans, in a casserole. Or veggies will take vegetable Risotto with parmesan Reggiano. There's even Ris de Veau, grilled on liquorice wood.
I change dishes every day, according to the market", says Passard popping out of the kitchen. To-day it's 5-kilo pagres/ read sea-bream, cooked to perfection, tiny potatoes, clam shells filled with seafood and a drizzle of cooking jus. Great with Chateau Aumedes, Cuvee Eric Verdier 2006 with notes of syrah and cabernet franc.
No cheese to-day, direct to the "a rose by any other name would smell as sweet dessert". And taste. "I wanted to change the legend of the traditional apple tart", explains Passard, who will grow roses in his new alluvial potager.
And placed before us it looks, delicate and there's a rose fragrance that's hard to resist. "I'll make it with other fruits, even vegetables, and I'll make it to order, so you can enjoy it at home". BUZZ wants to command a huge one, but only if chef delivers it himself. "You never know", he grins.
Meanwhile at The Ritz, Michel Roth's recent La Table du Chef was such a success he's planning more.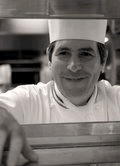 A warm welcome awaits in the kitchen, where 2 lucky guests are spectators at the ballet of the cuisines. Get up close and personal with the copper pots and pans, take part in prepping, making the desserts; it's not clear about the washing up, if you're worried check first!
"It's a great way to introduce my new dishes, around a menu that I create for these evenings, which I adore", says the talented and gregarious Roth..
The menu could include amuse bouches du moment. Foie gras a la pomme rhubarb. John Dory, beurre blanc aux coques. A sweet surprise and Fraises legerement sucree comme une tarte sablee and Moka et friandises. You'll pay 280€ which includes champagne, mineral water and coffee.
Address Book:
L' Arpege "Maison de Cuisine" .
84 rue de Varenne, 8th (Metro: Ecole Militaire/Invalides)
T : 01 47 05 09 06
Menus from 135-360€ + A La Carte
Shut Sat & Sun
La Table du Chef – Michel Roth
The Ritz,
15 Place Vendome, 1st (Metro : Opera)
Next dates – 7th-11th July.
Then 8– 12 September.
Reservations: 01 43 16 30 80
---
---