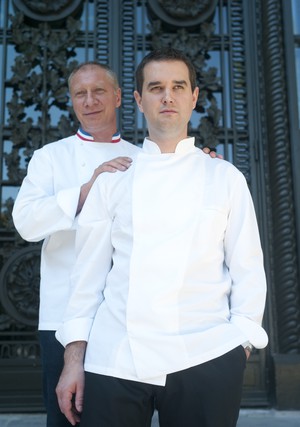 When Eric Frechon was asked to create and become Chef Conseil at the Mini Palais he didn't hesitate. It was originally set up by Gilles Choukroun, who never made it work and left to set up his own gaff in the 17th which doesn't really work either, but that's another story. You can't speak evil of a chef who created crème brûlée de foie gras.
Located just behind the Grand Palais and Le Petit Palais, Mini Palais re-launched last week, with incredible décor by ex-Liagre disciples Gilles & Boissier under the watchful eye of Alain-Charles Perrot, chief Architect of Monuments Historiques, it's now one of the most beautiful restaurant spaces in Paris. Look up at the metallic ceiling, admire the neo-medieval patchwork wall-covering by Gilles Cenazandooti and smile at the plaster reproductions of plaster of paris museum pieces and broken relics on the shelves. Then look outside at the wide terrace with elegant Greek columns and majestic orange trees. Are you ready to order?
Eric Frechon (3-star Michelin at Le Bristol) has seized the challenge to create a luxury product but without the eyewatering prices. "I'm a simple lad at heart and I've created dishes that I'd like to eat in this setting", he said last week. "Also, this gives me the opportunity to showcase my favourite artisans". So he gathered Jean-Yves Bordier for his exceptional butter; Philippe Camderborde for traditional homemade charcuterie that Lady Gaga would love to wear; Frédéric Lalos for his incredible variety of breads, served in hessian sacks; Mareyeur (fisherman) Claude Raffin for his line-caught fish; and he also tapped into the resources of Mr Good Fish to ensure that no endangered fish are used in the bright new kitchens.
Stéphane d'Aboville, who says he's 30 but looks much younger, is in charge of the kitchens. He's been at Le Bristol as second  and Premier responsable du Restaurant Gastronomique to Frechon for eight years. "And I love him, and he loves me", grins Frechon. "He's a good boy". Before Le Bristol this boy from Tarbais (where the beans come from) learned his craft at L'Ambroisie, Tarbes (1-star) then Bayonne, then Drouant with the legendary Louis Grondard. In 2002 he joined la brigade d'Eric Frechon. "This week my career takes a new path and I'm excited", he said.
The concept of Mini Palais is that it's open daily from midi to minuit. There's a lunch menu at 28€, and the average à la carte spend is about 45€ plus wine. By the glass about 7€ or, say, a white Chablis Le Finage de Chablienne 2007 (42€) or a well structured Beaujolais Morgan, Domaine Marcel Lapierre 2009 (38€).
After visiting Grand Palais or shopping on the Golden Triangle why not pop in and, if it's sunny, take an "en cas" on the terrace? Sardines à l'huile, Bordier beurre aux algues (16€): Planche de Charcuterie "Lady Gaga" (14€), Planche de fromages affinés (8€), Club Sandwich de langouste (35), Tartare de boeuf taillé au couteau cru ou poêle (19€).
The menu changes with the seasons and the market. Freebie gougères, (feather-light cheese puffs) served as mini-soufflés, are the perfect intro to discovering a talented cutting-edge chef.
Delicious choices last week were, from nine starters: Tempura de Gambas et oignons aux épices tandoori and, what will become the house signature, Clafoutis aux cèpes de Corrèze légèrement fumés. From ten mains: Burger de magret et foie gras: Ris de veau en croûte de Comté au vin jaune: Merlan frit, sauce tartare, chips persillés. 10 pudds to die, not diet for: Baba gèant au rhum, créme légère à la vanille. OK, if you're calorie counting take Salade de pommes vertes et framboises aux herbes fraîches. If not, Chouquettes, Irish Coffee glacé or Tarte fine aux figues de Soliés.
Frechon and d'Aboville are bien in their baskets.
Avenue Winston Churchill,
Pont Alexandre III, 8th
Metro: Champs Elysées-Clemenceau,
T: 01 42 56 42 42
Valet Parking
On a busy road near La Maison de la Radio, within sight of the Eiffel Tower, Trattoria Firenze buzzes daily with a BCBG clientele. It's the sort of place you take your mother, your lover and/or RoccoBarocco plus Italian guests with confidence; they'll all love the sunny welcome. There's a terrace to watch the world go by and a menu with delicious choices—you'll want everything. Chef Salvatore Esposito (ex-his mama's cucina, Casa Bini and Chez Lei) writes a daily blackboard according to the market. Begin with Casareccia, twisted tube-shaped pasta, vegetables and fresh herbs. Or go for penne or ravioli filled with fresh cèpes and walnuts. Carnarolli rice is used for creamy risotto with black truffles; tortellini has truffles shaved on top by Maria. Fish and meat dishes include sea bass with green olives, eggplant caponata. Veal escalope comes with spaghetti and tomatoes, justa like mama makes at home on Via dei Leoni.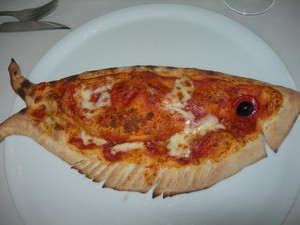 From Pizza Corner order endless combos from the cute singing Pizzaiolo, take away as well. Try Calzone, a turnover stuffed with tomatoes, mozza, mushrooms, eggs, ham and oregano. And of course Firenze, tomatoes, mozza, smoked salmon, lemon and dill. The pizzas are 12€ so just pop in for a pizza and glass of excellent Sicilian, Italian or French wine—let the delightful Maria guide you. Finish with warm ricotta cheesecake, Fondente Al Limoncello or Pizza Nutella. Ciao bella.
30 avenue de Versailles, 16th
Metro: Mirabeau/Exelmans
T: 01 45 24 34 98
Open 7/7 from 12h-23hrs
Terrace
Plat du Jour 14-15€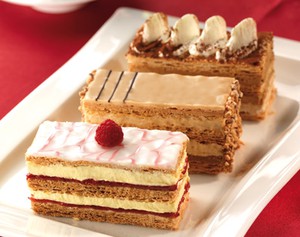 The third edition "Mois de Millefeuilles" goes through 10th October so there's time to get out on the field and do your thing babe. Dozens of boulangers-patissiers all over the hexagon are creating not only the traditional thousand leaves but new spins such as Mouss' Framboise, Cappucci'Croc and Prali'Croc. Millefeuille's first launch was at Patisserie Seugnot, rue du Bac in 1867. According to Wikipedia, Franҫois Pierre de la Varenne described them in his 1651 "Cuisinier Franҫais" and Carême wrote them up at the end of the 18th century. Whatever, Millefeuilles are global bestsellers n'est-ce pas. Anyone know why they call them Napoleons in the US of A?
Paris Shuttle is the leading provider of pre-bookable airport transfers in Paris. Book your airport transfer with Paris Shuttle and save up to 30%.