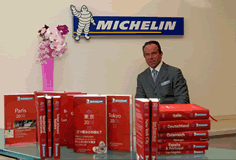 If you see this man in a restaurant, don't tell the chef, he may have a heart attack! Since June 2004, Jean-Luc Naret has been in the Director's chair at Michelin. His first goal to take Michelin global. Unless you've been on the moon, or not reading BUZZ you'll know that's exactly what he's done. Now you buy the guides in English (handy for Tokyo, which really is a tour de force) and each restaurant page has a colour photo.
Naret, who lives on the left-bank, is gregarious, you'll see him in restaurants, maybe with his wife and three children, maybe you'll see his bike outside. Michelin was founded in 1900, Naret the 6th Director, is considered an "outsider". He never trawled the inspector trail, but he did graduate from the prestigious Ecole Hotelier, Paris. Twenty years in the luxury hotel industry followed, he planned the transformation of Sandy Lane, Barbados and headed operations for the Aga Khan's hotel group. His credo is, "yes we can" he believes that the key to success lies in teamwork. "Take the job seriously, but not yourself", he grins.
And the (2008) winners are:
The only new *** is Gérald Passédat's Le Petit Nice, Marseilles. Passédat was born in this maison, is a passionate chef dedicated to cooking unusual fish. *** go figure! Or, go and make up your own mind. "It's a coup de marketing geographic", said Francois Simon on LCI, "they didn't have anything in that region, they've got to sell the guides!"
Joel Robuchon is awarded ** for L'Atelier (7th). William Ledeuil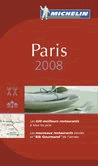 a long over-due * for Ze Kitchen Galerie (6th). Just two knives & forks for Elizabeth and Gille Epie's wonderful Citrus Etoile (8th). Il Vino d'Enrico Bernardo (7th) open since last September, gets * as does Le Pur Grill (2nd), Le Restaurant (in L'Hotel, 6th) is dubbed as is Aida (7th). Marc Meneau has overcome all his problems, re-launched the magnificent country house hotel/restaurant and recovered his ** at L' Espérance, St-Pere-en-Vezelay, (Burgundy). "We are "folle de joie", say Marc and Francoise Meneau. And the Finn Jouni Tourmanen gets * for "Jouni Atelier du Gout, Nice. Nice one Jouni!
Bad news day for Guy Martin of Le Grand Vefour (1st), he goes from *** to **. Justified, according to Naret, who says: "there's always a good reason for a lost star, our inspectors have not been happy with the dishes here for 18 months." BUZZ suggests, now's the time to eat there: Martin'll be going flat out to get the * back. Piege at The Crillon missed out on a third, and Legendre at the George V is still **. The Bristol's Eric Frechon, has ** and is down for a third next year, as is Thierry Marx.
Need to know: There are 26 *** including Passédat. 68 ** with 8 new this year. 435 * stars with 52 new and 13 rising stars. If you're on a budget BIB Gourmand awards their logo to restaurants serving good food and a fixed price menu for less than 28€ outside Paris and 35€ in Paris. In all, Michelin 2008 France features 8,655 addresses of which more than 5,000 are hotels and guest-houses and about 3,500 restaurants, in all price categories.
www.cartesetguides.michelin.fr
Published in France March 6th 24€
Paris Guide 14€ 50
Version Anglais mid-March