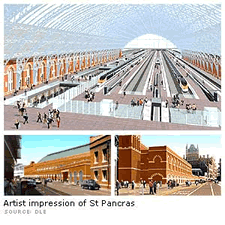 Talk of the town in London, is not only the handsome new Eurostar terminal at St. Pancras, but also Alain Ducasse's launch of a sumptuous restaurant at The Dorchester,  Park Lane. "Alain Ducasse at The Dorchester" opens November 13th, seats 80, with well spaced tables, three private dining areas, stunning décor by Patrick Jouin and leafy views onto Park Lane and Hyde Park.   
Our favourite multi-starred Michelin chef (13 at the last count) is putting Nichola Canuti in charge of the state-of-the-art kitchens and Christian Laval, who has worked with Ducasse (recently at Spoon, Marignan) longer than he cares to remember, directs the restaurant team. Seems there's no stopping Ducasse as he opens Benoit and Ardour, NYC (named for the river that flows through the village in France where he was born).  
Meanwhile back in bonjourparis.com land, there's a definite buzz around Le Meurice. The mythical hotel was boarded up for the month of August (well no one's in Paris in August, darling, they figured, wrong!) and you had to access the hotel from behind. Not a problem, but how pleasant that the driver can now drop one outside on rue de Rivoli. 
So what's going on then? It's all the idea of General Manager Franka Holtmann (ex-Ritz, Plaza Athenee, Hotel de Crillon) who joined Le Meurice recently, sees a "Sleeping Beauty" needing a handsome prince to awaken it.  
Dunno about handsome, but Mme Holtmann (looks like Sharon Stone, who probably stays at Le Meurice, when confusion could occur) chose Philippe Starck to hip up the hotel's public areas. Former guests such as Salvado Dali would be delighted (he used to dangle all kinds of things from the windows of his suite when he lived there). Read lobby, bar and the restaurants. Very bold.  

"I want Le Meurice to move to a different beat, it's a showcase for the best of French", explains Mme Holtmann. "The three-star Michelin restaurant with superchef Yannick Alleno, the Caudalie Spa, with French grape signature treatments", explains Ms Holtmann who was born in Essen Germany, studied in Paris and Nice, bien sur. 
So is Starck a good choice? At first it would appear crazy, but look how he has evolved into our lifestyle designing motor-scooters, Mitterand's private apartments at the Elysée Palace, luggage for Vuitton, computers, knobs, knockers, toothbrushes and the now classic Louis XV Ghost chairs.  
"The point is, always pedal ahead of the pack", advises Ms Holtmann and she should know being the only woman to have run (as General Manager) two Paris Palaces, "her experience in Paris luxury hotels is second to none, when Franka arrives sales and profits soar", notes a regular Le Meurice guest.  Superchef Alleno is delighted, "Monsieur Starck's transformations match my cuisine, give me new inspiration", he sighs. 
And talking of pedals, there's Vélib, a tad heavy and there's there's Le Meurice touch. Head concierge Sabine Geese will lend you a bike when you stay, complete with golden bike lock and colour- matched helmet, buy one to take home if you want – excellent souvenir of a memorable stay at Le Meurice. 
Starck's edgy designs will be unveiled at the beginning of December, expect stone, gold earth, warm tones, re-invented lighting, secret alcoves, some leather, not a lot, "I prefer synthetics, I'm a vegetarian." It'll be a tableau vivant whose boundaries are nothing more than an incitation to dream", promises Starck. Dream on then. See you there.  
Starck is going to love Tetes à Croquer www.tetesacroquer.com such a wacky idea. Send them your photo and they'll put it on a gateau of your choice, and deliver. Maybe he'll send one to Mme Holtmann, that would be the cherry on the gateau, n'est pas. 
Le Meurice,
228 rue de Rivoli, 8th (Metro: Tuileries)
T: 01 44 58 10 79
Alain Ducasse at The Dorchester,
Park Lane, London W.1.
T: + 33 (1) 207 7629 8866