Remember Lady Chatterley's Lover, the book by DH Lawrence that caused a sensation? Banned in the USA, until 1959 when the first unexpurgated version sold out everywhere, subject to a court case in the UK but cleared the same year. My tattered copy was hidden in the linen cupboard, because it was also banned in our house: like permanently. It's the tale of Constance Chatterley, a horny young desperate housewife whose parts are all in good working order, unlike her writer husband's, "who wears repression like armour". When Lady Constance is thrown into contact with Oliver Mellors, the family's achingly cute gamekeeper, erotica breaks out in the fields and forests around Chatterley Towers.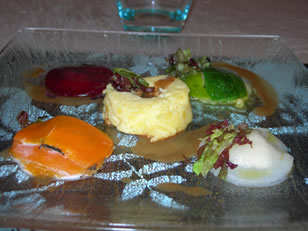 Put me in mind of the book during a visit to Le Jardinier. It's in a side street, near the Folies Bergere, a large Haussmannienne space with ceiling mouldings and light fittings you want to steal. Stephane Fumaz is the young chef with a total understanding and passion for vegetables. Mellors and her Ladyship would love the Ravioli of summer vegetables with herbs. "It's ravioli without the pate, so no calories", explains Fumaz. "I just take seasonal vegetables and work with them". Crunchy asparagus is lightly panned, served with plump black olives and parmesan. There's Gaspacho of Tomatoes paired with a fine cucumber gelée topped with whipped egg white and basil. Three little crabs are stuffed with a creamy crab mousse and celery root. Salmon, marinated with coriander, is served with a potato waffle and herring caviar.
Mains include a large plate of roasted seasonal vegetables, refreshing to find, as is the Thyme roasted cod with coco beans and  Sea-Bass in a salt crust with braised fennel.
Mellors would have gone for the saddle of rabbit with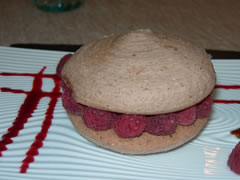 confit of tomatoes, fresh peas and chanterelle mushrooms. Her Ladyship, either for the Stuffed vegetables with slow-cooked curried lamb, or Chump of veal with Provence Olives, mille-feuille of aubergines, tomatoes and basil (DH Lawrence actually died in Vence). He would have cheese of the day, served with salad and hazelnut oil. For her, Chocolate raspberry macaroon with vanilla whipped cream and a boule of vanilla ice-cream. The wine list includes an excellent Chateau Carignan Bordeaux red, at 21€ even a mere gamekeeper can run to that darling. Or a very appropriate white Valencay 2004 Le Chatelaine – Pierre à Fusil (26€).
Fumaz and his English speaking wife Catherine, who does the salle in tandem with the charming Dajana, have been at Le Jardinier since May. He comes from Annecy has cooked chez "crazy man genius" Veyrat at L'Auberge de L'Eridan.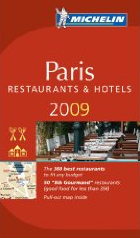 Also at Le Bourdonnais, now shut, rumoured to be re-opening soon. Jacques Cagna was a great influence and Fumaz's done time with Ghislaine Arabian at Ledoyen. "But the man who impressed me most is Frederic Anton, where I worked as his second at Pre Catalan (1997-2000). When Anton changes a menu, he takes two months, but every dish is changed. He's a total perfectionist, a total talent". Hurry to Le Jardinier, it's a delightful atmosphere and the cooking's sublime. 
While you're in Saint Tropez check out another sublime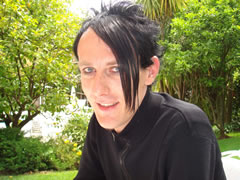 garden at La Bastide de Saint Tropez. Check out the chef as well, he's gorgeous if you do Gothic. They're already calling Olivier Streiff the "rocker-toque" of Saint Tropez. While listening to Mozart or Depeche Mode, Streiff creates unique fusion cuisine inspired by "sweet and savoury", "spices and flowers". Every dish is a work of art, more of him later.
Le Jardinier,
5 rue Richer 9th (Metro: Poissonniere)
T: 01 48 24 79 79
Lunch menu: 17- 21€ Dinner from 30€
Open in August
Hire a Gardener Now
Checked Interviewed and available
Fast Friendly Service Est: 1845
www.MasseysAgency.co.uk
Married but want a lover?
www.illicitencounters.com
La Bastide de Saint Tropez,
Route des Carles,
Saint Tropez,
T: 04 94 55 82 55
www.bastide-de-saint-tropez.com