Meet Me At The Astor Buzz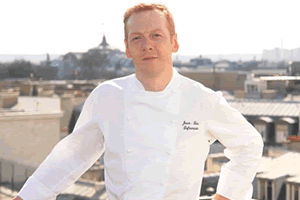 "My memory starts working better when I'm running, and when I swim the movement of my arms create an acoustic vibration inside me that's very melodious", this is Jean Luc Le Francois talented, sporting, chef at The Hotel Astor, right near the Madeleine, founded by Lord Astor himself.
Le Francois runs, cycles or swims daily. "It's a great release from stress whatever career you have", he observes. Most days LeFrancois runs to work from his home in Colombes. "We chefs are obsessive creatures and running and triathlons are a great challenge". It's non-stop as he prepares for the Meilleur Ouvrier de France 2006.
The Astor was recently sold and chef Eric Lecerf, who worked here with Joel Robuchon as consultant, have moved on although they keep the contact with L'Astor, a very special maison.
Le Francois is from Normandy, where his Grandfather a master- baker/patissier schooled him in the art of madeleines & Co. He still makes his grandmother's apple jelly, grows his herbs just like her. Sunday lunch was snails from the garden, gigot and haricot followed by la galette fourée aux pommes: "un regal!" he recalls.
His excellent parcours goes from L'Hotel du Havre, Rouen, The Bristol, Royal Monceau, The Ritz, The Crillon (with Dominique Bouchet), Helene Darroze, Prunier, Sofitel Sevres and to the Relais Louis X111 with Manuel Martinez, "who is my guru, I adore him".
At The Astor Le Francois put his original and healthy philosophies to work immediately with his Jet Lag Menu. "Flying dehydrates, avoid tobacco, alcohol and coffee for five days after your long-haul", he advises. If you need to stay awake on your arrival, think protein as in Risotto or Millefeuille de legumes au fromage blanc + a sea-bass and Brownie with dried fruits for dessert.
There's more in store with Le Francois' advice for replacing vitamins and minerals before and after the gym or, what to eat with the change of seasons to make you feel good.  Talk to Le Francois, he's got charts worthy of a top nutritionist in the tiny office by his shiny kitchens.
I can't be bothered with that!
OK. So just book The Astor Restaurant for lunch or dinner. The oval glass ceiling dining room, you'll love or hate: think 1930's cruise ship décor – the Astors would love it darling. Cream and black, marine mouldings, trompe l'oeil paintings, and lots of mirrors.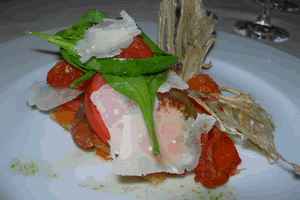 "I've put together a menu that respects the seasons, balances the oligo-elements and vitamins that we need daily.  I often go to Rungis with Manuel Martinez, who introduced
me to all the top producers. I'm big on fish, coming from Normandy. My cooking is instinctive, I compose my dishes like an artist in front of a canvas, they must be interesting colours, modern and light, but I also love to re-visit the classics. Many clients just call ahead and ask me to create a dinner around a chosen product. When they come I make sure they have a lively culinary adventure". So expect a paper thin crab ravioli with pumpkin and spinach mopped up with pain Poujarin, followed by a John Dory with coquillages and saffron leeks, don't ignore the cartwheel of Cantal on the trolley and then blow it all on the baba, babe. Leave the wines to sommelier Wilfrid Collineau.
Pastry is by uber-patissier and choco-maven Olivier Bagnol. Think Roulé of pineapple with ti-punch mousse, peppered mango sorbet. Baba au Rhum and Raisin. Muscovado soufflé with hot mulled wine and orange and saffron ice-cream.
Bagnols created Power Tea for the movers and shakers who prefer a camomile to a chianti in the pm. In the wood panel Charles X Bar de l'Astor, check out the murals by Dufy and Van Dongen. You'll feel like his Lord/Ladyship as you sip a Darjeeling Margaret's Hope tea (subtle woody flavour) from Betjeman and Barton (www.betjemanandbarton.com)  Or try the vitamin C booster of a nice cuppa Japanese Sencha. Lots of pastries include: chocolate cookies, scones, jams, choco-mousses, cannelées de Bordeaux and Lemon cake and macaroons. Scrumptious! "They don't do it as well as the English, but they get an "A" for effort", says Renaud Grégoire, of London's Claridges, winner of this year's Top London Tea Award.
Hotel Astor Saint-Honoré,
11, rue d'Astorg, 8th (Metro:Saint Augustin-Madeleine,
Restaurant T:01 53 05 05 20
Open Mon-Fri lunch & dinner
Shut Sat-Sun
Power Tea-time every day (12€) + bar menu (29€)
Average Spend from 48€ (lunch) to 80€ dinner
+ A la Carte + wine
New Year's Eve Dinner, Room and 1st Jan Brunch
1250€ includes champagne & Deluxe Room
www.3ahotels.com
 
Leave a reply
Your email address will not be published. Required fields are marked *