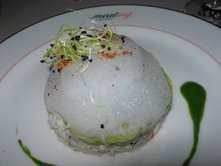 Emile Cotte never had any doubt that he wanted to be a chef, travel the world cheer, and play, as much rugby as possible. "Born to cook, at an early age I realised boy the French do know how to eat well". Cotte grew up around a big dining- room table and warm stove in Limoges, "I'm Limousin, ah! the countryside, life is good there". Leaving school Cotte realised his childhood dream at Lycée Hôtel Quercy-Perigord, Souillac, the Dordogne, from where he graduated in 1997. 
"I came to Paris to work with the best, tough, yes, I was keen to learn the discipline a chef needs to succeed. Working with Frederic Anton at Pre Catalan was his first post as chef de partie. On the good ship Mermoz, aged 18, he cruised the Mediterranean in the name of gastronomy. "Top chefs were invited, with assistants, I was in heaven helping Joel Robuchon, Frederic Anton, Christophe Cussac, Dominique Bouchet, Philippe Groult as we sailed the Mediterranean.  
Where do you go from there? Why Taillevent, the strict precision of Alain Solivéres in the kitchen, the elegance "customer is king" attitude of the late Jean Claude Vrinat in the salle. Cotte didn't only talk rugby when he worked for Guy Savoy, but learned to appeciate art, not only on the walls, but also in the kitchen. Subsequently he left for Japan and new discoveries the first of which was in Osaka for a gastronomic week. "If you love food you should visit Tsukiji fish market, more than 400 varieties of seafood, from tiny whitebait to 3-meter tuna worth millions of yen, flown in from all over the world. To watch the fishermen slicing into the gigantic fish like Samurai warriors is epic. I bought all my knives in Tokyo", he grins sharply. "I love working with the Japanese, they have respect you don't find in the French, I drank the best wines ever in Japan". He also worked in Taipei with Alain Solivéres and Bangkok at Epicurean Masters of the World Competitions.  
For the time being our talented culinary rugbyman is at Meating, his first post as head of his own cuisine. "You know it took me a good six months to adapt, after all the travelling and the high of working with star-chefs".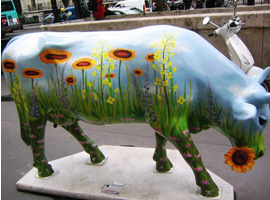 Meating is located in Jean Pierre Vigato's former space, Apicius. Owned by the brilliant Robert Bouchard (who transformed La Gare, Passy-La Muette) the concept is unique in Paris. A chic New York style steak-house, Black Angus Beef direct from Creekstone Farm, Arkansas City, Nebraska www.creekstonefarms.com Begin salivating now, note you can order to take home. Cute décor includes beautiful bovine sculptures everywhere, a bit big to slip into the Kelly unfortunately (SEE PHOTO) Beef is broiled on an American Garland broiler, "as far as I know it's the only one in France", says Cotte. "It cost a fortune, but Monsieur Bouchard would settle for nothing less". 
And here's the rub in these crunchy times, a menu including the Black Angus, midi and soir at 34€. Choose from 3 starters including whisked velouté of cèpes and chestnuts or ginger and lime tuna tartare. A brilliant concoction of snowy peaks, avocado and king crab with granny smiths, mache, endives and truffle oil. Mains (choose from 3 on the menu) are Black Angus, purée, sauce Pauillac, Organic chicken grand-mére tradition. It's not all beef. Steamed organic salmon is paired with courgettes, basil and fresh mint. Cheese or Exotic fruit salad, dark black chocolate mousse. Riz au Lait, caramel au beurre demi-sel. Ice cream and warm madeleines. Drink Chateau Mazeris Bellevue Canon Fronsac chosen by the excellent Maitre d' Philippe Klugstertz. The clientele is tres BCBG, chicks with long shiny straight hair, short skirts, the guys just left the Ferrari/Lambo with the cute voiturier (8€). 
Not much down time for Cotte, no wife, the "I'm married to Meating" attitude but when he does go out it's to schmooze with friends he's worked with. Le Grand Pan, Jadis, Le Gaigne (I worked with him at Pre Catalan) Les Papilles. And they come to Meating, Alain Solivéres had his birthday dinner at Meating last week. Deffo worth schlepping across Paris for, trust me.  
122 avenue de Villiers, 17th
Metro: Pereire 
T: 01 43 80 10 10
www.restaurantmeating.com 
Lunch and Dinner 34€ 
for three courses & wine
Or A La Carte about 66€ + wine
Closed Sat Lunch & Sunday
Rail Europe:For 75 years, RailEurope has helped North American travelers see more of Europe. Train tickets are a great option for travel between two or three cities. Check our selection of rail passes for great flexibility and savings.