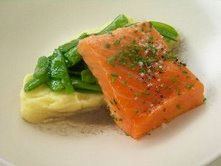 The tres chic Christian Liagre designed Market restaurant, with shady terrace, is located next-door to Christie's Auction House, Paris. No darling you don't have to flog the family silver to eat here, fusion pioneer Jean-Georges Vongerichten tabs his Spring menu at 34€. Order a zesty ginger and lemon infusion and study the mouthwatering menu.
If you want the black plate, a black slate with crispy crab spring rolls, shrimp satay, lobster with daikon radish – 3 dipping sauces – quail rubbed with Thai spices, you'll pay 15€ extra. Beware of Vong's signature black truffle pizza with fontina, an explosive flavour sensation, it's addictive! Mix and match dishes, have two starters. Warm beetroot salad, mache and lemon oil or soupe de poulet au lait de coco et galanga. There are chefs' daily suggestions, say, marinated sardines with coriander, orange zest and green asparagus. Omelette stuffed with smoked salmon and spinach shoots. Lotte cheeks, or salmon grilled à la plancha, gnocchi and artichoke poivrade (See Photo). Ris de veau braisé en terrine d'asperges, truffle vinaigrette. Or maybe you just want a classic "Market Burger" with cheddar cheese and onion rings. Alamos chardonnay is 7€ a glass or a fruity red Malbec 8€. Desserts include cheesecake with crème fraiche and red berry sorbet, fresh fruit sorbets à la minute: rhubarb brulée with pop-corn ice cream.
Market was launched by Jean-Georges in 2001, with the backing of Luc Besson and Francois Pinault, fans who lived in New York because Jean Georges was there now felt comfortable coming to France! The Alsace born chef, who trained in France and Asia, travels all the time. "Did you know there's 3,000 species of edible herbs in North America?", he enquired one day last week while in Paris. At the entrance, there's a bar, and a raw bar with oysters, fresh fish and chunky loaves of bread (recipe by Alain Passard). Head chef Wim Van Gorp works in tandem with Jean-Georges, both maintain, "the last bite should be as exciting as the first".
15 avenue Matignon, 8th
(Metro: Franklin D Roosevelt)
T: 01 56 43 40 90
Menu Saveurs de Printemps 34€
Available Sun-Friday
The prettiest themed restaurant in Paris is Le Sud, take a break without leaving the city. Part of the Freres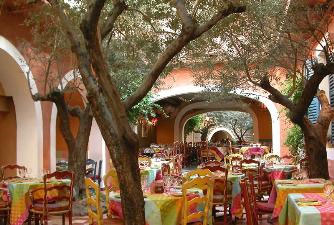 Blanc group, the décor of the two-story space is pure Provence, crickets chirrup, birds sing, the welcome is warm. Eat on the outside terrace, in the olive tree garden or the flower market. Moist almonds are brought to the table with warm petits pains (made daily by in-house baker Boubaker Ghania) and a vin d'orange cocktail. Chef Francois Lucchesi-Palli's full flavour bourrides, fish soups and fish terrines are a joy. Pretend you're in Marseille, order Grand Aioil à la Provencale (29€.50). "People are always asking me, "chef, what is the difference between la bourride and la bouillabaisse?" says Lucchesi-Palli. "Simple, think of them as cousins: la charte bouillabiasse was created in Marseilles, that of bourride à Toulon". For Le Sud, I've chosen la Bourride from the fishermen of Grau du Roi (a tiny fishing village in the South of France). It's a delicious aioli-bouillon mix, the fish is filleted, so there's no bones, I just pop it in to the soup at the last minute". Lamb lovers will adore, "confit d'agneau de ma grand-mere" and there's daurades and sea-bass fished from the Frioul archipeligo, near Marseille.
The ladies who do will order seasonal légumes à la plancha and Bernard Tapie will take entrecote de Boeuf Grillée, gratin de pates, sauce marchand de vin. He'll follow with Soufflé glacé aux fruits rouges, baba au Marc de Provence, glace calisson or delicious Cafe Gourmand. Ladies, do order "l'infusion du moment" – all the herbs of provence in a tea-pot. Drink Domaine Saint Andre de Figuiére 2002 Grande cuvée Delphine (38€) or Domaine Barthés Bandol Red (29.50) or, as it's Provence, le Rosé Saint Roseline (38€).
LE SUD
91 Boulevard Gouvion St-Cyr, 17th
(Metro: Porte Maillot)
T: 01 45 74 02 77
Average Spend about 45€ + wine
Open 7/7
Valet Parking
Nobody who cares about French food could fail to be interested in "Au Revoir To All That, The Rise and Fall of French Cuisine", by Michael Steinberger, wine columnist for Slate magazine. Steinberger maintains that it's Americans who now uphold the classic French techniques, while the French scoff Big Macs. Agree or not, is Steinberger correct to challenge French culinary supremacy? Answers on a postcard please.