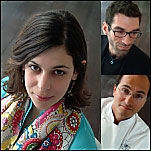 Beirut, with its' million inhabitants, conveys a sense of life and energy. Maybe it's due to the capital's (Lebanon, darling) geographical position, jutting into the sparkling blue sea, a backdrop of mountains. The city buzzes, so do the people, in spite of all the problems, especially when they're eating, drinking, down-timing. 
When 30-something Liza Soughayar launched her Lebanese Contemporary canteen, in Paris, she wanted it to be a little corner of the country where she was born and which she loves. But Liza isn't just any rookie who day-dreamed of opening her own restaurant, her parcours includes graduating from Hotel School, Lausanne, and posts at hotels such as L'Hermitage des Loges, Le Meurice and The Prince des Galles, Paris. "I have to say in the beginning I was more interested in the décor, but then I realised that's not important – it's the food – stupid!" 
Liza shrugs that off now but the decor is delicious, as is Liza. Hubert Fattal of Les Decocreateurs planned "a different Lebanon", revised and corrected in the same way as the cuisine. And when it was all in place came the music, specially composed to blend oriental and occidental sounds. 
Chef Karim Haidar, was working in London's Fakhreldine when Liza asked him to come to Paris to work on her concept "L" and form a team. He has, and there's a great Lebanese/French chemistry in the kitchen, his second is Jean Bataile, trained by Gerard Vie. "It's above all a healthy cuisine", says Karim. The minute you are seated, get some hommous, there's none better in the world, put a spoonful on warm bread and you're half way to Beirut! And if you wondered where Vie went when he left The Trianon Palace:
Les Terrines de Gerard Vie is at 97 rue du Cherche-Midi 7th T: 01 42 22 19 18. 
Haider interprets secret family recipes. Says he likes to keep the menu short (that's short – nah!). The hommous, fattouche, kafta, lentil and rice salad, or the dessert of carraway seeds and cinnamon (Meghlé), often served in Lebanon to celebrate the birth of a child. Black mullet stew, fresh coriander and pimento, braised slow-cooked five spice lamb. "From the plains of the Bekaa Valley to the Mediterranean coasts, passing by Mount Lebanon and the southern orchars, each region brings to the chefs' basket wonderful ingredients", he says.  
"Each dish has a matching wine if you want", says Liza who puts the Lebanese Vissi d'Arte 2006 with the signature 5-spice lamb (36€ or by the glass). Cuvee Phoenix 2007, Lebanon, is paired with grilled baby chicken, semolina, cinnamon and quince. And the excellent Provence, Chateau Peyrassol 2007 (40€) with Coriander flavoured spinach, minced lamb and rice.
And it's not just the restaurant, there are Embassy dinners to be catered, the airlines and private jets adore Liza's dishes. Find Liza also at Grand Epicerie and Monop and also take baker Hassan Issa's delicious Man'ouches and rustic bread club sandwiches from La Boulangerie, the bakery right next door to the restaurant. Follow the fragrant aroma.  
For Liza and Karim Haider Lebanese cuisine is a superb language, but will disappear for lack of interpretation. "We must tell new stories of this wonderful country with infinite realms of possibility", they say. 
Liza,
14 rue de la Banque 3rd (Metro: Bourse)
T: 01 53 35 00 66
www.restaurant-liza.com
Liza Chez Vous – dinners, cocktails, weddings, barmitzvahs
From 8 – 800 guests, they provide a chef if you want, music etc.
Lunch 35€-55€
Mezze Be Happy from 8€
Dinner 55€ 
Closed Sat Lunch – Sun dinner
Sunday Brunch 
Every week there's a rumour that Jean-Francois Piege is leaving the Hotel de Crillon where he's Executive Chef at Les Ambassadeurs restaurant (2 stars). Not so according to Piege who told BUZZ at The Crillon Christmas Fair. "I'm working with the Costes family on the transformation of Thoumieux a traditional brasserie which we're revising and correcting. We'll also have rooms, It's going to be topissime", he promises. Opening March 2009. www.thoumieux.com