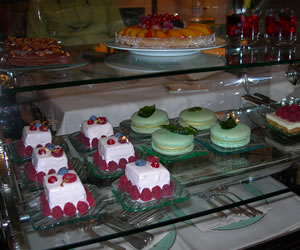 Three-star Michelin chef Gordon Ramsey tops the list of Britain's richest cooks, he's worth £67 million, and sometimes he even goes into the kitchen. TV earnings, book sales and restaurant turnover have all been taken into consideration for the list, which appeared in The Independent newspaper this week. Not only Britain's richest chef, but the most foul-mouthed, Ramsey adds a 3-letter word in his vocabulary: PUB. He's planning to open brand Gordon Ramsey in English pubs to add to the nine London restaurants, three USA and future canteens planned, well you name it wherever  www.gordonramsay.com Is he taking over the world? What a delicious, sexy place it would be if he did.
The lovely "easy peasey" Jamie Oliver (http://www.jamieoliver.co.uk [1]) comes second at £58million followed by Rick Stein (who taught the English to love/cook fish (http://www.rickstein.co.uk [2] ) at £36 million and TV chefette Delia Smith, who also owns a Football Club (Norwich City) £25 million http://www.deliaonline.com [3] Must be something about footie, Ramsay once played for Glasgow Rangers.
Marco Pierre White, who trained Ramsey, is in at number six with a mere £10 mill. Which means Ramsey's laughing all the way to the bank. There's no love lost between them on account of the right royal roasting Ramsey got when he worked his toque off for White. http://www.whitestarline.org [4]
The very French (born Besçancon,1949) Raymond Blanc http://www.manoir.com [5]  is No. 8 with £7 million, followed by Nigella Lawson www.nigella.com  (she doesn't even need it, married to billionaire art maven Charles Saatchi) with £3 million. And, molecular culinary genius Heston Blumenthal 10th with £2 million http://www.fatduck.co.uk [6] . 
Well, all this needs digesting, you know how it is on a cold summer's day (it's been the coldest few weeks in memory; so much for global warming). You're walking past Le Meurice, after a little light plastic burning on Faubourg Saint Honoré, and suddenly think, Le Jardin d'Hiver, Yannick Alleno! Wonder how much he's worth? Let's lunch on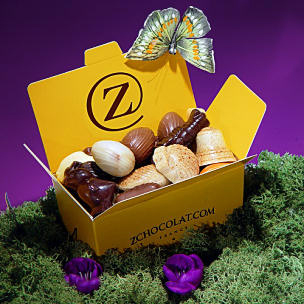 [7]designer china, under the art-nouveau domed roof, and suddenly Paris seems much warmer. Yannick is not in the kitchen, but I make a mental note to ask him next time.
The Meurice is a Palace hotel, always a buzz in the lobby, always some Rayban Aviator wearing high-earners sitting in the dark and interesting Fontainbleau bar. No gorillas talking into their sleeves to make you feel uncomfortable. It's the informality that Salvador Dali loved, dangling his bits and pieces from the windows, scaring the life out of passers by.
Tucked in, in the mirrored space, a glass of Lanson rosé in one hand, rose coloured menu in the other I choose a multi-layered compression of Roma tomatoes with a quenelle of chèvre and a nicely dressed green salad. The freebie of young leeks and coquillages au Jus de Condrieu give me a taste of another starter, into which I dip warm bread. Other starters include Bruchetta of tuna with tomato, avocado and olive oil, tartare of poissons with mini- chips. Yum!
Mains include an excellent herb infused sea-bass, and wedges of steamed Noirmoutier potato, jus de coquillages. Minestrone of rouget barbet or a fine veal chop with girolles, chips, garlic and herbs. Good trencherman food for a cold summer day. Pudds are by Camille Lesecq (he's a bloke, with a girl's name, but in France that's how it goes, bet they called his sister Martin!).
Lesecq is making quite a name for himself, just look at the pastry wagon and you'll see why.
And this is just his cold summer day collection – watch this space for the future. Wonder what he earns?
Le Jardin d'Hiver,
Hotel Meurice,
Lunch 45€ + A La Carte
228 rue de Rivoli, 1st (Metro: Tuileries)
T: 01 44 58 10 10
http://www.lemeurice.com [8]