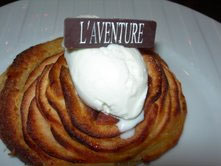 "We sell masses of champagne, this is a place where people come to celebrate, enjoy life, it's fun here", says Agnes Mangel, who, with her husband Bruno, took over L'Aventure four years ago. It's at the beginning of Avenue Victor Hugo, right opposite Celine, so it could be tough on the plastic. But you're worth it.
There's a crowd on the terrace, they have those magic lamps that make it instant St. Tropez, smokers puff on regardless. Inside, a zinc bar, huge buckets of Dom Perignon and Louis Roederer Cristal on ice. So sip a flute of champagne, or glass of Pouilly Fumee Ladoucette (13€) a carpaccio or salad de roquette and a read of the newspaper.
The main restaurant has a huge chandelier which could do damage if it fell down. The walls are punctuated with etchings of Monroe and Newman. It's sexy, a bit of a boudoir. The staff are attentive, tuck you in nicely, and the service fast, but not too. The food's really good, by chef Jean-Baptiste Debreux who has a sound background having worked with the likes of Briffard and Robuchon and the iconic Le Dome. The basement is a club, discotheque, piano bar affiliated to various hip-hop joints in Corsica and other hot-spots around the Mediterranean. "We have regular Corsican nights, with Corsican wines and food", says Sylvain Gandon the sommelier who has created a very fine cellar about which he is rightly proud and loves to chat.
You'll choose from 10 starters including Debreux's signature Macaroni with black truffles, the macaroni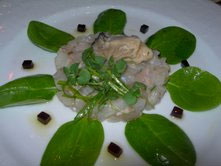 stuffed with foie gras and artichokes, old port jus. "If I took this off people would be upset", he says. Damn right JB. An excellent tartare of St. Pierre and Gilardeau oysters is decorated with fresh baby spinach leaves. Foie Gras just pan fried, cut with tangy dates and nougatine with sesame grains. St. Jacques steamed with truffles, a cloud of lobster coral. Warm pain Poujaurin too good to ignore.
There's 6 fish mains. Cabillaud steamed, caviar de chorizo, rattes potatoes and grapefruit. Turbot cooked in a potato crust. Black Truffle risotto or lemon roasted sea-bass with coriander, artichokes cooked in jus d'oursin.
7 meat mains including traditional beef tartare. Cote de boeuf de Charolles, sauce bearnaise, Chateaux potatoes. Fragrant roast chicken for two, carved at your table. Correze roast lamb, bayaldi de legumes. And 6 desserts: Epic Apple and almond tart. Roast pineapple with vanilla Bourbon, the ubiquitous Moelleux au Chocolat "Grand Cru Guanaja Valrohna" with vanilla ice cream, and for the ladies who do….Exotic fruit salad, yogurt ice cream. Of course there's cheese, of course there's something for everyone. It's an awfully good L' Aventure.
4 Avenue Victor Hugo, 16th (Metro: Charles de Gaulle Etoile/Victor Hugo)
T: 01 45 00 45 11
Shut Saturday lunch – Sunday
Valet Parking
Le Clubbing – 22.30- til dawn
Closed Sunday lunch Monday
DJ Doud
Live Music
Lunch formula 30€ changes daily
A La Carte from 57€ + wine
On the left-bank, 6 Odeon is the restaurant where you'll find chef Jean Lampreia, you know the brother of Jose, the amazing chef who had La Maison Blanche in the 15th, moved to Avenue Montaigne and tragically died soon after setting up there.
"I do lots of dishes that are an "hommage" to Jose", says Jean, a big capable talented man, who taught himself to cook with a little help from his late great brother. Well, life goes on and 6 Odeon, owned by two beautiful sisters who love food and wine, is packing them in. The sisters transformed a former hairdressing salon into a 26-seater modern space, filled with interesting art, celebs, mostly sitting with their backs to the scene. Bouquet, Deneuve & Co. A short wine list includes Domaine Tempier Migoua 2000 (63€) Condrieu Terrasses du Palat Villard 2005 (58€) or by the glass 6€ for a Cuvee Eugenie 2006. Prefer tea? They're from Mariage Freres and the water's Hildon.
They'll do you an impressive Club Sandwich and a glass of wine (19€50) or Cheeseburger and glass of wine (19.50€). If you only have one dish at 6 Odeon taste Lampreia's Gateau Landais sauce Foie Gras and truffle oil. "Exactly how my brother made it", he says proudly. In fact if you've been told you've only got 2 hours to live, rus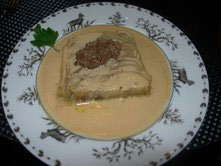 h over there darling.
Other terrific dishes are plump parcels of goat's cheese ravioli with spinach. Oeufs a la Portugaise with tomato caviar (the Lampreia's are from Portugal). He steams salmon (barely) finely chops fresh market vegetables. And his Tagliatelles a l'Encre de Seiche (don't ask, just eat it) with shrimp, fresh tomatoes and basil. Mmmm
One ripe cheese, say Saint Marcellin, or chocolate mousse with no butter or sugar. A fab flour-less chocolate cake, riz-au-lait or Tiramisu.
Odeon is named for the 18th century theatre which looms large between Boulevard Saint Germain and the Luxembourg Gardens. Lovely area, don't miss 6.
6, rue de L'Odeon, 6th (Metro: Odeon)
T: 01 44 41 09 72
Open Tues-Sat. Tapas, private dinners. Take-away order ahead
Dish of the day + glass of wine 19.50€
After 3 years of 3 Michelin Stars, Olivier Roellinger (and his wife Jane) are saying, "thanks but no thanks", and handing them back. A qualified chemist Roellinger (53) came back from the dead after a horrific mugging in 1976. "I want to reach a wider public", he insists. He's not selling up, is not bankrupt, just fed up with the constraints of 3-Michelin stars. Is the writing on the wall for all of them? And what reaction from Fortress Michelin? To quit when you're ahead is brave", says Jean-Luc Naret, Head of Michelin. In the meantime, good-night and good luck chef. www.maisons-de-bricourt You've got until December 15.