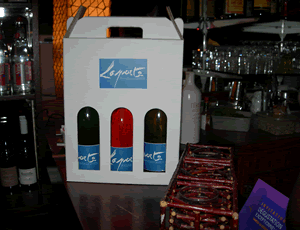 Emmanuel (ex-Apicius, Trianon Palace) and Nathalie Laporte (designer) are a golden couple who actually look like they enjoy working together. Zipping around Neuilly on a motor-bike the better to make sure everything's perfecto in the three restaurants they've opened, which, they say create, "convivialité, chaleur and esprit de famille" Moments to share dreams, to spend some quality time.  Chill!
The trio, Feuilles Libres, Entrées Libres and Temps Libres, each use fresh regional products, have chefs trained by Laporte, who are given free rein to express their personal style, and if it don't work out, presumably they are shown "la porte". The scene in the bistros is welcoming, the décor ephemeral, people love Nathalie's chochkes so much they buy them.
Temps Libres one lunch this week: Thomas Gugger's menu included pumpkin soup, then sea-bass, artichoke risotto and grey shrimp or veal tajine, with vegetables and crushed wheat, succulent juicy tournedos of Saint Jacques, tombée d'epinards. Skate with cabbage and Morteau sausage. Big finish with petits bonbons au chocolat, grains de passion, excellent fig crème brulée or "Les Sans dessert" for the ladies who don't. Service is fast and attentive, peanuts in their shells on the table, warm bread. Nice.
At Entrées Libre Anne-Sophie Dujardin suggests "Les Planches" generous wholesome food served on wooden boards: cote de veau, mash, fondue d'onions purée, succulent organic double cheeseburgers, duck and fried potatoes, think trencherman/woman style. There's a big beef feeling here and Cote de Boeuf and chips is for two. Desserts are old fashioned coupes "Dame Blanche", "Mont Blanc" Perfect.
Try a Saint Joseph Blanc from Les Vians de Vienne 2004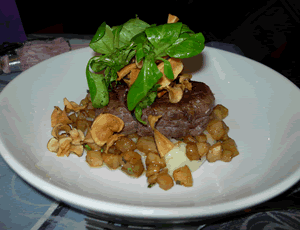 (35€) or a red Laporte Chateau de Rousillon (25€). Wines are showcased everywhere, makes you thirsty just to look. Good idea.
Feuilles Libres goes à la carte with Jeremy Matthieu's 4-dish tasting menu, according to his market finds, and an assortment of mini deserts. These little jewels of bistros should not be just known to the people of Neuilly. They've got enough already with that marvellous designer Aquatic Centre (Boulevard Inkerman, makes The Ritz look pathetic), the market, Sarko & Cecilia.  Think, an original concept created by two chic, young passionate gastro-mavens. There's even the private rooms, to recevoir "comme a la maison," no dirty dishes at the end of the soirée. Talk to the Laportes, they're always sur place, or between, lovely to look at, delightful to know. They'll organise anything for you, from 2-200 people. "La vrai liberté c'est d'avoir le choix", they say together.  Genial.
Address Book:

Temps Libres,
158 avenue Charles de Gaulle, Neuilly,
Metro: Pont de Neuilly
T: 01 46 24 84 42
Average spend: 24€ (lunch) to 50€ + wine
Shut Saturday lunch – Sunday
www.feuilles-libres.com
Feuilles Libres,
34 rue Perronet, Neuilly, (Metro: Sablons)
T: 01 46 24 41 41
Average spend: 25€ (lunch) Menu degustation 45€
A La Carte 50€ + wine
Shut Saturday lunch – Sunday
www.feuilles-libres.com
Entrees Libres,
49 rue Madeleine Michelis, Neuilly, (Metro: Sablons)
T: 01 46 24 00 84
Average spend: 19€ (lunch) + A la carte
Shut Sunday
www.laporterestaurants.com