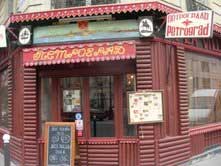 Petrograd, now St. Petersburg, is a fairytale city, "the Venice of the North", stunning architecture, the Hermitage Museum, delicious cuisine. Founded in the 18th century it's answered to Petrograd and Leningrad before reverting to its' original name. Are you still there? 
In Paris, there's "A La Ville de Petrograd", located in the Russian quarter of Paris, opposite the magnificent onion domed Cathedral Alexander Nevsky. ALVDP, launched in 1924 as a bar/restaurant to nourish White Russians after mass, was once owned by Janna Vernoy. The Moscow born haute couture model created the typical Russian décor, which, revised and corrected is still there to-day. Adriana Karembeu, Catherine Deneuve, John Galliano love the "Tziganes" musical evenings and typical Russian dishes, accompanied by vodkas, champagne, caviar, French and Russian wines. 
Fresh tempting salads for the ladies who lunch and, chef, a talented Russian, adapts her family recipes, she's working on a book. Try, Salade Moscovite, blanc de poulet, potatoes, cucumbers à la russe, eggs, carrots, peas, fresh cucumber. If you're the oligarch who subscribes to BP go for Assiette Tsarskaya, an assortment of rare and fine caviars (390€). If you're the President of France take the menu Tsarskoe (130€ including a half carafe of vodka). 
BUZZ's favourite meal is steaming Borscht, topped with sour cream or Soupe du "Tsar" with salmon, sturgeon and pressed caviar. Follow with an astringent selection of herrings, a few meat or cabbage pirojkis and, say, marinated brochette of sturgeon, Koulibiac of salmon, Veal Stroganoff or Pelmenis Sibériens. Wash down with excellent Vin du Tsar red (35€). Or go for the Russian beer or flavoured vodkas, vanilla, bay-leaf, pepper, cinnamon. Divine pudds, Roulé de Pavot (poppyseed cake), Apple Pirog (Russian Apple Pie), Vatrouchka (sweet curd cheese-cake), Raspberry Tart, Warm chocolate cake, sorbet, a sliver of vodka, a little taste of everything. 
Priatnogo Appetita dorogoy 
A La Ville de Petrograd,
13 rue Daru, 8th (Metro: Ternes)
Diner Spectacles
Restaurant – Salon de Thé – Traiteur
T: 01 48 88 07 70
Menus from 15€-130€ + A La Carte about 50€
Shut Sunday night  
Samuel Cavagnis globe-trotted the world, worked for George Blanc and Guy Savoy before transforming the historic Petit Coin du Bourse into his dream – Le Versance. Now celebrating his third year, Cavagnis is as passionate not only about his products and suppliers but also about his staff. "We shut Saturday lunch, Sunday and Monday, that way everyone is ready to work comme il faut", explains the delightful Cavagnis. The ground floor salon is good for aperitifs, used to be a fumoir, but you know the chanson. Interesting tschokes such as giant wooden mushrooms that look good enough to eat. A menu inscribed on the glass screen by the front door. Lots of TLC is evident in this charming Versance. Eat here on in the first floor salle, with stained glass windows, beams and aromatic pots of herbs on each table, it's very romantic. Cavagnis loves his herbs and spices, but they never overpower his dishes. This boy knows discretion and has terrific skill, as in a recent starter of Mousseline of topinambours (Jerusalem artichokes), chevre and smoked duck, hazlenut vinaigrette. Or delicious crumble of foie gras à la plancha (no grease/fat) with artichokes and truffle oil emulsion. Beg for a main of saffron flavoured lotte cheeks, Staub cooked, brimming with sea-shells, cockles, mussels, bulots, smoked crushed potatoes – wow! Saint-Pierre is lightly shown the frying pan, matched with chinese cabbage, crunchy veg, soya emulsion. There's thyme flavoured ris de veau. Ginger roasted lamb, Côte de veau for two, tatin of endives or filet de biche (baby deer), vanilla and carrot purée. Cheese from Monsieur Chevenet, who taught Cavagnis all his secrets when he worked on the Chevenet family farm, Macon, and who now delivers weekly. Desserts by Chloe have a light, creative touch. Clémentine rôtie sur son sablé Breton, Yogurt ice-cream and Carambar tuile. Yum! Cavagnis is really happy in his baskets and it shows.  
Le Versance,
Samuel Cavagnis,
16 rue Feydeau, 2nd (Metro: Bourse)
T: 01 45 08 00 08
Lunch 32-38€
Dinner about 56€ + wine.
Shut Sat lunch-Sunday-Monday 
Can Gilles Choukroun cut it at his just opened MBC (Mint Basil Coriander), maybe at lunch when he has a 20€ menu. Hmmm. Is this the right time to impose 4-6-8 dish menus at 45€, 55€ 80€ le soir? The night BUZZ was there the main was tough, chewy rumpsteak-bulots on a bed of salty noodles. Bien sur we enjoyed GC's signature starter crème Brulée de Foie Gras. But didn't enjoy the service from bossy staff who refused to allow a menu deviation. Not the way to go Gilles. At those prices better pop into Olivier Gestin's bio bakery opposite and take something warm and delicious home!
4 rue du Debarcadere, 17th 
T: 01 45 72 22 55