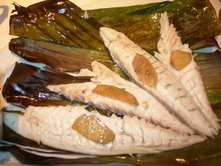 La Luna is not a new, bling, bling address, but a modern classic. At the helm is Catherine Delaunay, who came to Paris 15 years ago. "After Hotel School. Nice, I wanted to get to know the scene in Paris, I worked at some top addresses, that was better than Hotel School", she recalls.
Ms Delaunay says restaurant work is tough, especially for women, it's either make or break. "Several times I decided to quit, but cooking and running a restaurant becomes a passion", she admits. When the opportunity arrived to take over a little restaurant in the Villiers area of Paris, "I jumped in with both feet, called it La Luna, because I'd just been in Spain and there was a hit song with that name, I couldn't get out of my head!"
Not really a great meat eater, Delaunay decided only fish, and not just any old Findus; the best. Following another Spanish trip Delaunay returned to Paris with "La Plancha" then a totally new way of fast grilling fish, sea-food (or meat) on a very hot flat grill.
The beginning was difficult, "some people didn't appreciate fish cooked rosé, but that's how it's best, n'est pas?" There's no formula, just A La Carte, chic bright décor, the equipe led by Director du Salle, Pascal Polturat. Wines of the month are well priced, many by the glass 10€. Bottles include a fine White Burgundy from Chanson Pere et Fils 2006 43€. Lovely red Saint Joseph, Les Lauves de Jean-Luc Colombo 38€.
Last weeks' special lunch starter was, carpaccio of cernire, a delicate fish from deep waters, read, merou. Served simply, a drizzle of olive oil, zests of Menton lemon, topped with herring eggs. "Lots of Omega 3", said Delaunay. That was followed with a right "royal" Daurade Royale, presented at table wrapped in the banana skin in which it had been cooked to perfection (see picture). There's an excellent selection of, say, turbot, wild sea-bass, monkfish, sole. Yes, expensive, but go and check out prices of top fish at Daguerre Marée, and La Luna's not a bad deal at all. No washing up!
Finish with Baba au Rhum for an excellent surprise. It's seriously big, if you can't finish, the divine Ms Delaunay will pop it in a special box. Tastes delicious for breakfast!
Christophe Péle left Le Jardin at Le Royal Monceau to set up Bigarrade, his own canteen in the 17th, close to Marché des Batignolles. A small green and white airy space, with annoying low slung lights that thump you when you get up to leave the table! Apart from les killer lamps, the atmosphere is calm and zen. Péle, works with deep concentration in his open kitchen with a bar that seat three if you want to have a meal/cookery course.
The 4-course lunch, fixed menu is terrific value and lovingly presented by a very attentive staff. It's all fixed menu, midi and soir. If you have allergies or dislikes just tell them.
Péle changes everything daily, but you might taste: A trio of rosé tuna, scallops à la plancha with spinach and wasabi, and marinated red mullet with cauliflower and coriander. Next tender langoustine with La Mipuna a fragrant flower, and goat yogurt. Mains include a perfect Merlot de Noirmoutier, crunchy green asparagus and emulsion d'asparagus. Delicate, perfect with White Burgundy, Savennieres-Les Genets Damien Laureau 2004 (35€).
A touch of cheese, with a sprinkle of honey-cake is followed by a trio of pudds, Compotée de Mangues, Coriander jelly and soothing créme de cassis with white chocolate mousse.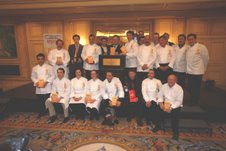 Gilles Pudlowski just published France 2008 awarding Gérald Passédat Chef of the Year. The Marseilles based super-chef is having an epic year, just won his third Michelin star, and is cover-boy on Michelin's new magazine Etoile.
Pudlo France 2008 , great excuse for a grand gathering of chefs at Four Seasons George V (no one was talking about the late lamented, just left for God know's where, Philippe Legendre, although no one thought of changing Pudlo's review of Le Cinq, he gets 5 knives and forks and 3 plates! Odd that, n'est pas? But worth noting the chefs having a bit of a knees-up at George V. (see picture)
Jean-Louis Nomicos: La Table de l'année.
Frederic Robert, La Grande Cascade,
Jean-Michel Lorain, Cote St-Jacques,
Pascal Favre-d'Anne, Le Favre d'Anne at Angers: Young chef of the year etc. (You want more, buy the guide darling. Editions Lafon 22€
Paul Bocuse in town just for the day with one of his three wifelets.
Pierre Hermé, with gorgeous new wife Barbara, "we just flew in from Singapore", they said.
Alain Passard, caught leaving early on his retro- TRIUMPH motor bike. "Lovely guide", he said. "Gives me encouragement, I'm 50 now, got better inspiration than ever". Just like Pudlo.
Address Book:
69 rue du Rocher, 8th (Metro: Villiers)
T: 01 42 93 77 61
Shut: Sunday
Average Spend 80€ + wine
Bigarrade, Paris,
106, rue Nollet 17th (Metro: Brochant)
T: 01 42 26 01 02
Average Spend:
Lunch – 35€ & 45€ + wine
Dinner – 45€ & 65€ + wine