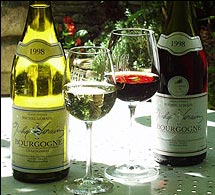 La Cote Saint-Jacques is 90- minutes by train from Paris's Gare de Lyon, peace, tranquillity, luxurious hotel with Cinq Mondes and Carita spa and indoor pool. A perfect retreat, located in the picture-postcard village of Joigny, on the banks of the River Yonne, you're in Burgundy country baby.
Following mega-bucks major costly transformations, if you haven't been to Joigny recently, you'll see the hotel and restaurant have moved across the RN6 and now overlook the river. Great idea. The original hotel still has 10 rooms, and they've made an underground tunnel so you don't risk life and limb crossing the road.
To reach the restaurant, either take the stairs, papered with recipes, or the unique copper lift. There's a glimpse of the kitchen through the glass, and chef's private dining room overlooking the bobbing toques at work, which can be reserved for you.
It's a family affair. In 1945 Marie Lorain, a seamstress, but also an excellent cook decided to open a small family boarding house, calling it La Cote Saint Jacques after the hill behind the house. In 1958, Jean Michel's father, Michel, took over with his wife Jacqueline, one of the first women sommeliers in France, transforming the modest inn, little by little, into a luxury restaurant, which won its' first Michelin star in 1971, the second in 1976, the third in1986.
"What else could I do but become a chef?", muses Jean Michel, who learned his craft in the kitchens of Taillevent, Paris, Troisgros, Roanne and Fredy Giradet, Switzerland. Aged 27, Jean-Michel was the youngest chef to win 3-Michelin stars.
In 2000/1 when the family began their transformation plans they lost a star – it took three years to win it back "Look, it was horrible losing the star", Jean-Michel admits. "But I never woke up each morning thinking, I must get that star back. My ambition is always that I must do the best for my clients".
So how does Jean-Michel describe his cooking to-day?
"I love creating dishes that, at first sight, are simplicity, but conceal hidden flavours, which your palate discovers as you explore the taste sensations in your mouth. I'm very influenced by my Asian travels, I'll pair, say, a traditional apple boudin next to skate wing in coconut and citronella. I use lots of herbs, flowers, some spices to make warm sunny notes. Increasingly I'm using more and more vegetables. I want my cuisine to be simple, not abstract or molecular, but something fresh and exciting you share with others", he says.
His menu's extensive, wines are impressive for every budget from a white Michel Lorain at 30€ to Petrus 1990 at 5000€. "I've kept signature dishes created by my father, bien sur", says Jean-Michel.
He cites, Michel Lorain's Truffle with Cabbage. Bresse chicken steamed in Champagne. Lightly smoked sea-bass with Oscietra Caviar and the signature Black sausage and potato mousseline a l'ancienne. You can choose, but try Jean-Michel's Genese d'un plat sur la Theme de l'Huitre, magical sea-sensations. Then continue with Bonbons croustillants de Petit Gris snails, with virtual snail butter. Mains include tender roasted pigeon, with its' giblets to nosh, braised lettuce, petits pois and pigeon stock flavoured with violet mustard. Or, veal sweetbreads with ginger, pearl onions, dried rhubarb and baby radishes. A triumph!
And discover the wonderful Irancy L'Arme du Domaine 2005 (49€). Even goes well with the desserts. Lime soufflé, passion fruit ice cream. All chocolate or Mille Feuille with three different creams. Cheese is perfection, with breads to match, local walnuts, jams etc. All the breads are made in the Cote's bakery, so save room for breakfast, which is epic. As it should be for 34€.
When dad, Michel Lorain, retired he didn't really! He became a winemaker, has been cultivating his eight hectares of Pinot Noir, which won a Gold Medal in the general competition in Paris for its 1988 cuvee. You can visit the vineyard for tastings in the cellars. www.bourgogne.michel-lorain.com
Cote Saint Jacques has 22 rooms and suites (10 in the old wing) all air-conditioned, some with working stone fireplaces, beams, flat-screen TV's, wi-fi, fabulous bathrooms and large terraces. And that boat moored at the end of the garden? It has no name, belongs to La Cote, will take you on a river cruise, supply aperitifs, a picnic, a bit of fishing. But Lorain prefers you throw the catch back, just as he does.
So don't just pass through, stay a few days and enjoy the spa, children are welcome and have their own playroom, where they can eat as well. Colette was born and lived nearby at Saint Saveur, where there's the 12th century Saint Fargeau Castle and you can visit Colette's wonderful house on rue Colette 1873-1954.
Tour local vineyards producing superb wines, such as Epineuil, Irancy, Coulanges la Vineuse and Saint Bris. Sens, with its' splendid Cathedral Saint Etienne and the Luduz rural museum of popular art. Bucolic bliss.
Jean-Michel Lorain,
La Cote Saint-Jacques,
Relais & Chateaux
Joigny
T: 03 86 62 09 70
Helipad
Cookery School
Boutique
Cote Coon Spa
Rooms from 150€-580€ + breakfast 32€
Menus : 85€ Lunch – Dinner 135/165€
A La Carte 101/212€- Menu Surprise from 175€
Shut Mon & Tues Lunch
Leave a reply
Your email address will not be published. Required fields are marked *