Restaurants are like hemlines, they go up and down each season. Difficult to keep up with the continuous waltz of the chefs and new "it" openings: Michel Rostang's Jarasse, Le Petit Victor Hugo, now Jules, William Bernet's Bis du Severo, Les Symples de l'Os à Moelle, L'Osteria's Tony Vianello who handed the risotto pots to his second Pietro, is sending postcards home from a secret island. The following should go at the top of your "it" list: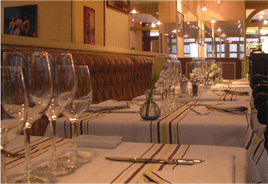 A big brass plaque announces that George Simenon (author of the Maigret series) had his regular table in this 1900's style bistro when it was La Ferme de Mathurins. Since September, someone tell Simenon, it's now Chez Cecile, starring a young team of gastro-jazz lovers.  While Cecile does front of house, the daily menu du marché is by talented young chef Stéphane Pitré (ex-L'Estimnet and The Ritz London). On Thursdays the joint is jiving for jazz night. Meet new best friends and delight in Pitre's international "it" cuisine, Velouté d'artichaut en capuccino et marron du moment, followed by Filet de Bar en vapeur de basilic et petits legumes, finish with Soufflé chaud au Grand Marnier, drink a very reasonable Coteaux de Quercy (18€). 
Comptoir, in a souk-décor setting by Jonathan Amar, is the buzzing bar/lounge/restaurant featuring North African specialities. Start with Sex on the Beach (Vodka, crème de peche, jus d'orange, jus de cranberry). Order a bottle of Amazigh 2005 Beni M'Tir from the Celliers de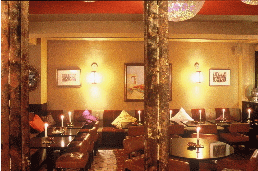 Meknes (35€) then let gorgeous Philippe Courtain guide you through his cosmopolitan carte. To start: 7 oriental tapas to share, say, Deep fried samosas, marinated goat's cheese in olive oil and fresh herbs, Zuccini soup with "vache-qui-rit" cheese, tartare of tuna and salmon with beetroot. Mains include Vegetarian cous-cous, but most go for the Chicken Tajines with olive and candy lemon sauce and couscous or, Spicy Lamb tajine with plump dried fruits, and couscous. Monk fish and Prawn tajine
is in a coconut curry sauce. Finish with sweet mint tea avec ses pignons and coconut blancmange. Play it Sam, Casablanca in Paris. Of all the gin joints you must walk into this one.
Mori Venice Bar (ex Bon 2) is a mirrored neo-baroque design exercise by Philippe Starck,  now features the best of Venice as in spectacular sparkling chandeliers from Murano. Venetian cuisine is the "it" cuisine of the next 15 minutes, judging by the celebs and celeb chefs eating here. Wet the lips with a Bellini prosecco valdobbiadene (11€). Chef Franco Geronutti (ex- Monaco Grande Canale, Venice) suggests at least 12 Antipasti, including Saor (marinated langoustine with polenta). Granceola in guscio (Sea-spider in its' shell) Capasanta san Erasmo  (grilled scallops, velouté of artichokes) Grilled vegetables etc. Pastas, gnocchis, raviolis are homemade, served with truffles, or not. Or go for the Frito Misto. Cheese comes direct from Venice and owner Massimo Mori (also of Armani Caffe) has created a dessert list including four different Zabaglione, made to order. If you're feeling rich order the "it" Tuscan Sassicaia 2002 430€. I'm not paying that! OK try Bardolino 2004. 28€.
You have to hand it to Alain Ducasse, he never stops working. Recently in New York he discovered Angelo Sosa cooking at Yumcha. "Angelo is the real meaning of an international chef, he's worked with Jean-Georges at Jean-Georges, then at Spice Market, but also in Hong Kong. He re-interprets traditional Chinese dishes, his cooking tells a story in a new way, it's rather provocative, he's passionate about fresh ingredients which he uses with daring invention, just what we need to-day". And that's just the concept of Ducasse's Spoon, so it's only natural that Ducasse invited Sosa to cook at Spoon, Paris . Yumcha means "drink tea" in Cantonese,  expect to taste his signature Tea-Smoked chicken with star-anise infusion. Until 26th June, lunch menu Sosa Spoonsum (45€) At night, menu degustation Sosa's C'Xy Spoon (85€). An American in Paris. Oh la la….c'est magnifique.
Address Book:
Chez Cecile, La Ferme des Mathurins,
17 rue Vignon, 8th (Metro:Madeleine)
T: 01 42 66 46 39
Shut Sat lunch & Sunday
From 22€ – Jazz dinner 35€
Le Comptoir,
37 rue Berger, 1st (Metro:
T: 01 40 26 26 66
Open daily 12noon 2am
Sunday Brunch (21€-24€)
Formulas from 15€
Mori Venice Bar,
2 rue du 4 Septembre, 2nd (Metro:Bourse)
T: 01 44 55 51 55
Shut Sunday as is:
Caffe Armani,
149 Boulevard St. Germain 7th (Metro: St-Germain-des-Pres)
T: 01 45 48 62 15
Spoon Food and Wine
12 rue de Marignan 8th (Metro: Franklin D Rossevelt)
T: 01 40 76 34 44
And also:
Seafood Bar at Prunier,
15 place de la Madeleine 8th (Metro: Madeleine)
T: 01 47 42 98 98
Shut Sunday Open daily 12noon 1am
For the very "it" Oeufs en gelee Christian Dior and a glass
Of champagne darling…..
Ends.