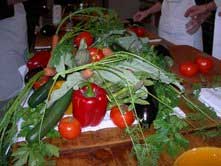 Do you sometimes despair of finding a lovely spot to spend a few days R&R. Sometimes you think you have and, when you get there, it turns out to be a Club Med concept with Metro style food and kids peeing in the pool? Don't get me wrong nothing wrong with Club Med, but if you want an authentic French experience you need Hostellerie Bérard.
WHERE?
Located forty five minutes from Marseilles at La Cadiere d'Azur, an unspoilt medieval village, where old knarled vignerons and farmers gather daily in the square to discuss the weather/their vines/the latest scandal. Six kms from St Cyr sur Mer, close to Bandol town and 25 kms from Toulon International Airport.
WHAT?
Hostellerie Bérard is a bold project. Originally a convent the owners (the family Bérard) bought village houses, a convent and chapel, and transformed them into their Hostellerie, with pool, state-of-the-art spa, bistro and gastronomic restaurant with 1-well deserved Michelin star awarded in 2006. The 40 romantically named rooms have magnificent views over Bandol vineyards and Le Castellet, another picture-postcard perched village. It's pure Pagnol.
WHAT WILL WE DO?
Learn to cook and taste wine with René Bérard, chef-owner, father of the family, born in the village. A more charming man is difficult to find, unless its' his son Jean-Francois. Think Maurice Chevalier meets Roger Vergé and you get the picture. In fact, Jean Francois trained with Vergé, Ducasse and Frederic Anton. More about the menus and restaurants later but, if you want to learn a few culinary secrets ("not all of them please", grins Bérard) consider the courses available here.
From one morning to one week, they take place at "La Bastide des Saveurs", the Berard's handsome stone bastide, located three kms from the Hostellerie. There's a country house kitchen, dining room and 4 bedrooms so you can stay, be lord/lady of the manoir for a few days. The classes are hands on, it doesn't matter if you can't boil an egg, by the end of even one morning you'll be chopping onions and rolling out dough for the pissaladiére like an expert.
Stay longer, take excusions to local markets, to La Madrague fishing port (Tuesday) the olive groves, with olive oil tastings. Visit a cheese artisan, and don't forget the bee-hives and honey tastings. The Bandol vineyards should not be missed, with tastings bien sur.
Walk among the vines, even take part in the wine harvest. It's all possible, it's all exciting and there's a fine diploma at the end.
In the gardens of La Bastide de Saveurs are wild flowers, the heady scent of lavender and a potager which supplies vegetables for the Hostellerie and the School. "The cuisine of the sun is our passion" says Bérard. "These classes are our way of sharing our unbounding love of Provence and its' local tradtions with our guests".
AND WHAT ABOUT THE AROMASPA?
The concept of Daniéle Bérard, the chef's wife, a remarkable woman. "I'm not interested in the average, only the excellent interests me",declares this formidable lady, a walking encyclopedia of La Cadiere d'Azur and its'fascinating history.
The spa, based on Roman baths, took two years to construct. The sublime menu of treatments use Carita and Decleor products, essential oils from Bérard's garden plants, made in Grasse.
Spring water from La Cadiere d'Azur is used to bring harmony, relaxation and rejuventation. Balneotherapy, in the large indoor pool, chromotherapy, aromatherapy, musicotherapy, hot stone therapy, massage and beauty care programmes are tailor made for him/her, or both as a couple. And Jean-Francois Bérard plans calorie controlled menus, even sends you off for the day with a delicious lo-cal picnic.
AND WHAT ABOUT THE FOOD?
Arriving at lunch-time head straight for Le Petit Jardin, a glass orangerie overlooking the countryside and the pool. Lunch is simple seasonal products, asparagus from Monsieur Blanc, minestone of calamari, salads from the garden, red mullet brought this morning from Sanary. Crème Brulée with lavender for dessert, which you'll learn to make at La Bastide des Saveurs. Relax with a Bandol rosé wine, time stands still.
"Bon cuisine, bon products, bon jus" is René Bérard's credo. In tandem with his son Jean-Francois, they create a thoroughly modern cuisine, using olive oil and very little butter. "I leave it all to him", says René, fiercely proud of his boy. "And don't forget Sandra, she's an inspiration to us all", he says of his daughter.
The tasting menu is a good introduction to the Bérard style and vegetarians are happily catered for, but let them know ahead. Begin with local oursins on a seafood and crab jelly or, vegetable and truffle cocotte, with tomato and truffle tartine. Breads are baked in the Hostellerie kitchen, the black olive is addictive. Oh, and by the way, Provencal breakfasts served in Le Petit Jardin will make you forget any diet. So if you're trying to lose weight, stay in your room and order a tisane!
Other remarkable dishes, light and inventive, include Ravioli of Céleri Rave with black truffles, and vegetable cappuccino. Lobster just shown the sautoir, is finished with pan and Menton lemon jus. Tender pigeon is roasted "like a woodcock" with sauce salmis and cardons. The thick book that's the wine list will give you tennis elbow. Plenty of Bordeaux, Bandol and Provence labels to discover.
Now Christophe arrives with a chariot of perfect cheese, and he knows every one of them, so even if you don't take the cookery classes, pick his brains, he can talk cheese for hours.
Desserts could be a fine pastry of Menton lemon, with pears and cherry sorbet or Tarte croustillante au chocolat, Tahiti vanilla ice-cream. Then there's pistachio macarons, a little tiramisu and some home-made chocolates.
Oh! la la – now for a long walk around the village, a glass of pastis in the bar. Tomorrow is another day – of Provencal bliss.
7 rue Gabriel-Peri,
La Cadiere d'Azur,
T: 04 94 90 11 43
Le Petit Jardin Menu 28€
Lunch and Dinner weekdays only
Gastronomic restaurant
Average spend 35€ + wine
Menu Coté Sud 49€
Tasting menu 140€ + wine
Rooms from 148€