Have You Seen This Man? Buzz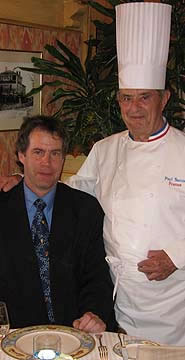 Pascal Henry, 46, handsome, separated from his wife in Geneva, should have a free subscription to BP if we ever find him. He's a man after our own heart. Why?
Henry set out in May to eat in each of the 68 Michelin *** stars in the world. That's 68 restaurants, nine countries, 68 days, 40,000 kms. An expensive project for a Motorcycle Courrier, which is what the BBC gave as his profession.
He began his pilgrimage in May, chez Bocuse, who loved Henry's solo-trip concept, even faxed all the other restaurants because, "I wanted him to receive a warm welcome everywhere. It's not easy going from gastro table to gastro table alone, with nobody to share the joy", Bocuse told BUZZ.
From Crissier, Switzerland, to Paris where he arrived at Guy Savoy for lunch at 11.20. "He was a little early", admits Savoy, "but he enjoyed his lunch". Alain Passard says, "He seemed to be a real amateur, savoured every mouthful, a very refined gentleman".
Henry drove to other restaurants in France, Italy, Germany and The Netherlands. After Spain, he was due to fly to the USA and Japan, before completing his eatathon at The Plaza Athenée, chez Alain Ducasse.
The plot thickens, after restaurant No. 40: Henry arrives at El Bulli, where it's impossible to get a table at the shrine of the Molecular Marvel. Open from April-September, bookings are taken on one day in October (no idea, darling) with around 400 requests for each table www.elbulli.com
During the 30-course dinner, our Lone Diner struck up a conversation with the people on the next table, as you do, who asked for his business card.
Telling them he would go and get one from his car, he left a hat, some photographs and the note-pad given to him by Bocuse, with all the dishes he had so far tasted, listed. They're irritated at El Bulli, because Henry disappeared after dessert and before paying the bill. Maybe it's something they put in the pudd, they do mess around with strange gases and chemicals here, ask Spanish traditionalist chef, Santi Santamaria.
Ferran Adria was not available to comment, but the general opinion is that Henry ran out of money. His family say that's not so. He'd spent months planning the trip and years saving for it. An uncle says he doesn't know why Henry became a motorcycle courrier, when he really wanted to be a chef! Look closely at every restaurant you visit, please, take our photo with you.
You couldn't make this up – but if you find Pascal Henry tell him his subscription is waiting. In the meantime Spanish police, Interpol and Paul Bocuse are on red alert.
We know he's not dead, because he confirmed his reservation at Marc Veyrat after the El Bulli runner, so he couldn't have jumped off the cliff – or could he? Anyway, they waited, they're still waiting, don't hold your breath Monsieur Marc. Oh! Elementary my dear Watson! Bet he's is the USA. Apparently Henry went missing there as a teenager for several months. The ex- Mrs Henry told the Swiss press that he's, " a very secretive man". Go figure.
Leave a reply
Your email address will not be published. Required fields are marked *