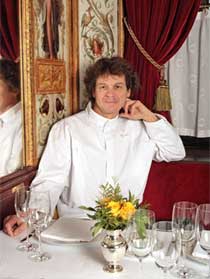 "Guy Martin Un Artiste en Cuisine" an extraordinary documentary, six months in the making, follows the super-chef as he climbs mountains checking out cows and goats for his cheese, takes time out to ski down to wine cellars, markets, at caviar tastings the precious grains sensuously nibbled from the back of his hand.  
Martin admits if he hadn't become a chef, he'd have been Mick Jagger his hero. "I saw myself on world tours, the applause, the rock chicks", he admits. "But I'm nul at the guitar!" Instead he's on a culinary world tour, seeking out unique and exciting products, watch him in Tokyo preparing dinner for 200 with staff who speak no French, his handsome face creased with stress. "I've been ill for 32 years, since I began at Chateau de Coudréee, it's not like being a footballer, in competition once a week, chefs must give perfection twice a day". And on losing his 3rd Michelin star? Martin's philosophical, "it's their decision, they have a right to their opinion, I don't have a big ego, I'm there to please my clients. The day the passion goes, I'll stop. "Everyone falls in love with him", drooled the stunning woman sitting next to me at the preview. Catch it on France 5 30 December at 14hrs
www.injam.com 
http://www.france5.fr  
Le Chiberta, created 1932, named after a posh hotel/ golf-course near Biarritz. Art-deco, great food and a celebrity clientele made it one of the top-tables in town. Remember chef Philippe da Silva, who headed Chiberta's kitchens for 20 years, ever wonder what happened to him? When Guy Savoy took over Chiberta in 2004, da Silva, homesick for the Var, left for his new project Les Gorges de Pennafort (www.hostellerie-pennafort.com) where he welcomes Chiberta clients, now retired with homes in the South of France. What goes around…..  
Guy Savoy called in architect Jean Michel Wilmotte who revised and corrected the Chiberta space in a bold contemporary way, using shiny black, white and red and, stroke of genius, placing the wines, like works of art, in glass cases along the walls from floor to ceiling, temperature controlled bien sur, so you virtually "taste" your way to your table.  
To lead you there is Jean-Paul Montellier (ex-Guy Savoy & The Bristol) he'll help choose the wine, not only Director, Montellier has created a first classe wine list. "We don't have a sommelier, it's me", he grins. "Most of our clients go straight to Bordeaux, I try to tempt them with other regions". With this is mind there are often wine tastings at Chiberta. Some take place at the horse-shoe shaped bar, where you eat lunch/dinner, club-sandwiches, sip wine, and which some prefer because they can see everything that's going on. 
At the pianos, Executive chef Gilles Chesnau with Stephane Larvelle, both formed by Guy Savoy whose empire now goes from Las Vegas (Caesars Palace, with son Frank Savoy at the helm) to Paris' left and right banks. Savoy's very hands-on at all his restaurants, so the menu is his creation and has his unmistakeable signature. "We've got room for 82 covers, and I've tested every seat, so I know they're comfy", he says. There's the Master's light delicate touch, fabulous products, served on wonderful dishes you want to scoop up and hide in your Hermes. Ditto the bread, from Master-baker Monsieur Maeder www.boulange-alsace.com  
So what about the food?
The amuse-bouche: Perhaps a perfect raw oyster in oyster juice aspic, sorrel, a touch of lemon – impressive. "Cuisine is the art of turning products suffused with history, into happiness", says Savoy. The lunch menu changes according to the market, or go à la carte, say, a starter of carrot cream, lemongrass and ginger watched over by a giant Dublin Bay prawn. Follow with Saint Jacques, buckwheat crust, Jerusalem artichokes and endive. Beef "Siemental" or red mullet with olive risotto. Or, joy of joys, a full flavour Hare Royale, macaroni and wild mushroom gratin, a tour de force (see photo). Leave the wines to Montellier, the 2001 Chateau Maucaillou is excellent. Cheese from Quatrehomme. Then Vanilla Souffle, caramel ice-cream. Apples prepared three ways or an astringent grapefruit terrine, sauce Earl Grey.  
Le Chiberta,
3 rue Arsene Houssaye, 8th
Metro: Charles de Gaulle Etoile,
T: 01 53 53 42 00
www.lechiberta.com 
www.guysavoy.com 
New Years Eve – 294€
Lunch 60€ + wine or at the bar.
Tasting Menu €100 + wine
Wine and food pairing – €155
A La Carte from 60€
Book the entire restaurant or private reception rooms.
Shut Saturday lunch-Sunday
Valet Parking 
STOP PRESS: CASA LUCA just opened, off the Champs Elysées, with fabulous views of L'Arc de Triomphe. (It's the ex-Cap Vernet, funnily enough, once owned by Guy Savoy!). The owner of this 180-seater trattoria, with heated terrace, is Luca Richard, but the 14-month old son of restaurateur, Nicholas "Cou de Giraffe" Richard, doesn't know it – yet!  
Already playing to packed houses, from early morning espresso (Café Richard bien sur) sipped at the bar, to lunchtime Pizzas (Margherita, vegetariana, Luca etc.) Anti-pasti such as the divine melanzane alla parmigiana, gnocchi, lasagna, creamy risotti. Or, for dinner, a Bellini, Rossini or Virgin Mojito, followed by frittura di calimari, a saltimbocca and Tiramisu Classico. Choose from French or Italian wines and champagnes, or have drinks at the bar, after the cinema, with a plate of charcuterie fine. Why not a pasta Marathon? Richard runs the New York and Paris races, if you book the terrace now you'll ses him whizz by on 6th April. 
Sunday, Brunch Italian style, prepared by chef Giovanni Perrone, who comes from the Puglia region. CASA LUCA, with contemporary décor by Pierre-Yves Rochon is Italy in the heart of Paris. 
82 Avenue Marceau, 8th (Metro: Charles de Gaulle/Etoile)
T: 01 47 20 20 40
www.casaluca.fr
Open 7/7 
Sunday Brunch 40€ – Average Spend from 20€
New Year's Eve – 120€
Valet Parking – Parking Marceau.