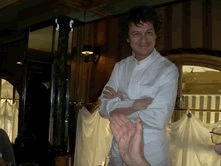 Palais Royal on a warm day, checking out Daniel Buren's once highly controversial black and white stripe columns, made me think of the recent kerfuffle in Manhatten when a gallery had to cancel exhibiting Cosimo Cavallaro's six- foot tall chocolate sculpture of Jesus, naked as the day he was born.
"My Sweet Lord", made with 200lbs of chocolate, was Jesus suspended in thin air, arms spread wide; crucified.  Cavallaro wanted the work to be shown over Easter, well we all make mistakes, timing is everything Cosi darling.
"My work expresses the struggle between need and desire; the known and unknown; the warm security of the womb, the chill uncertainty of the world", he said reached by telephone this week. Not to be put off he's melted Jesus down and the work is now dubbed "Devil's Food", think choco-satan. And watch out for future work in cheese, candy and rubber!
Superchef Guy Martin thinks Cosimo is brave and talented, would probably hire him as patissier. "I find a great deal of inspiration in the Louvre, where there are countless naked bodies, it's not at all controversial because they are in the Louvre or Musée d'Orsay", he comments. My book "Un Artist au Grand Vefour" (Editions du Seuil) has 50 recipes for 50 works of art, from Neolithic frescoes to contemporary paintings. On one page a reproduction of the painting, on the other my recipe, one being the illustration of the other. I especially love the Impressionists, their sense of colour helps me create new dishes". Any nudes then?
To create new dishes Martin imagines, thinks, draws.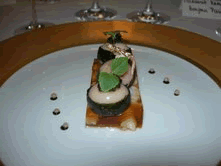 "Then it's into the kitchen to make, re-make until it's perfect. For Spring/Summer his inspiration comes from his long ago summer holiday job in the Savoy region. "When I was 17 I worked in Pizzaiolo the pizza parlour and that's when I first realized hey, I really want to cook", he says.
Pizza with green asparagus and caviar, is posh pizza, revised and corrected by Martin, who is self-taught and feels his cooking is personal to him. "Drink Taittenger champagne Brut with this", he suggests.
To follow shrimp and caviar Oscietre, with a creamy Manzanilla "El Rocio" Sanlucar de Barramedia. Sole with sumac, a sort of rhubarbe, reminds BUZZ of Yma Sumac, the warbler with the extraordinary voice even more delicious paired with Macon Cruzille 2001. The new dishes are light
and delightful, Cote de Veau is long cooked and scattered with morilles mushrooms and paired with Puligny Montrachet 2002.
There's a harmony between Grand Vefour's three wine sommeliers, led by maestro Patrick Tamisier and elegant Director, Christian David and his team. Monsieur David arrived at Le Grand Vefour at the same time as Guy Martin, he knows every nook and cranny, can talk for hours on Vefour's glorious past, present and future. Of Bonaparte and Josephine, Victor Hugo, Colette, Malraux, but far too discreet to reveal to-day's glittering names. "Always iron your tablecloth on the table, no creases that way", he advises.
New desserts include rhubarbe compote, with dill flavoured strawberries, green basil and tomato sorbet (Taittenger Comtes de Champagne) and, you know those Mikado chocolate straws? Well here's Martin's posh spice spin: "Mikados chocolat, crèmes legeres with raspberries, bitter cherry and lime".
Coffee and a slice of Grandma Martin's Gateau de Savoie, make a perfect finale. Martin is an artist, but, "I'm a man of the mountains, when you are at one with nature in extreme circumstances you come to terms with many things, humility above all. I wish Monsieur Cavallaro well: maybe he'll come to Grand Vefour one of these days, we have a lot to discuss". And Buren too, wonder if he's seen how nice his columns look now they've been cleaned and polished.
And, if you're travelling to Normandy, check out La Mere Poulard.  Guy Martin is giving the old lady (circa 1888) a facelift along with young talented chef Cedric Menard. Still serving the wonderful signature omelette, but brought up to date with a few interesting spices. Sign the wall of fame along with Bardot, Cary Grant, M. Thatcher and Francois Mitterand.
17 rue du Beaujolais, 1st (Metro: Palais Royal)
T: 01 42 96 56 27
Lunch 78€ + wine
Dinner Average Spend 195+wine
Closed Friday dinner: Sat-Sun