When young super-chef Christophe Moret was at Spoon (Alain Ducasse's world-food concept canteen) chopping, cooking and slicing in the open state-of-the-art kitchen on rue Marignan, he would always doff his white baseball cap to the customers, always looked happy to be Spooning.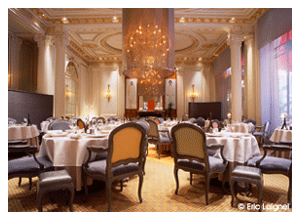 So quite a few of the regulars were a little concerned when another chef was recently sporting the aforementioned baseball hat. There was no notice on the door, but Moret had gone to The Plaza Athénee, taking over from Jean-Francois Piége who's popped down the road, as you well know, to The Crillon. I decided to investigate Moret's move one warm Spring lunch time. There's something about walking into the Plaza which can only be described by the stunning arm-candy sharing the revolving door with me – RI CH was embossed on each buttock of her tight blue Versace jeans.
Three designer-dressed flunkies (Georges Feghaly) wait behind a Poltrona Frau lectern to meet and greet, welcome you to AD's Parisian universe. There's only room for 50 diners, 55 staff to take care of them; that's luxury, n'est pas? Guided to the table by the flunkies, who place the Birkin/Gucci/Prada/Vuitton carefully on a silver upholstered stool (by Laval, who else?), you look to check the hour, but the clock on the mantel has stopped.Nice move by Volper-Mellerin: one should not be stressed by time at the Plaza; it's a timeless zone. Above eye-level are the Patrick Jouin wrapped chandeliers, the room's a contemporary conversation piece. And what about the Folon table sculptures? Edible! Only joking.
Now comes the menu, and it's placed in a silver menu-holder, so you shouldn't strain your arms holding it. The Spring collection is by Christophe Moret. "Of course I'm ecstatic here," he confirms. "Who wouldn't be?" Moret was spotted by Ducasse early on and has worked at the Louis XV and "59", a talented member of the elite Generation Ducasse. On days off you can spot him, en famille, dining at "59" , Au Lyonnais or Il Cortile.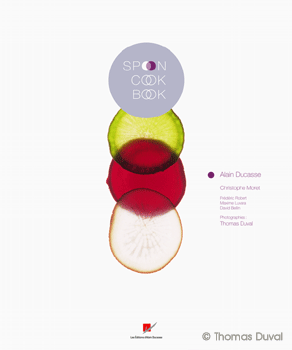 "I have to say I'm working with the best products, with a fantastic team here at The Plaza." The team agrees. "Since Christophe's been here the atmosphere has been calm and zen," says one of the cuisiniers, who asked not be named because, "he'll get a big head and we can't have that!" Moret's chuffed with his collaboration on the just published Spoon Cook Book, 200 recipes for hip gourmets, "inspired by the different Spoons worldwide, so there's something for every taste", he explains. Quite an opus, AD wanted food as mode, so he called in fashion snapper Thomas Duval, and the result is stunning. Hurry up and get one of the limited edition French-English versions (Editions Alain Ducasse 150€).
"Ah, les premiers asperges." How many times do you hear this in French restaurants at this time of the year? It's like, they're soooo surprised to see them again, or they've never seen them before. Well you'll have to go a long way to taste better than Asperges vertes from Monsieur Blanc (you know him, he's the one in Pertuis, Vaucluse), steamed and raw, paired with fresh morilles (80€). Or the luxury of pillow-sized scallops, still in the shell, topped with a ton of caviar oscietra and sitting on a bed of creamy cauliflower. Eat your heart out, Venus. (90€). Moret's roast pigeon is a young bird, boned and roasted, surrounded by rattes potatoes on which sit the pigeon's parts, very tasty. The topping of shallots, confit tomatoes, pepper and mustard are unusual, and maybe not necessary. You try it, see what you think. It's not a huge menu, but there's everything in season you need to eat to balance the body. Choose "Trois Plats," which is three half-portions of anything on the menu + cheese (from Cantin and Monsieur Antoni) and dessert (190€).
And talking of desserts, Nicolas Berger, ex-Essex House, NYC, is chef pâtissier. His creations are sensual, as in strawberries/rhubarbe on a crumble base with a frothy strawberry milk shake. But whatever delicacies Berger brings to the table he should never stop the Baba au rhum comme à Monte-Carlo. That's the best dessert ever in the world.
Not a lot of people know that the origin of the baba is attributed to the greedy Polish king Stanislas Lezcsynski, exiled in Lorraine. Good King Stan found their traditional Kouglof too dry, improved it by adding rum and named it after his favourite hero Ali Baba! He should only be around to taste the Ducasse/Berger baba, showered with the rum of your choice. Desserts 25€.
I'm not paying that:
The Bar at the Plaza Athénee (designed by Patrick Jouin) is less expensive, and after a couple of Thierry Hernandez's "Rose Royale" cocktails (raspberries and champagne), accompanied by a few Jelly shots (don't ask), a coupla piña coladas or a bubble-gum cocktail (about 15€), you'll float into the restaurant. Because you're worth it and it's great to be RI CH.
Fou de France is AD's talent spotting as he continues to invite sensational young chefs to create a menu (15 days) for the Relais Plaza. Don't hesitate. Then, when you read names such as Eric Guerin, Yann Plassard, and Valérie Saignie, you'll be able to say… "I knew them when…"
Next up (19th April) from the Franche Comté is Romuald Fassenet, whose specialist subject is La saucisse de Morteau. Watch out for Liz Hurley, who, rumour has it, lives on soup de cresson. Romuald makes a superb cresson, which he flavours with absinthe.
In case you're in the Jura region, pop into his Le Bec Fin (67 rue Pasteur 39100 Dole. T: 03 84 82 43 43. e:mail
[email protected]
) And his baba aux mandarins, crème fraiche is well worth the detour, as they say.
Romuald is in Paris with the Mrs. And his mate, Georges Bonnet, who "makes the best saucisses and charcuterie in the world." Ask Marc Champerrard. (And tell Rom we sent you.)
Lunch & Dinner about 60€ – T: 01 53 67 64 00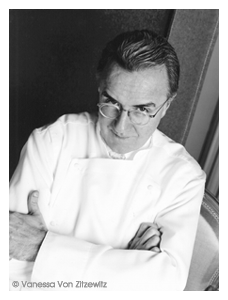 It's cheaper to eat at home!
Spend the day (9-18hrs) learning to induce, wok, steam – all the techniques of trad and modern cuisiner. In one day you can cook between four and eight recipes (pasty, seasonal dishes, bistro cooking, fish and crustacés), and you get to eat it at a convivial lunch sur place.
Centre de Formation d'Alain Ducasse
41 rue de l'Abbe Ruellan, Argenteuil (They'll pick you up from the Plaza, no problem)
T: 01 34 34 19 10.

www.atelier-gastronomique.com
From 250€.
Bon Appetit!

---

Born in Britain and now based in Paris, Margaret Kemp graduated from The Cordon Bleu and spent a year working and watching in the kitchens of top chefs from Sydney, Australia via Bangkok, Hong Kong, California, New York and France. Realising she would never win the coveted 3-Michelin stars, she decided to write about the people who do, the "disciples of Escoffier."