Gourmet Buzz: Terres de Truffes
Clement Bruno is a Master of the Universe, his commodity – truffles. He selects, stores and transforms the tantalizing tubers into mouth-watering dishes from the kitchens of his restaurant, Chez Bruno, deep in the heart of Provence. And here's the good news for trufflers: if you don't fancy the schlep south during the winter, Bruno's opened a restaurant/boutique/take-away truffle palace in Paris, Terres de Truffes. Larger than life Bruno is in Paris to do a little TV, share some truffles with Dominique Saugnac and the team who have created the terrific Terres de Truffes; like Bruno, totally unique. "Since Escoffier there are no great chefs, we are intelligent conductors of orchestras. We take eight products (I assume this includes the truffles) the way a musician takes eight notes, and create a symphony," he notes. Passionate about his tubers, the way we are about shopping/golf/sending textos, Bruno insists there's no mystery, that everyone can enjoy them year round and, if they're careful where they shop, they are affordable. Great! This is what we've all been waiting for. Step over the glass-encased truffle garden, filled with earth from Lorgues, and enter the wonderful world of Bruno, coming soon to New York, London, Milan. Terres de Truffes is open all day, fancy a truffle sandwich/tartine for breakfast? They'll make you anything you want, any time of the day. The menu, created by Bruno and Dominique Saugnac (who actually worked with Alain Ducasse at The Juana!) changes all the time but think in terms of Caviar of Truffles with tomato chutney, blinis and whipped cream (25€). Truffle salad (17€) and Poujarin bread baked with old Comté cheese and black winter truffles. Eggs are scrambled with truffles (20€). Potatoes baked and filled with cream of black truffles (23€) and pigeon is boned, wrapped in puff pastry and truffle-stuffed. On to the cheese: Brie (from Meaux) is truffle-spiked, flowing Saint Marcellin is baked and truffled within an inch of its' life. And it doesn't stop at dessert! Apple tart sits on truffled caramel sauce, paired with truffle ice cream (8.50€). Warm chocolate cake has a soft truffle centre (8.50€). Pannacotta, served with truffled apricot jam (8.50€) and iced Amaretto parfait is drizzled with truffled honey. You can buy most of these dishes and desserts to take home and guzzle in the comfort of your own chateau, and while you're waiting for it to be packed up have a glass of wine at the bar. Chateau la Truffe 2001, a Pomerol, seems appropriate. The décor, in earth tones, is warm and welcoming. The enthusiastic staff well versed in the art of truffles, bring a fragrant basket of their seasonal jewels to your table/the bar. "Take care buying truffles," Bruno and his team warn. "For example, tuber melanosporum (harvested in the Périgord region of France between November and March), can be mixed, with Chinese truffles, which taste like rubber." He says that unscrupulous traders roll their truffles in earth, thus adding weight. "And when you're paying 400€ a kilo, that's a real sting. Sniff them, don't hesitate to test their age, tap them with a knife, like the pros; or break the skin with a thumbnail. The inside should be marbled, not chalky," he explains. Bruno is creating recipes for each of the 32 varieties of black, white, dark brown, grey or white truflles that grow in the oak, beech and chestnut forests of Europe. Belonging to the same family as mushrooms, truffles grow underground, feeding off the roots of the trees. The Alba white truffle – tuber magatum, harvested from October to December – is Bruno's top truffle tip. "Far superior to the over-hyped black Perigord variety, which have more snob-value than flavour." The world famous St. Martin's Fair at Alba, calculated by the lunar calendar to coincide with the beginning of the truffle season in mid-October, welcomes more than 100,000 visitors. Trufflers come to buy tuberous fungus, with its nut-like consistency and pungent aroma that some find sexy, yet others describe as strongly reminiscent of wet old socks! In summer Bruno uses Provence's white Truffe d'eté or Truffe de Saint-Jean, cheaper than the other varieties. Tuber Aestivum, harvested between May and October, tastes of forest mushrooms. Tuber Uncinatum is gathered in the Dordogne region of France between September and December, has a delightful chocolate aroma. Both are usually available in the Carpentras markets. In some markets, peasants, like furtive drug dealers, sell their bounty from boots of cars, local bars and brasseries. Deals are strictly cash, and undeclared, for complex reasons known only to the insiders in the truffle business. Meanwhile down South: After the glitz and chaos of the Cote d'Azur , the windy roads that lead to Bruno's restaurant are so empty, it seems like the great escape. Terraced vineyards beckon and the winemakers offer generous tastings of grenache, mourvèdre and syrah based wines. As the narrow lanes twist and turn, Bruno's stone farmhouse, his temple dedicated to truffles, appears. This chef is to truffles what Imelda Marcos. It's all larger than life – a truffle theme park with attitude. The house's vibrant yellow walls are covered with giant frescoes by Milanese artists Giannini and Prato: Arms outstretched, Bruno, surrounded by a dozen top-toqued chefs; Alain Ducasse, Jacques Maximin, Paul Bocuse, Roger Vergé and friends are depicted at a "Last Supper" table, laden with victuals, wine and, bien sur, mountains of shiny black truffles. Behind the farmhouse, olive groves are punctuated with oversized modern sculptures. On the shady terrace is another huge sculpture. No, it's moving, it's Bruno, in spotless chef's whites, all 130 kilos of him. He opens his arms in a gesture of welcome. "I'm Bruno, I'll tell you what I'm cooking to-day." His generous 52€ menu changes twice daily, inspired by the seasons and what Bruno finds at the crack of dawn, in Draguignan market. A terrine of rabbit with a jelly…
SUBSCRIBE
ALREADY SUBSCRIBED?
BECOME A BONJOUR PARIS MEMBER

Gain full access to our collection of over 5,000 articles and bring the City of Light into your life. Just 60 USD per year.

Find out why you should become a member here.

Sign in

Fill in your credentials below.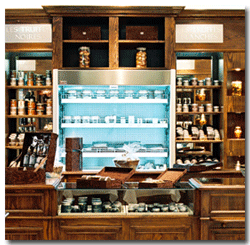 Clement Bruno is a Master of the Universe, his commodity – truffles. He selects, stores and transforms the tantalizing tubers into mouth-watering dishes from the kitchens of his restaurant, Chez Bruno, deep in the heart of Provence. And here's the good news for trufflers: if you don't fancy the schlep south during the winter, Bruno's opened a restaurant/boutique/take-away truffle palace in Paris, Terres de Truffes.
Larger than life Bruno is in Paris to do a little TV, share some truffles with Dominique Saugnac and the team who have created the terrific Terres de Truffes; like Bruno, totally unique. "Since Escoffier there are no great chefs, we are intelligent conductors of orchestras. We take eight products (I assume this includes the truffles) the way a musician takes eight notes, and create a symphony," he notes. Passionate about his tubers, the way we are about shopping/golf/sending textos, Bruno insists there's no mystery, that everyone can enjoy them year round and, if they're careful where they shop, they are affordable. Great! This is what we've all been waiting for. Step over the glass-encased truffle garden, filled with earth from Lorgues, and enter the wonderful world of Bruno, coming soon to New York, London, Milan.
Terres de Truffes is open all day, fancy a truffle sandwich/tartine for breakfast? They'll make you anything you want, any time of the day. The menu, created by Bruno and Dominique Saugnac (who actually worked with Alain Ducasse at The Juana!) changes all the time but think in terms of Caviar of Truffles with tomato chutney, blinis and whipped cream (25€). Truffle salad (17€) and Poujarin bread baked with old Comté cheese and black winter truffles. Eggs are scrambled with truffles (20€). Potatoes baked and filled with cream of black truffles (23€) and pigeon is boned, wrapped in puff pastry and truffle-stuffed.
On to the cheese: Brie (from Meaux) is truffle-spiked, flowing Saint Marcellin is baked and truffled within an inch of its' life. And it doesn't stop at dessert! Apple tart sits on truffled caramel sauce, paired with truffle ice cream (8.50€). Warm chocolate cake has a soft truffle centre (8.50€). Pannacotta, served with truffled apricot jam (8.50€) and iced Amaretto parfait is drizzled with truffled honey. You can buy most of these dishes and desserts to take home and guzzle in the comfort of your own chateau, and while you're waiting for it to be packed up have a glass of wine at the bar. Chateau la Truffe 2001, a Pomerol, seems appropriate.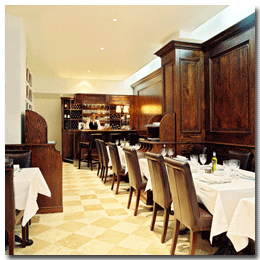 The décor, in earth tones, is warm and welcoming. The enthusiastic staff well versed in the art of truffles, bring a fragrant basket of their seasonal jewels to your table/the bar.
"Take care buying truffles," Bruno and his team warn. "For example, tuber melanosporum (harvested in the Périgord region of France between November and March), can be mixed, with Chinese truffles, which taste like rubber." He says that unscrupulous traders roll their truffles in earth, thus adding weight. "And when you're paying 400€ a kilo, that's a real sting. Sniff them, don't hesitate to test their age, tap them with a knife, like the pros; or break the skin with a thumbnail. The inside should be marbled, not chalky," he explains.
Bruno is creating recipes for each of the 32 varieties of black, white, dark brown, grey or white truflles that grow in the oak, beech and chestnut forests of Europe. Belonging to the same family as mushrooms, truffles grow underground, feeding off the roots of the trees.
The Alba white truffle – tuber magatum, harvested from October to December – is Bruno's top truffle tip. "Far superior to the over-hyped black Perigord variety, which have more snob-value than flavour." The world famous St. Martin's Fair at Alba, calculated by the lunar calendar to coincide with the beginning of the truffle season in mid-October, welcomes more than 100,000 visitors. Trufflers come to buy tuberous fungus, with its nut-like consistency and pungent aroma that some find sexy, yet others describe as strongly reminiscent of wet old socks!
In summer Bruno uses Provence's white Truffe d'eté or Truffe de Saint-Jean, cheaper than the other varieties.
Tuber Aestivum, harvested between May and October, tastes of forest mushrooms. Tuber Uncinatum is gathered in the Dordogne region of France between September and December, has a delightful chocolate aroma. Both are usually available in the Carpentras markets. In some markets, peasants, like furtive drug dealers, sell their bounty from boots of cars, local bars and brasseries. Deals are strictly cash, and undeclared, for complex reasons known only to the insiders in the truffle business.
After the glitz and chaos of the Cote d'Azur , the windy roads that lead to Bruno's restaurant are so empty, it seems like the great escape. Terraced vineyards beckon and the winemakers offer generous tastings of grenache, mourvèdre and syrah based wines. As the narrow lanes twist and turn, Bruno's stone farmhouse, his temple dedicated to truffles, appears. This chef is to truffles what Imelda Marcos. It's all larger than life – a truffle theme park with attitude.
The house's vibrant yellow walls are covered with giant frescoes by Milanese artists Giannini and Prato: Arms outstretched, Bruno, surrounded by a dozen top-toqued chefs; Alain Ducasse, Jacques Maximin, Paul Bocuse, Roger Vergé and friends are depicted at a "Last Supper" table, laden with victuals, wine and, bien sur, mountains of shiny black truffles.
Behind the farmhouse, olive groves are punctuated with oversized modern sculptures. On the shady terrace is another huge sculpture. No, it's moving, it's Bruno, in spotless chef's whites, all 130 kilos of him. He opens his arms in a gesture of welcome. "I'm Bruno, I'll tell you what I'm cooking to-day." His generous 52€ menu changes twice daily, inspired by the seasons and what Bruno finds at the crack of dawn, in Draguignan market.
A terrine of rabbit with a jelly of rabbit appears, accompanied by a tiny salad of parsley, beans and lamb's lettuce. This is the freebie starter, served with wedges of warm bread. To-day, Noirmoutier potatoes are steamed and stuffed with heaps of truffles and an airy girolle sauce. They are drizzled with olive oil and sprinkled with course sea salt. As a between-course, eggs, light and fluffy are scrambled, studded with Var truffles.
This lunch-time, wood-pigeon from the hills is boned, wrapped in golden pastry and filled with foie gras and truffles. At the table it's lovingly anointed with a soothing sauce of cèpes. If you come to Lorgues in winter, game reigns supreme. Partridge is roasted on a bed of cabbage with cèpes and chestnuts. Pheasant, from the Var cooked in Cabernet Sauvignon and baby goat oven- roasted with honey, lavender and thyme. And where else will you find classic Tournedos Rossini with black truffles?
Taste what Bruno calls the "forgotten wines of Provence." Chateau Rasque from nearby Taradeau – White, Rosé or Red 1995 (about 40€); Domaine Rabiega (about 50€); or Chateau des Crostes from local Lorgues vineyards (about 25€).
To finish, an astringent sorbet into which grated truffles and marc de Provence are lovingly folded. "Sometimes I make a cake with truffles", adds Bruno, whose specially designed china dishes feature the tempting tubers.
"I don't like sauces," he declares from behind the huge ovens of his wide-open country kitchen. My food is like Claudia Schiffer – it's so beautiful it doesn't need embellishment!" He teaches his young maverick chefs to handle the products as tenderly as if they were making love – "then you'll become good chefs."
Bruno was born here, in the farmhouse which is now his Michelin-starred restaurant. "Soccer, food and hunting wild game were the most important things in my life, they still are." He grew up in an all female environment, raised by his mother and Grandmother Mariette. The women taught him to cook the local regional produce. "Unlike other children I didn't have bread and jam at 4 o'clock. I went with my grandmother to the oak tree over there. She scraped up three truffles with an Opinel knife, then we would then go to the kitchen with eggs warm from our hens, scramble them and gobble up the truffles on top."
In this bucolic idyll, fish and game were caught and hunted by Bruno and friends; wild mushrooms and truffles gathered in secret places among the herb-scented hillsides and forests of the Var. Having studied law, which was "boring," Bruno became a real estate agent. "I hated that too." He never ever sold a house, but his office was always very crowded with prospective buyers towards lunchtime! "They were salivating at the idea of an invitation to eat," he recalls. Short of funds, he decided to transform the farmhouse into a restaurant. "Why not, I already had an eager clientele." He began with a Scholtes hob bought from a brocante. For 11 years the self-taught chef worked non-stop with one helper; the rest, as they say, is history.
In summer, diners eat under shady cherry and mulberry trees, whose fruits feature in the desserts. During the winter months a log-fire is the centre-piece of the oak-panelled, frescoed, flag-stoned dining rooms. "As soon as I put my feet in Bruno's restaurant, all my worries disappear," says Ines de la Fressange , who often eats there with her daughter Nine and husband Luigi d'Orso.
Bruno's "cuisine de proximity" is possible because most of his ingredients are local. He uses between 6,000 to 8,000 kilos of truffles annually, and estimates–with the two shops–potentially 10,000 kilos. That costs the world's King of Truffles (he's big in Japan too) millions of euros. Think crunchy aromatic black Perigord in winter, white Alba for Autumn and, summer's delicate white Saint Jean truffles. And, his grandmother's oak? "The tree died when she did," he sighs.
"Cooking should not be mass-produced, otherwise the product loses its identity." All is explained in his books: Bruno des Collines, and Bruno des Simples and Bruno des Truffes. His magnum opus, "my mission," will be a huge tome tracing the forgotten recipes of the last 50 years, dedicated to the matriarchs, like his Mama and Grandmother, who prepared for pleasure, meals they shared with those they loved."
Terres de Truffes
11 rue Saint-Francois-de-Paule, Nice
T: 04 93 62 07 68
Shut Sunday
Chez Bruno (Campagne Mariette)
Route de Vidauban, 83510. Lorgues.
T: 04 94 85 93 93.
(6 rooms) Shut Sun evening-Mon.
—

Born in Britain and now based in Paris, Margaret Kemp graduated from The Cordon Bleu and spent a year working and watching in the kitchens of top chefs from Sydney, Australia via Bangkok, Hong Kong, California, New York and France. Realising she would never win the coveted 3-Michelin stars, she decided to write about the people who do, the "disciples of Escoffier."
---
---