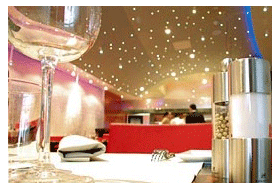 After two years under wraps, The Drugstore, that enormous building at the top of the Champs Elysées is up and running. At first sight it's like "is it a bird? Is it a plane? No, it's the Drugstore." To give it the Full Monty, call it, Publicisdrugstore des Champs Elysées, founded (circa 1958) by the late great maven of communication, Marcel Bleustein-Blanchet. Destroyed by fire in 1972, it's today headed by the dynamic Maurice Lévy, President, who recalls "we all knew and loved le Drugstore, where you could find everything at any time of the day or night."
It's been dramatically transformed, constructed with the same transparent glass used for La Pyramide de Louvre. The creation of American/Iranian architect Michele Saee, it was designed with a nod and a wink to his friend Frank Gehry and as an homage to Bleustein-Blanchet, his daughter Elizabeth Badinter and le tout Drugstore dynasty. The family are said to be "very pleased with the result." Saee describes his project as, "organic and feminine, with no angles, only curves! I delved into the archives and worked on three themes, innovation, communication and technology. I visualised a transparent glass box capable of diffusing fiber optic light. At the same time I wanted to give a new identity to the building". It's not easy to redesign a building that is classed "monument historique." Saee worked in close collaboration with Alain Coulon of Batiments de France. "20,000 people go through the Drugstore daily," notes Saee, whose signature spiral on the building looks like becoming as much of a landmark as its neighbour, the Arc de Triomphe.
One thing is certain: it will give the chattering classes lots to discuss as they pile in to criticise, complain and buy 109 different newspapers, eat in two restaurants, and watch movies (2 state-of-the-art theatres of 200 and 400 seats with Sophie Dulac, Bleustein's granddaughter in charge). They can also audition for a modelling/ commercial/film part, record an album in the studio, buy one, have their prescriptions filled until 2 in the morning, while the essential in-house compilation (by Beatrice Ardisson, who else?) plays, buy fabulous groceries (great news if you can't get a table in the restaurants; nosh on the spot), and even pick up their favourite Kiehl's from Kiehl's corner. Le Journal de Dimanche wrote: "Let's put it this way, there will be the teeth-grinders complaining of non-respect of classic proportions. These are the same people who still refuse to accept Buren's columns in the Palais Royal, or the poetic entrance to the Palais Royal métro by Jean-Michel Othoniel. One thing is certain, it's 100% more attractive than it was before". "Sure, some people will definitely not like what we have done, that's the price you pay for being avant-garde," adds Lévy.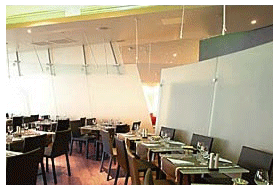 Lévy, who appreciates the finer things in life, commissioned Alain Ducasse to create the restaurant spaces (700 people from breakfast til the early hours) Le Bar, Cappucino Corner (for a fast breakfast), La Terrasse brasserie, and Marcel, the private restaurant for VIP's, by invitation only. Downstairs, world wines and Cuban cigars are a big feature, selected by chef-sommelier Gérard Margeon. "I've got 154 different types of cigar," he promises. And there are 77 cigar safes, for rent, in which to keep your precious Partagas at the ideal temperature! Chef Alain Soulard, a young disciple of Ducasse (ex-59 Poincaré) is taking care of the pianos. And a great job he's doing. At Marcel there's 50 covers and an unlisted telephone; they invite you. Yes, of course they invited me and it was excellent, not wildly expensive. A three-course meal costs about 50€ + wine, but you'll need the number, which Journal de Dimanche more or less published, leaving off the last two digits 01 44 43 66….. "So we'll change it, if too many people get it," reasons the Drugstore's President, Thierry de la Brosse.
133, avenue des Champs Elysées, 8th
(Metro: Charles de Gaulle, Etoile)
T: 01 44 43 77 64 (The Brasserie)
Open 7/7 8am-2am
---
Seems there's no stopping Alain Ducasse. He just got into bed with Chanel. Together they'll create a top-floor restaurant in the new Chanel building now under construction (design by architect Peter Marino) at Ginza, the Avenue Montaigne of Tokyo (no, I don't know how much, but think plenty yen). "This is a first for us, going into gastronomy", admitted Richard Collasse, Director of Chanel, Japan. "Chanel and Groupe Ducasse share the same values of luxury, which means we're perfectly in synch with each other and will create a prestigious, original and delicious concept," Collasse told BP. Whatever next, Chanel macaroons? I do hope so. Come to think of it, they've done a watch that resembles a chocolate bar, and a handbag, so it's obviously the next step in the evolution of la maison.
For Alain Ducasse this is an extraordinary project in an exceptional setting. It won't be the Plaza, Louis XV, Monaco or The Essex House, New York, but a chic canteen where the LOL's (ladies who lunch) will be able to eat in between ordering outfits and during the boutique's opening hours.
Ducasse closed Spoon, Tokyo because it was in a bad location, stuck in a corner at Disneyland. Since then he's been scouting around for something more suitable, staying in close contact with Japanese partners. His ADF (Alain Ducasse Formation) is linked to the Ecole Tsuji, Osaka; that's where the Chanel chef will probably come from.
---
Born in Britain and now based in Paris, Margaret Kemp graduated from The Cordon Bleu and spent a year working and watching in the kitchens of top chefs from Sydney, Australia via Bangkok, Hong Kong, California, New York and France. Realising she would never win the coveted 3-Michelin stars, she decided to write about the people who do, the "disciples of Escoffier."