Gourmet Buzz: Philippe da Silva
And talking of the newly transformed Chiberta, as we were last week, who should I bump into but the lovely Philippe da Silva, former executive chef chez Chiberta. Then one fine day, ten years ago, he and Martine decided they'd had enough of Paris and set off south to Callas and one of France's Grand Canyons; the Gorges de Pennefort. "Early morning birdsong is so much nicer than the noise of traffic," he observes. "Here we can indulge our senses and marvel at the landscapes." Nestled right underneath the Pennefort canyon, they carved a sinuous road through the Var forest which leads to the tiny village of Callas (no, nothing to do with Maria, although she may have passed by on her way to St. Tropez). Park the car by the Swan Lake and walk up to the prettiest country house/hotel. Is this a dream? No it's the bastide that is The Hostellerie les Gorges de Pennafort, and the first people you see are several off duty chefs and their families, celebrating Sunday—always a good sign. Frankly you'd think they see enough of food all week and would want to have a lettuce-fest on their days off. But no way, they have to keep in training I suppose, like pro sportsmen/women. "It's lovely, nearly every day we have a table of clients we know from Paris. They come on holiday or have homes in the region." Obviously da Silva has a fine reputation for his use of local products, his welcome and his undoubted talent. Last year the whole gorge nearly went up in flames during the forest fires; happily, the Da Silvas were saved. "We love our 'maison bourgeois'," smiles da Silva. And looking around you see their generosity in every corner: flowers, sweets, little cakes, books. People still lunching at 4pm! On the shady terrace, lunch and dinner are served; inside for cooler days. Make sure you're hungry—da Silva wants you to taste everything he's created in his Provencal kitchen. With a confident hand he produces a tender lobster salad with tomato confit; a foie gras of ravioli, a creamy risotto, a sea-bass roasted with artichokes or truffles, a pigeon surrounded by the freshest vegetables possible, or a spiced lavender-flavoured duck. Everything's made here. Oh, the bread! And little tasters keep arriving, then a palate-cleansing champagne and yogurt sorbet, and we're off again to discover the seasonal Fourme d'Ambert cheese with a feuilleté of pears, or the mind-boggling cheese tray. Desserts are a speciality, and, at this time of the year, include a sweet fig tart. Don't hesitate. The beauty of the countryside entrances—it's Indian summer, and, like a woman, rich and mellow, warm and voluptuous. Butterflies are chasing each other into the canyon. "Is there a road to the top?" I ask the sommelier. "No, you'd need a rope," he smiles. "I've been here three years and have never been tempted!" Just as well. He should stick to his excellent wine list, a good choice from vineyards just along the road (Chateau de Begude). If you take the "Week-End Gourmand 2004," you can live the da Silva concept. Oh you'll work it off in the heated pool, on the tennis court, jog to the village or bring some rope and attack the canyon—somebody should. Or stay longer and learn how to cook these wonders chez vous. And what does da Silva think of Guy Savoy's transformation of Chiberta? "I have to say that I have not been back since I left, but now that a grand maitre like Guy Savoy has taken over, I'll certainly go and visit on my next trip to Paris." Hostellerie Les Gorges de PennafortRD 25 83830 CallasT: 04 94 76 66 51
www.hostellerie-pennafort.com
16 air-conditioned roomsClosed mid-January and mid-March & Monday, Wednesday lunch, Saturday nightMenus from 39€ – Children's menu 15€ Le Chiberta restaurant avec Guy Savoy3 rue Arsene-Houssaye, 8th (Metro Charles de Gaulle/Etoile)T: 01 53 53 42 00
www.lechiberta.com
Check out the achingly hip Man Ray if you ever wondered what became of the talented Marc Marchand after he left Le Meurice. 34 rue Marbeuf, 8th Metro: George VT: 01 56 88 36 36 Toodlepip. Born in Britain and now based in Paris, Margaret Kemp graduated from The Cordon Bleu and spent a year working and watching in the kitchens of top chefs from Sydney, Australia via Bangkok, Hong Kong, California, New York and France. Realising she would never win the coveted 3-Michelin stars, she decided to write about the people who do, the "disciples of Escoffier."
SUBSCRIBE
ALREADY SUBSCRIBED?
BECOME A BONJOUR PARIS MEMBER

Gain full access to our collection of over 5,000 articles and bring the City of Light into your life. Just $60 a year.

Find out why you should become a member here.

Sign in

Fill in your credentials below.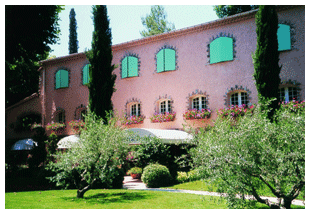 And talking of the newly transformed Chiberta, as we were last week, who should I bump into but the lovely Philippe da Silva, former executive chef chez Chiberta. Then one fine day, ten years ago, he and Martine decided they'd had enough of Paris and set off south to Callas and one of France's Grand Canyons; the Gorges de Pennefort. "Early morning birdsong is so much nicer than the noise of traffic," he observes. "Here we can indulge our senses and marvel at the landscapes."




Nestled right underneath the Pennefort canyon, they carved a sinuous road through the Var forest which leads to the tiny village of Callas (no, nothing to do with Maria, although she may have passed by on her way to St. Tropez). Park the car by the Swan Lake and walk up to the prettiest country house/hotel. Is this a dream? No it's the bastide that is The Hostellerie les Gorges de Pennafort, and the first people you see are several off duty chefs and their families, celebrating Sunday—always a good sign. Frankly you'd think they see enough of food all week and would want to have a lettuce-fest on their days off. But no way, they have to keep in training I suppose, like pro sportsmen/women.




"It's lovely, nearly every day we have a table of clients we know from Paris. They come on holiday or have homes in the region."




Obviously da Silva has a fine reputation for his use of local products, his welcome and his undoubted talent. Last year the whole gorge nearly went up in flames during the forest fires; happily, the Da Silvas were saved. "We love our 'maison bourgeois'," smiles da Silva. And looking around you see their generosity in every corner: flowers, sweets, little cakes, books. People still lunching at 4pm!




On the shady terrace, lunch and dinner are served; inside for cooler days. Make sure you're hungry—da Silva wants you to taste everything he's created in his Provencal kitchen. With a confident hand he produces a tender lobster salad with tomato confit; a foie gras of ravioli, a creamy risotto, a sea-bass roasted with artichokes or truffles, a pigeon surrounded by the freshest vegetables possible, or a spiced lavender-flavoured duck. Everything's made here. Oh, the bread!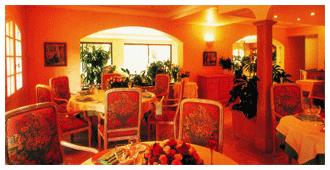 And little tasters keep arriving, then a palate-cleansing champagne and yogurt sorbet, and we're off again to discover the seasonal Fourme d'Ambert cheese with a feuilleté of pears, or the mind-boggling cheese tray. Desserts are a speciality, and, at this time of the year, include a sweet fig tart.




Don't hesitate. The beauty of the countryside entrances—it's Indian summer, and, like a woman, rich and mellow, warm and voluptuous. Butterflies are chasing each other into the canyon. "Is there a road to the top?" I ask the sommelier. "No, you'd need a rope," he smiles. "I've been here three years and have never been tempted!" Just as well. He should stick to his excellent wine list, a good choice from vineyards just along the road (Chateau de Begude). If you take the "Week-End Gourmand 2004," you can live the da Silva concept. Oh you'll work it off in the heated pool, on the tennis court, jog to the village or bring some rope and attack the canyon—somebody should. Or stay longer and learn how to cook these wonders chez vous.




And what does da Silva think of Guy Savoy's transformation of Chiberta? "I have to say that I have not been back since I left, but now that a grand maitre like Guy Savoy has taken over, I'll certainly go and visit on my next trip to Paris."




Hostellerie Les Gorges de Pennafort
RD 25 83830 Callas
T: 04 94 76 66 51
www.hostellerie-pennafort.com
16 air-conditioned rooms
Closed mid-January and mid-March & Monday, Wednesday lunch, Saturday night
Menus from 39€ – Children's menu 15€




Le Chiberta restaurant avec Guy Savoy
3 rue Arsene-Houssaye, 8th (Metro Charles de Gaulle/Etoile)
T: 01 53 53 42 00
www.lechiberta.com




Check out the achingly hip Man Ray if you ever wondered what became of the talented Marc Marchand after he left Le Meurice.




34 rue Marbeuf, 8th Metro: George V
T: 01 56 88 36 36









---

Born in Britain and now based in Paris, Margaret Kemp graduated from The Cordon Bleu and spent a year working and watching in the kitchens of top chefs from Sydney, Australia via Bangkok, Hong Kong, California, New York and France. Realising she would never win the coveted 3-Michelin stars, she decided to write about the people who do, the "disciples of Escoffier."
---
---