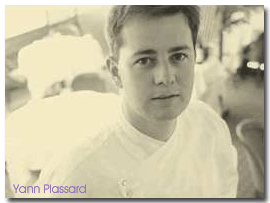 On a recent winter morning, paparazzi, cameras, and equipment cluttered the elegant exterior of the Hotel Plaza Athénée. I was there to meet the boy from Brittany, chef Yann Plassard, and his chou-chou Ostreiculteur (oyster farmer) Yvon Madec. Surely they can't be that famous – yet. They just arrived in Paris to present a lunch (which features on the Relais Plaza menu for 15 days) as part of the Fou de France concept, created by Alain Ducasse to promote young French culinary talent.
Well, they're not–that famous, that is. It was a film crew putting the finishing touches to the last episode of Sex & the City. They could have taken their story line from the contents of Plassard's big Breton basket. Sexy food. "Oy vay!" as Charlotte would say (she recently converted to Judaism, did you see the mikva scene? Quite tasteful really). Oysters, as in Les huitres tiedes de Prat Ar Coum (it's where the oyster beds are located, sounds directly out of the Karma Sutra to me), confit d'oignons roses de Roscoff, lait d'avoine et saboyon au lambic (a strong Belgium beer!). How much more Sex &….can you get than Queues de grosses langoustines roties en cappuccino de chou fleur, sucs réduits? And then the climax: Noix de Saint-Jacques de la Rade de Brest dans leur coque, aux truffes noires, purée de topinambours (Jerusalem artichokes) and feves sautées.
Dessert of Crêpes au beurre sale et confiture d'agrumes, crème glace au Grand Marnier left me in no doubt that the young Plassard (accompanied by his beautiful wife Caroline) is really a BP one-to-watch. Trained by the likes of Claude Peyrot, Jean-Pierre Vigato and Jacques Cagna, Plassard can come and open my oysters any day of the week. Or I may fly to Brest (45 minutes).
The Oyster Producer: Ets Yvon Madec
Prat-Ar-Coum-BP9
29870 Lannilis.
T: 02 98 04 00 12
The Relais Plaza
25 avenue Montaigne, 8th
(Métro: Alma-Marceau)
T: 01 53 67 65 00
"Much froth as Starbucks storm hits Paris," was the headline news. And the good news is that the entire two floors, magnificently decorated, are "non-smoking!" For many Parisians it is "très shocking". But at the other end of the spectrum, it should pull cafés like Flore and Deux Magots up by their bootstraps. Maybe the waiters will sneak off to visit Starbucks and transform into polite and charming penguins (I doubt it). Anyway, get over there and join the line for a tall Frappuccino, a Decaf Mocha Java (with skimmed milk, bien sûr) and a fat-free muffin.
Would Sartre have composed "L'Etre Et Le Neant" if, instead of puffing his pipe smoke over a "petit noir" in the fug of Les Deux Magots, he had breathed the tobacco-free air at Starbucks? Would the likes of Hemingway, Fitzgerald and de Beauvoir have become the giants of world literature fuelled by skinny lattes? These are the questions presently posed by the French press and Parisian intellos in cafés all over the capital. Obviously not, mes amies, but the sight of pipe-smoking existentialists sitting in cafés all day long because they had no heating in their grotty garrets would be as out of place in Paris to-day as the in-house wi-fi net connection, would have been in the 1940's.
26 avenue de l'Opéra, 8th
Open 7/7
(Métro: Opéra)
Drugstore Publicis is about to re-open. Should be fabulous: a cinema/boutique/restaurant complex and guess who's created "Marcel" the restaurant, in homage to Publicis' founder, Marcel Bleustein? Alain Ducasse of course. Opening 5th February.
199 Champs Elysées, 8th
(Métro: Etoile, Charles de Gaulle)
T: 01 47 20 78 00
Change of pâtissier at Le Meurice as Scotsman Kirk Kittle leaves to join the lovely Helene Darroze. And, talking of patisserie, "Samedis de la Mode" at The Bristol means you can meet best friends for tea and sympathy, watch a fashion show just like in the 50's. Although I'm not sure if the sight of wafer-thin mannequins weaving between les tables will put you off your Gateau du Couturier, petit sandwiches etc.
Henri & Gerlinde Faugeron are leaving their eponymous restaurant to retire to the fleshpots of theCote d'Azur. The last supper at their 2-star Michelin restaurant will be on February 19th.
52 rue Longchamp, 16th
(Métro: Kléber)
T: 01 47 04 24 53
Dominique Laporte (31), presently sommelier at The Great Eastern Hotel, London, has been elected Meilleur Sommelier de France 2004″ by a jury who voted in almost papal circumstances at the Palais des Papes, Avignon.
That was, bien sûr, after the blind tastings, decantations, updating a wine list, checking out the cellars stuff. In fact 15 labours of Hercules, which began with 100 hopefuls, ended up in Avignon with six. That's passion for your metier, n'est pas.
Mark Williamson could apply if he had time. The bold Brit started Willi's Wine Bar some years ago, and you can't shut him up when he gets on to his favourite subject. He also owns Maceo, a stunning Monument historique restaurant near Place des Victoires. Recently the chef changed so it's worth checking out Thierry Bourbonnais and his new ideas. The LWL's (ladies who lunch) will love the "Au Vert" (veggie menu-with attitude) 29.50 at lunch 35€ dinner. The Decouverte (3 starters, 3 mains, divine desserts) 32.37€ + Williamson's wonderful wines and oodles of atmosphere.
—

Born in Britain and now based in Paris, Margaret Kemp graduated from The Cordon Bleu and spent a year working and watching in the kitchens of top chefs from Sydney, Australia via Bangkok, Hong Kong, California, New York and France. Realising she would never win the coveted 3-Michelin stars, she decided to write about the people who do, the "disciples of Escoffier."