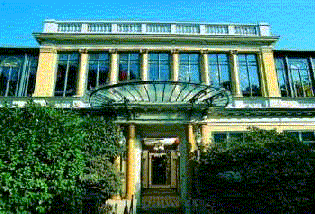 I don't know if it's my age but I do get a frisson when a tall waiter in black tie whispers in my ear, "Would a little more bread give Madame pleasure?" You bet, Gaston, bring it on. More of that crumbly crevette bread, more of that Britanny beurre, while I wait for the climax–dinner cooked by Christian Le Squer at Ledoyen , the doyenne of Parisian restaurants, in business since 1792.
The restaurant is located just off the Champs Elysées, in a picture perfect daffodil-coloured Napoleon III mansion surrounded by manicured gardens. The classical décor, revised and corrected by Jacques Grange, is so romantic: soft lighting, taffeta flounces. Well, it is a listed monument historique, dear.
The tall, slim, Brittany-born Le Squer is not your usual 3-star chef. "My wife is a researcher for Chanel, she tries out all the creams on me. That's why I look so young", he admits. But he is your usual 3-star chef if you consider all chefs are passion mongers–have to be, to get up at 5 in the morning. He is, if you consider his talent, which you spotted at the Opera restaurant before he came to Ledoyen to replace the talented, but trop volatile, Ghislaine Arabian in 1998. "Time spent working at The Ritz, Taillevent and Lucas Carton gave me a classic formation which has evolved into the contemporary cuisine I create today," he explains. Le Squer has a charming modesty, as in, "No, no, don't tell me the Velouté de Gibier is perfect. Tell me how I can improve the dish." Wish I could, but a light flavoursome game soup is poured around what looks like a Saint-Honoré dessert, only this is savoury, the tiny chou pastry buns filled with foie-gras ice-cream. No way can you improve on that, Christian!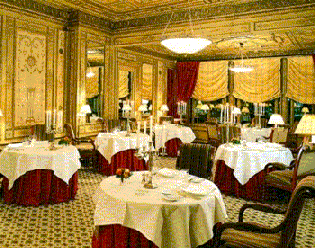 The menu is in six parts: Les Entrées (from 55€), Spécialitiés (from 71€), Les Poissons (from 69€), Les Viandes (from 57€), Les Fromages (from Quatrehomme 22 €), and Les Desserts created by Nicholas Gras (from 22€). They are sensational products. That pheasant did not die in vain; the chevreuil galloped in, begging to be roasted with seasonal fruits and legumes. Pairing flavours without ever drowning them in his youthful enthusiasm, Le Squer's food is like reading Zola (who used to eat here) as did de Maupassant, Flaubert and Goncourt. Celebrating the Salon des Refusés, you could have table-hopped with Degas, Monet, Cezanne, Pissaro and Manet.
They are far too discreet to give out a client list today. Just think "le tout Paris" and Hillary Clinton, Ivana Trump, Paris Hilton. Sommelier Alain Loiseau wears a macho Montana black leather apron; let him choose a wine from the vast selection in the cellars. Patrick Simiand choreographs front-of-house with all the expertise of a perfect restaurant director. "We look closely at every detail, hope that guests will come back," he explains. "Even with 3-stars, the competition is enormous".
Le Squer spends weekends at his home in Enghien-les-Bains, tending his potager, spending quality time with his wife and two children. He rarely eats out, why should he? When he does, it could be chez his talented protégée, Thierry Blanqui, at the excellent Beurre Noisette, a spirited neo-bistro in the 15th (68 rue Vasco-de-Gama; Métro Lourmel) T: 01 48 56 82 49.
Ledoyen,
1, avenue Dutuit, Carré des Champs-Elysées, 8th
(Métro: Champs Elysées-Clemenceau)
T: 01 53 05 10 01
Lunch 73€
And congratulations to super-chef Alain Ducasse who becomes a knight of the Legion d'Honneur on the New Year's Day list. About time, too, we say.
—

Born in Britain and now based in Paris, Margaret Kemp graduated from The Cordon Bleu and spent a year working and watching in the kitchens of top chefs from Sydney, Australia via Bangkok, Hong Kong, California, New York and France. Realising she would never win the coveted 3-Michelin stars, she decided to write about the people who do, the "disciples of Escoffier."