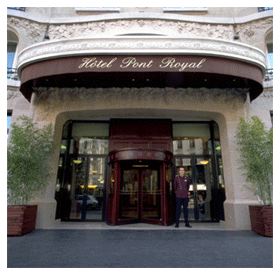 Well, have I got news for you! If you're still having problems getting a table at Joel Robuchon's Atelier de Joel Robuchon, I can guarantee you places!




"You cannot be serious?" Yes, I am! All you do is book into the Hotel Pont Royal. You know, if you've been attentive Buzzers, that's the hotel with direct access to the Atelier. Voilà, voilà!




Hotel Pont Royal has everything. "We're bringing back the literary scene to the bar so modern writers can enjoy the atmosphere, just as Sartre, Camus, de Beauvoir, Huxley, Miller, Sagan and Trueman Capote did. They fled from Café Flore, where they were stalked by tourists, to enjoy the peace and quiet here," explains Patrice Arnaud, dynamic young General Manager (ex-Martinez, Cannes, Lutetita, Paris, Marriott, Champs Elysées, etc.) Arnaud also wants to bring back the "hotel literaire" prize givings, a great concept considering the location of Le Pont Royal: slap bang in the Quartier Saint-Germain with all those designer boutiques and posh publishing houses, Gallimard, de Seuil. Seductive, non?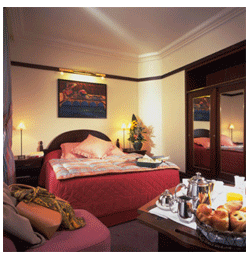 An elegant, discreet boutique hotel with just 75 rooms, a penthouse with 2 terraces and 360-degree views of the Paris you love, the Pont Royal is a sort of Sleeping Beauty, slumbering for many years (10 actually) before the Leroy family decided to awaken it. Now there's still the bar, spruced up, which is a must, and a fitness centre. You can even book a guru to shop with you or advise on the purchase of art, etc. That should avoid you making ghastly mistakes and should well cover the cost of 350€ in a Junior Suite (bed and buffet breakfast + museum pass), 295€ in a Deluxe room (includes buffet breakfast) or 265€ in a Superior Room (buffet breakfast included). Note: July & August only, at the moment.




Meanwhile, next door, what joy to finally eat at L'Atelier—open 7/7, no smoking anywhere! Frederic Simonin is the chef, and Francois Benot does the superb patisserie. You can see it all happening in the central open kitchen. "It's tough, now I can't shout at the chefs," admits Simonin. L'Atelier's booked at least 15 days ahead, but check with the genial manager Mehmet Eski, who may take pity on you if you're not staying at Le Pont Royal. And, a triple whammy, read the wine list—Camus would have made a novel from it—or simply sip something by the glass. You'll be so happy you did.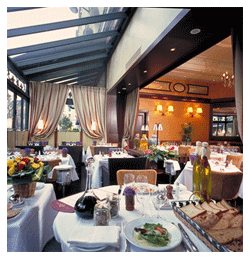 Hotel Pont Royal
7 rue de Montalembert, 7th (Metro: rue du Bac)
T: 01 42 84 70 00
www.hotel-pont-royal.com




Toodlepip…







---

Born in Britain and now based in Paris, Margaret Kemp graduated from The Cordon Bleu and spent a year working and watching in the kitchens of top chefs from Sydney, Australia via Bangkok, Hong Kong, California, New York and France. Realising she would never win the coveted 3-Michelin stars, she decided to write about the people who do, the "disciples of Escoffier."